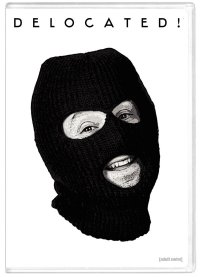 Hey folks, Season 3 of the absurdist witness protection program reality show, Delocated!, will premiere on Adult Swim on February 2 at midnight. In addition to starring as the eponymous "Jon," this season creator/star/co-writer/executive producer Jon Glaser also takes on the role of an entirely new original character. Janeane Garafalo joins the cast this season as a regular, and Todd Barry, Eugene Mirman, Jacob Kogan and Steve Cirbus are back in their supporting roles.
In other related news, Jon will be appearing at SF Sketchfest on January 21 (this Saturday) as part of the "Delocated Witness Protection Program Variety Show" along with Andy Blitz, David Cross, Brett Gelman, Jessi Klein, Eugene Mirman and Paul Rudd.
Last but not least, Seasons 1 & 2 of Delocated were just released on DVD on Tuesday and I've got two copies to give away to a pair of lucky readers. Here's a little more about the new set:
Delocated! makes its debut on DVD with the January 17th release of a two-disc set featuring all 19 episodes from Delocated! Seasons 1 & 2 plus more than 90 minutes of additional content including deleted scenes, outtakes, flip books, demos and commentaries.
Delocated! contest entry form, a promo video and full 2012 SF Sketchfest lineup after the jump. Contest ends January 29 at midnight, 1 entry per household, US entrants only.
DAY 1: THURSDAY, JANUARY 19, 2012
RiffTrax Presents
Night of the Shorts III: The Search for Schlock
with Kevin Murphy and Bill Corbett
and guest riffers David Cross, Bruce McCulloch, Eugene Mirman, Paul F. Tompkins, Cole Stratton, Janet Varney, Eugene Mirman
8pm The Castro Theatre $30
DAY 2: FRIDAY, JANUARY 20, 2012
John Hodgman: An Evening of My Expertise
with special guests Dana Gould, Kasper Hauser and more
8pm Cobb's Comedy Club $28
Bruce McCulloch: The Pink Dot Stories
with Knuckles & Tits
8pm The Eureka Theatre $25
The SF Sketchfest Dozen
Ron Funches & Nick Thune
and host Janine Brito
8pm The Punch Line $20
Porchlight Storytelling
with Beth Lisick and Arline Klatte
and guests Dayvid Figler, Caitlin Gill, Bobcat Goldthwait, Matt Gourley, Moshe Kasher and Anna Seregina
8pm The Purple Onion $20
SF Sketchfest in the Mission
with Don't We Boys, Hill Jones, and Taste Better Wit
Hosted by Barbara Holm
8pm The Dark Room $15
SF Sketchfest in the Mission
with Charles, KT Comedy, and Stupid Time Machine
Hosted by JC Coccoli
10pm The Dark Room $15
The SF Sketchfest Dozen
Moshe Kasher & Jessi Klein
and host Edwin Li
10:15pm The Punch Line $20
Pretty Good Friends
with Eugene Mirman, Bobcat Goldthwait, Dana Gould, Michael Showalter, Paul F. Tompkins and more
10:30pm Cobb's Comedy Club $28
CineMadness with Bill Corbett and Joseph Scrimshaw
with special guests Kevin Murphy, Josh Cagan and Paul and Storm
10:30pm The Eureka Theatre $20
Rooftop Stand-Up Showcase
with Andres du Bouchet, Caitlin Gill, Reid Faylor, Barbara Gray and Keith Lowell Jensen
Hosted by Dave Thomason
10:30pm The Purple Onion $15
DAY 3: SATURDAY, JANUARY 21, 2012
SF Sketchfest and Adult Swim Present
An Afternoon with Eagleheart
with Chris Elliott, co-creators Michael Koman and Andrew Weinberg, co-executive producer and director Jason Woliner and actor/writers Brett Gelman, Andy Blitz and Maria Thayer
in conversation with Eugene Mirman
1pm Cobb's Comedy Club $20
Superego Podcast
with special guests Erinn Hayes and Paul F. Tompkins
1pm The Eureka Theatre $20
Kevin Pollak's Chat Show
with Samm Levine and guest Rachael Harris
3pm The Punch Line $20
Wet Hot American Summer: The Live Radio Play
with Michael Ian Black, Joe Lo Truglio, Ken Marino, Christopher Meloni, Marguerite Moreau, Amy Poehler, Paul Rudd, Molly Shannon, Michael Showalter, David Wain and surprise guests
Co-produced by Acker & Blacker, creators of The Thrilling Adventure Hour
5pm Marines' Memorial Theatre $60
The Legacy Music Dance Party presents
MAME THAT CHUNE
a video game music game show and dance party with Brent Weinbach and Rob F. Martinez
5:30pm Hemlock Tavern $10
The Groundlings:
Beverly Winwood Presents The Actors Showcase
with Carrie Aizley, Tim Bagley, Jordan Black, Jennifer Coolidge, Steven Cragg, Nat Faxon, Rachael Harris, Michael Hitchcock, David Jahn, Phil LaMarr, Mike Loprete, Karen Maruyama, Brian Palermo, Jim Rash, Mary Jo Smith, Antoinette Spolar, Mindy Sterling, Lynne Marie Stewart, Christen Sussin and Susan Yeagley
7:30pm The Eureka Theatre $28
Pretty Good Friends
with Eugene Mirman, Matt Besser, Michael Ian Black, Ron Funches, Jon Glaser, Bobcat Goldthwait and musical guest Ben Gibbard from Death Cab for Cutie
8pm Cobb's Comedy Club $28
The SF Sketchfest Dozen
Moshe Kasher & Jessi Klein
and host Edwin Li
8pm The Punch Line $20
Porchlight Storytelling
with Beth Lisick and Arline Klatte
and guests Janine Brito, Nato Green, Tara Jepsen, Matt Walsh and Brent Weinbach
8pm The Purple Onion $20
SF Sketchfest in the Mission
with Charles, Joseph Scrimshaw and the Comedy of Doom, and Stupid Time Machine
Hosted by Reid Faylor
8pm The Dark Room $15
The Thrilling Adventure Hour
with Paget Brewster, John DiMaggio, Colin Hanks, John Hodgman, Gillian Jacobs, Samm Levine, Joshua Malina, Bruce McCulloch, Christopher Meloni, Busy Philipps, Kevin Pollak, Andy Richter, Paul F. Tompkins, James Urbaniak and more
9pm Marines' Memorial Theatre $50/$40
SF Sketchfest in the Mission
with Don't We Boys, Hill Jones and Knuckles & Tits
Hosted by Barbara Gray
10pm The Dark Room $15
The SF Sketchfest Dozen
Ron Funches & Nick Thune
and host Janine Brito
10:15pm The Punch Line $20
SF Sketchfest and Adult Swim Present
Delocated Witness Protection Program Variety Show
with Jon Glaser and guests Andy Blitz, David Cross, Brett Gelman, Jessi Klein, Eugene Mirman and Paul Rudd
10:30pm Cobb's Comedy Club $35
Upright Citizens Brigade A.S.S.S.S.C.A.T. Improv
with Matt Besser, Amy Poehler, Ian Roberts, Matt Walsh, Chad Carter and guest monologist Joe Lo Truglio
10:30pm The Eureka Theatre $35
Rooftop Stand-Up Showcase
with Mike Brown, JC Coccoli, Barbara Holm, Jeff MacKinnon, Adam Paul and Lance Weiss
Hosted by Jules Posner
10:30pm The Purple Onion $15
Smug Shift
with Brent Weinbach and Moshe Kasher
12 midnight The Dark Room $15
DAY 4: SUNDAY, JANUARY 22, 2012
They Came Together live screenplay table-read
with David Wain, Michael Showalter, Michael Ian Black, Rachael Harris, Zandy Hartig, Erinn Hayes, Joe Lo Truglio, Ken Marino, Christopher Meloni, Marguerite Moreau, Amy Poehler, Paul Rudd and more
11am The Eureka Theatre $20
The Thrilling Adventure Hour
with Paget Brewster, John DiMaggio, Colin Hanks, John Hodgman, Gillian Jacobs, Samm Levine, Joshua Malina, Busy Philipps, Kevin Pollak, Paul F. Tompkins, James Urbaniak and more
2pm Marines' Memorial Theatre $50/$40
The Groundlings:
Beverly Winwood Presents The Actors Showcase
with Carrie Aizley, Tim Bagley, Jordan Black, Jennifer Coolidge, Steven Cragg, Nat Faxon, Rachael Harris, Michael Hitchcock, David Jahn, Phil LaMarr, Mike Loprete, Karen Maruyama, Brian Palermo, Jim Rash, Mary Jo Smith, Antoinette Spolar, Mindy Sterling, Lynne Marie Stewart, Christen Sussin and Susan Yeagley
3pm The Eureka Theatre $28
The SF Sketchfest Tribute:
Upright Citizens Brigade: Matt Besser, Amy Poehler, Ian Roberts and Matt Walsh
In conversation
Moderated by Andy Richter
5pm Cobb's Comedy Club $35
The Paul F. Tompkins Show
with Judy Greer, John Hodgman and musical guest Ted Leo
7pm Yoshi's
San Francisco $30
Stella: The Classic Nightclub Show
with Michael Ian Black, Michael Showalter and David Wain
with surprise guests and houseband
Release the Sunbird featuring Zach Rogue of Rogue Wave
8pm 21+ Mezzanine $28
The Groundlings:
The Black Version
with Jordan Black, Daniele Gaither, Phil LaMarr, Keegan Michael-Key, Gary Anthony Williams and Cedric Yarbrough
with 7th Grade: The Awkward Musical
8pm The Eureka Theatre $20
The Paul F. Tompkins Show
with Judy Greer, John Hodgman and musical guest Ted Leo
9pm Yoshi's
San Francisco $30
DAY 5: MONDAY, JANUARY 23, 2012
No shows
DAY 6: TUESDAY, JANUARY 24, 2012
An Evening with Ann Magnuson: The Drawing Room Apocalypse
A Salon des Beaux Arts for the Fin du Monde 2012
8pm Yoshi's
Oakland $25
Will Durst's Big Fat Year End Kiss Off Comedy Show
with Will Durst, Johnny Steele, Debi Durst, Michael Bossier, Mari Magaloni and Arthur Gaus
8pm The Eureka Theatre $20
DAY 7: WEDNESDAY, JANUARY 25, 2012
SF Sketchfest Tribute
Eddie Izzard
in conversation with Greg Proops
8pm The Palace of Fine Arts Theatre $50
An Evening with Ann Magnuson: The Drawing Room Apocalypse
A Salon des Beaux Arts for the Fin du Monde 2012
8pm Yoshi's Oakland $25
Boat
Everything Jamboree
Micheal Meehan: Hey Monster! Hands Off My City
Laundry Basket & Friends & Spiegelman
Hosted by Backstage Paige
8pm The Eureka Theatre $15
DAY 8: THURSDAY, JANUARY 26, 2012
SF Sketchfest Comedy NightLife at the California Academy of Sciences
with Thomas Lennon & Robert Ben Garant, Greg Proops: Smartest Man in the World Proopcast, Rick Overton, Will Franken, Kasper Hauser, Brian Malow, Convoy, Janine Brito, Jesse Elias, Chris Garcia, Josh Gondelman, Anna Seregina, and Taste Better Wit
6pm 21+ California Academy of Sciences $12
The Whitest Kids U'Know
8pm Cobb's Comedy Club $20
Colin Mahan in Too Many Wordz
Harmon Leon: Ironic NOT Ironic
Scott Vermeire: Hiding Places and Places to Hide
Hosted by Backstage Paige
8pm The Eureka Theatre $15
SF Sketchfest in the Mission
with Boat, Jin & Joshi and KT Comedy
Hosted by Caitlin Gill
8pm The Dark Room $15
DAY 9: FRIDAY, JANUARY 27, 2012
Drew Carey's Improv-A-Ganza
with Drew Carey, Jeff Davis, Chip Esten, Greg Proops and Ryan Stiles
8pm Marines' Memorial Theatre $75/$65/$55
An Evening with Thomas Lennon, Robert Ben Garant and Kerri Kenney-Silver
In Conversation with Matt Mira
8pm Cobb's Comedy Club $25
Kelly Carlin: A Carlin Home Companion
Life, Love and Laughter with George
8pm The Eureka Theatre $20
The SF Sketchfest Dozen
Nikki Glaser & Brendon Walsh
and host Matt Morales
8pm The Punch Line $20
SF Sketchfest Stands Up:
Natasha Leggero & Chelsea Peretti
Hosted by April Richardson
8pm The Purple Onion $20
SF Sketchfest in the Mission
with The Gentleman Callers, Kristen Studard: Small Victories and Wobbly H Presents
Hosted by Chris Locke
8pm The Dark Room $15
SF Sketchfest in the Mission
with Jin & Joshi, Oh, Brother and Taste Better Wit
Hosted by Andy Wood
10pm The Dark Room $15
The SF Sketchfest Dozen
Myq Kaplan & Sheng Wang
and host Keith Lowell Jensen
10:15pm The Punch Line $20
Set List: Comedy Without a Net
with Matt Braunger, Jon Dore, Rick Overton, Eddie Pepitone, Chelsea Peretti, Greg Proops and Brendon Walsh
Hosted by Steve Agee
10:30pm Cobb's Comedy Club $25
RISK! Live Show and Podcast with Kevin Allison
True Tales, Boldy Told
with guests Robert Ben Garant, Nikki Glaser, Joshua Grannell, Kerri Kenney-Silver and Natasha Leggero
10:30pm The Eureka Theatre $22
Rooftop Stand-Up Showcase
with Robert Buscemi, Ed Hill, Casey Ley, Andrew Short and Beth Stelling
Hosted by Chris Garcia
10:30pm The Purple Onion $15
DAY 10: SATURDAY, JANUARY 28, 2012
Pop My Culture Podcast
with Cole Stratton and Vanessa Ragland
and special guest Drew Carey
1pm The Eureka Theatre $20
Greg Proops:
The Smartest Man in the World Proopcast
3pm The Punch Line $20
The Benson Movie Interruption: Road House
with Doug Benson and guests
4:20pm The Roxie Theatre $20
Drew Carey's Improv-A-Ganza
with Drew Carey, Jeff Davis, Chip Esten, Greg Proops and Ryan Stiles
8pm Marines' Memorial Theatre $75/$65/$55
The Nerdist Podcast
with Chris Hardwick, Jonah Ray and Matt Mira
8pm The Regency Ballroom $30
Jon Benjamin Has A Van Live
with Jon Benjamin, Leo Allen, Nathan Fielder, Dan Mintz, Chelsea Peretti and more
8pm Cobb's Comedy Club $25
Rick Overton: Substitute Global Ambassador
with Killing My Lobster
8pm The Eureka Theatre $20
The SF Sketchfest Dozen
Myq Kaplan & Sheng Wang
and host Keith Lowell Jensen
8pm The Punch Line $20
The Spanglers
with Vanessa Ragland and Jamie Flam
8pm The Purple Onion $15
SF Sketchfest in the Mission
with Hollywood Saturday Night, Oh, Brother and
Wobbly H Presents
Hosted by Ed Hill
8pm The Dark Room $15
SF Sketchfest in the Mission
with The Gentleman Callers, Hollywood Saturday Night and Kristen Studard: Small Victories
Hosted by Andrew Short
10pm The Dark Room $15
The SF Sketchfest Dozen
Nikki Glaser & Brendon Walsh
and host Matt Morales
10:15 The Punch Line $20
The Meltdown:
Kumail Nanjiani & Jonah Ray
with Steve Agee, Leo Allen, Matt Braunger, Jon Dore, Natasha Leggero, Thomas Lennon, Dan Mintz and Eddie Pepitone
10:30pm Cobb's Comedy Club $25
RISK! Live Show and Podcast with Kevin Allison
True Tales, Boldy Told
with guests Steve Agee, Myq Kaplan, Rick Overton, Vanessa Ragland and Sheng Wang
10:30pm The Eureka Theatre $22
Rooftop Stand-Up Showcase
Josh Gondelman, Chris Locke, Cory Loykasek, Coree Spencer and Andy Wood
Hosted by April Richardson
10:30pm The Purple Onion $15
Joke-e-oke
with host Harmon Leon and guest judges Paco Romane, Brendon Walsh and more
12 midnight The Dark Room $15
DAY 11: SUNDAY, JANUARY 29, 2012
Doug Loves Movies Podcast
with Doug Benson and guests
4:20pm Cobb's Comedy Club $20
w00tstock: Founders' Night
with Adam Savage, Wil Wheaton and Paul and Storm
7:30pm Marines' Memorial Theatre $35
SModcast with Kevin Smith and Scott Mosier
8pm Cobb's Comedy Club $25
Harmontown with Dan Harmon and Jeff Davis
with Teenager of the Year
8pm The Eureka Theatre $20
Bad Movie Night
with Sherilyn Connelly, Jim Fourniadis and Mike Spiegelman
8pm The Dark Room $15
DAY 12: MONDAY, JANUARY 30, 2012
No shows
DAY 13: TUESDAY, JANUARY 31, 2012
Reggidency
a Reggie Watts series
part 1: Reggie Watts solo: just the music
8pm Yoshi's San Francisco $25
Comedy Noir Presents The XXX Factor / Snob Theater
with Chris Fairbanks, Coree Spencer and musical guest Still Flyin'
Hosted by Shawn Robbins
8pm The Eureka Theatre $15
DAY 14: WEDNESDAY, FEBRUARY 1, 2012
Reggidency
a Reggie Watts series
part 2: Reggie Watts + Garfunkel & Oates: the comedy
8pm 21+ Mezzanine $25
Killing My Lobster
with Thunderstood
Hosted by Jill Bourque
8pm The Eureka Theatre $20
DAY 15: THURSDAY, FEBRUARY 2, 2012
Reggidency
a Reggie Watts series
part 3: Reggie Watts + Robert Glasper: the jazz collaboration
8pm Yoshi's
Oakland $25
SF Sketchfest Stand-Up Threesome:
Todd Barry, Rob Delaney, and Mary Lynn Rajskub
Hosted by Michael Capozzola
8pm Cobb's Comedy Club $20
Laughter Against The Machine:
W. Kamau Bell, Nato Green and Janine Brito
Stand-up sets + Documentary clips and Q&A
8pm The Eureka Theatre $15
Walking the Room Podcast Live
with Dave Anthony and Greg Behrendt
and guests Patton Oswalt and Dave Holmes
8pm The Punch Line $20
SF Sketchfest in the Mission
with Crisis Hopkins, Seth and Kellen, and Thunderstood
Hosted by Chris Thayer
8pm The Dark Room $15
DAY 16: FRIDAY, FEBRUARY 3, 2012
Celebrity Autobiography: The Next Chapter
Rachel Dratch, Florence Henderson, Laraine Newman, Eugene Pack, Luke Perry, Dayle Reyfel, Fred Willard and more
8pm
Marines' Memorial Theatre $50
Mapping The Heavens with Rob Delaney
and Dave Holmes
and guests Rob Baedeker, Todd Barry, Greg Behrendt, Mary Lynn Rajskub and more
8pm Cobb's Comedy Club $25
Running Your Trap with Jimmy Pardo
with Pat Francis, Simon Helberg, Cole Stratton and Janet Varney
8pm The Eureka Theatre $20
The SF Sketchfest Dozen
Rachel Feinstein & Pete Holmes
and host Dave Thomason
8pm The Punch Line $20
Previously Secret Information Storytelling
with Joe Klocek and guests Dave Anthony, Dhaya Lakshminarayan, Marc Maron and Paul Myers
8pm The Purple Onion $15
SF Sketchfest in the Mission
with Madeline Walter: I'm Doing Great!, Oh Theodora and Seth and Kellen
Hosted by Jules Posner
8pm The Dark Room $15
SF Sketchfest in the Mission
with Dead Honkey, The Get Go and Hip Hop Penguin
Hosted by Katie Compa
10pm The Dark Room $15
The SF Sketchfest Dozen
Kyle Kinane & Morgan Murphy
and host Miles K
10:15pm The Punch Line $20
Theme Park Improv
with Rachel Dratch, Simon Helberg, Michael Hitchcock, Jessica Makinson, Oscar Nunez, Cole Stratton and Janet Varney
with special guest monologist Bob Odenkirk
10:30pm Marines' Memorial Theatre $35
WTF with Marc Maron
and guests Geoff Bolt, Will Durst, Pete Holmes, Arden Myrin, and Laraine Newman
10:30pm Cobb's Comedy Club $25
Drennon Davis: Imaginary Radio Program
Will Franken: The Burden Of Beauty: Professor Pretty's Primer
10:30pm The Eureka Theatre $20
Rooftop Stand-Up Showcase
with Sean Keane, Aparna Nancherla, Kevin O'Shea, Grant Pardee and Chris Thayer
Hosted by Edwin Li
10:30pm The Purple Onion $15
Reggidency
a Reggie Watts series
part 4: Reggie Watts + Silent Film: an improvised scoring
12 midnight The Roxie Theatre $25
DAY 17: SATURDAY, FEBRUARY 4, 2012
The Dark Crystal 30th Anniversary Celebration
Screening, rare behind-the-scenes footage and introduction by special guest Dave Goelz
11am The Castro Theatre $10
Best in Show
Screening and Q&A with Fred Willard and Michael Hitchcock
2pm The Castro Theatre $20
Never Not Funny with Jimmy Pardo
with Matt Belknap, Pat Francis and special guest TBA
2pm The Eureka Theatre $20
M*A*S*H: Celebrating Robert Altman
with Elliott Gould, Sally Kellerman and Kathryn Altman
Featuring a screening and conversation
5pm The Castro Theatre $25
Morgan Murphy Presents Jen Kirkman and Other Guests
A Talk Show also featuring Laraine Newman
5pm The Punch Line $20
Celebrity Autobiography: The Next Chapter
Rachel Dratch, Jesse Tyler Ferguson, Florence Henderson, Laraine Newman, Eugene Pack, Luke Perry, Dayle Reyfel and Fred Willard
8pm Marines' Memorial Theatre $50
An Evening of Stand-Up:
Marc Maron with Jen Kirkman
Hosted by Chris Garcia
8pm Cobb's Comedy Club $25
Bob Odenkirk with The Birthday Boys in
"Seven-Man Sweater"
8pm The Eureka Theatre $20
The SF Sketchfest Dozen
Kyle Kinane & Morgan Murphy
and host Miles K
8pm The Punch Line $20
The Friday Forty (on Saturday)
with Dave Holmes and Scott Gimple
8pm The Purple Onion $15
SF Sketchfest in the Mission
with Dead Honkey, The Get Go and Hip Hop Penguin
Hosted by Grant Pardee
8pm The Dark Room $15
SF Sketchfest and Midnight Mass Present
The Rocky Horror Picture Show: The Peaches Christ Experience
with very special guest Barry Bostwick
Film screening, live performance and conversation!
Please note that while this a major celebration of the film, it is NOT an audience participation screening
8pm The Castro Theatre $20
SF Sketchfest in the Mission
with Crisis Hopkins, Madeline Walter: I'm Doing Great! and Oh Theodora
Hosted by Sean Keane
10pm The Dark Room $15
The SF Sketchfest Dozen
Rachel Feinstein & Pete Holmes
and host Dave Thomason
10:15pm The Punch Line $20
Bring The Rock
with Greg Behrendt and The Reigning Monarchs
and guests Dave Anthony, Todd Barry, Jesse Tyler Ferguson, Mary Lynn Rajskub, and more
10:30pm Cobb's Comedy Club $25
Bob Odenkirk with The Birthday Boys in
"Seven-Man Sweater"
10:30pm The Eureka Theatre $20
Rooftop Stand-Up Showcase
with Katie Compa, Billy Wayne Davis, Ivan Hernandez, Miles K, Mary Mack and Arden Myrin
Hosted by Donny Divanian
10:30pm The Purple Onion $15