Not surprisingly, the latest release from Pollard & Co. draws the attention (and admiration) of Drake. -ed.
The 'Classic' lineup of Guided By Voices returns with two new releases in 2012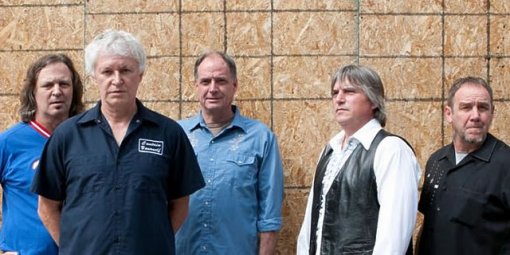 Words: Drake Lelane
2012 continues to be slow, with only the excellent return of Guided By Voices to show for this week. Looking back through my archives, by this time last year we'd already had several albums of note, including Wire, Smith Westerns, British Sea Power and the debut from Tennis. Other releases of note include the latest from Kathleen Edwards, The Big Pink, Frankie Rose and Herman Dune.
Playlist: New Releases 01.17.12 / Spotify
---
Guided By Voices – Let's Go Eat the Factory
Purchase [mp3] / Spotify
While it was surely expected that Robert Pollard would bring back Guided By Voices, one cannot underestimate the joyous surprise that has been the year+ long reunion of the classic lineup circa '93-'96. The pearl at the center of this GBV reunion is a pair of new albums, the first coming this week, and it slots beautifully with the lineup's run of albums. It's a lo-fi wonderful mess, the kind GBV fans love cleaning up with their ears, full of song ideas that spring forth and then fade out leaving you hungry for more. The fact that they were already working on a second release (Class Clown Spots A UFO, due May 22), bodes well as it seems that the band had a lot of ideas that no single album could capture. While this has always been Robert Pollard's outfit, Tobin Sprout kind of steals the show here, having seemingly stockpiled good material in case a GBV reunion album came to be. Sprout's "Waves" is the album's best song, while tracks like the wonderfully schizophrenic "Spider Fight" and "God Loves Us" seem tailor made for Mitch Mitchell's guitar windmills. Pollard has a couple instant classics himself, with the anthemic first single "The Unsinkable Fats Domino" and sugary "Doughnut for a Snowman." Let's Go Eat the Factory meets the hyped expectations, and while it's not as great as the other albums during this lineup's reign, it certainly bodes well for late May and Class Clown Spots A UFO, when Pollard rises higher to the challenge.
Download: "The Unsinkable Fats Domino" [mp3]
---
More on the radar (and in the mp3 player) this week:
Kathleen Edwards – Voyageur / Free AOL Album Stream
The Big Pink – Come Sunday
Matthew Dear – Fallen Empires
The Shins – Simple Song
Frankie Rose – Know Me
Herman Dune – Tell me Something I Don't Know / Free AOL Album Stream
Anthony Green – Beautiful Things / Free AOL Album Stream
Howler – America Give Up
Cate Le Bon – Puts Me to Work / Free AOL Album Stream / "Puts Me to Work" [mp3]
Pan Am: Music From and Inspired by the Original Series