Adele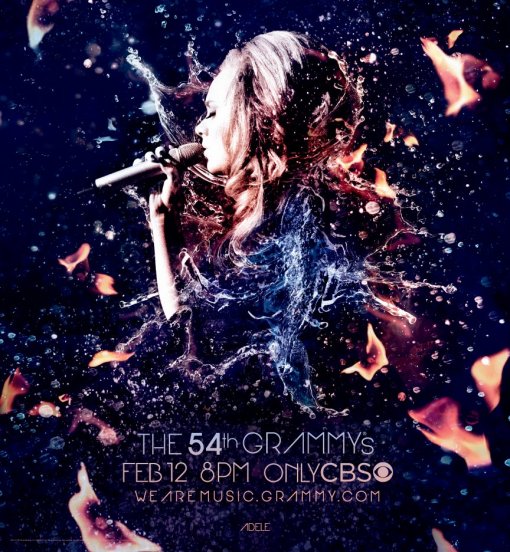 As predicted, Adele was the big winner tonight sweeping all the major categories (Album, Song, and Record) and winning everything she was nominated for, including a bonus Grammy for Paul Epworth for Producer of the Year (non-classical) for 21. The Woody Allen of the Grammys (aka Bon Iver) didn't do too bad either, taking home awards for Best New Artist and Best Alternative Album. Other artists taking home multiple statues included: Foo Fighters (5), Kanye West (4) and electronic artist Skrillex (3).
54th Annual Grammy Award Winners (Televised Categories)
Album of the year: 21 – Adele
Record of the year: "Rolling the Deep" – Adele
Best pop solo performance: "Someone Like You" – Adele
Best rap performance: "Otis" – Kanye West and Jay-Z
Best rock performance: "Walk" – Foo Fighters
R&B album: F.A.M.E. – Chris Brown
Song of the year: "Rolling in the Deep" – Adele, Paul Epworth
Country album: Own the Night – Lady Antebellum
Best new artist: Bon Iver
More non-televised 2012 Grammy winners after the jump.
2012 Grammy Winners (Non-Televised)
Short-form music video: Adele – Rolling in the Deep
Long-form music video: Foo Fighters – Back and Forth
Hard rock/metal performance: Foo Fighters – White Limo
Rock song: Foo Fighters – Walk
Rock Album: Foo Fighters – Wasting Light
Recording package: Caroline Robert – Scenes from The Suburbs, for Arcade Fire
Rap performance: Jay-Z and Kanye West – Otis
Pop duo/group performance: Tony Bennett and Amy Winehouse – Body and Soul
Pop instrumental album: Booker T. Jones – The Road from Memphis
Dance recording: Skrillex – Scary Monsters and Nice Sprites
Dance/electronica album: Skrillex – Scary Monsters and Nice Sprites
Traditional pop vocal album: Tony Bennett and various artists – Duets II
Alternative music album: Bon Iver – Bon Iver
R&B performance: Corinne Bailey Rae – Is This Love
Traditional R&B performance: Cee Lo Green and Melanie Fiona – Fool for You
R&B song: Cee Lo Green and Co. – Fool for You
Rap/sung collaboration: Kanye West, Rihanna, Kid Cudi and Fergie – All of the Lights
Rap song: All of the Lights
Rap album: Kanye West – My Beautiful Dark Twisted Fantasy
Country solo performance: Taylor Swift – Mean
Country song: Taylor Swift – Mean
Country duo/group performance: The Civil Wars – Barton Hollow
Folk album: The Civil Wars – Barton Hollow
New age album: Pet Metheny – What – It All About
Improvised jazz solo: Chick Corea – 500 Miles High
Jazz vocal album: Terri Lyne Carrington and various artists – The Mosaic Project
Jazz instrumental: Corea, Clarke and White – Forever
Large jazz ensemble: Christian McBride Big Band – The Good Feeling
Gospel/contemporary Christian music performance: Le'Andria Johnson – Jesus
Gospel song: Kirk Franklin – Hello Fear
Contemporary Christian music song: Laura Story – Blessings
Gospel album: Kirk Franklin – Hello Fear
Contemporary Christian music album: Chris Tomlin – And If Our God Is For Us
Latin pop, rock or urban album: Mana – Drama Y Luz
Regional Mexican or Tejano album: Pepe Aguilar – Bicentenario
Bands or Norteno album: Los Tigres Del Norte – Los Tigres Del Norte and Friends
Tropical Latin album: Cachao – The Last Mambo
Americana album: Levon Helm – Ramble at the Ryman
Bluegrass album: Alison Krauss and Union Station – Paper Airplane
Blues album: Tedeschi Trucks Band – Revelator
Regional roots music album: Rebirth Brass Band – Rebirth of New Orleans
Reggae album: Stephen Marley – Revelatino Pt. 1: The Root of Life
World music album: Tinariwen – Tassili
Children – album: All About Bullies… Big & Small
Spoken world album (includes poetry, audio books and story telling): Betty White – If You Ask Me (And of Course You Won't)
Comedy album: Louis C.K. – Hilarious
Musical theatre album: The Book of Mormom
Compilation soundtrack for visual media: Boardwalk Empire: Vol. 1
Score soundtrack for visual media: Alexandre Desplat – The King – Speech
Song written for visual media: I See the Light (from Tangled)
Instrumental composition: Bela Fleck and Howard Levy – Life in Eleven
Instrumental arrangement: Gordon Goodwin – Rhapsody in Blue for Gordon Goodwin's Big Phat Band
Instrumental arrangement accompanying vocalist: Jorge Calandrelli – Who Can I Turn To (When Nobody Needs Me), for Tony Bennett and Queen Latifah
Boxed or special limited edition package: Dave Bett and Michelle Holme – The Promise: The Darkness on the Edge of Town Story
Album notes: Hear Me Howling: Blues, Ballads & Beyond as recorded by the San Francisco Bay by Chris Strachwitz in the 1960s
Historical album: Band on the Run (Paul McCartney Archive Collection – Deluxe Edition)
Engineered album, non-classical: Alison Krauss and Union Station – Paper Airplane
Producer of the year, non-classical: Paul Epworth
Remixed recording, non-classical: Cinema (Skrillex Remix)
Surround sound album: Layla and Other Assorted Love Songs (Super Deluxe Edition)
Engineered album, classical: Aldridge: Elmer Gantry
Producer of the year, classical: Judith Sherman
Orchestral performance: Brahms, Symphony No. 4 by Los Angeles Philharmonic, conducted by Gustavo Dudamel
Opera recording: Adams: Doctor Atomic
Choral performance: Light & Gold – Eric Whitacre, conductor (Christopher Glynn & Hila Plitmann; The King's Singers, Laudibus, Pavão Quartet & The Eric Whitacre Singers)
Small-ensemble performance: Mackey: Lonely Motel – Music from Slide
Classical instrumental solo: Schwantner: Concerto for Percussion and Orchestra by Christopher Lamb, Giancarlo Guerrero conducts Nashville Symphony
Classical vocal solo: Joyce DiDonato with Kazushi Ono and Orchestre de l'Opera National de Lyon with Choeur de l'Opera National de Lyon for Diva Divo
Contemporary classical composition: Robert Aldridge and Herschel Garfein – Elmer Gantry