New Multitudes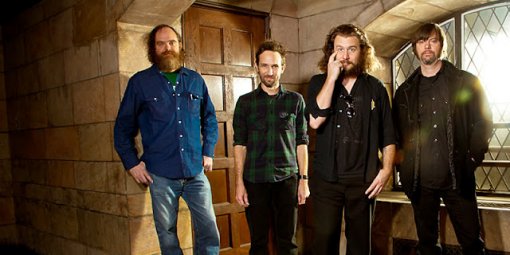 Words: Drake Lelane
A new Anais Mitchell album is always something to look forward to. -ed.
February ends with a shiver, a cough, unwanted mucus on seemingly every child's sleeve, and a handful of releases to welcome a hopefully warmer March. This year marks the 100th year since Woody Guthrie's birth, so we're blessed with a super folk ensemble interpreting more lyrics from Guthrie's songbooks, the Jay Farrar-led New Multitudes. Elsewhere, there are new long players to be found from Anais Mitchell, Plants & Animals, Dirty Three, Fanfarlo, School of Seven Bells, Carolina Chocolate Drops, Chiddy Bang and The White Buffalo.
Playlist: New Releases 02.28.12: Spotify
---
Jay Farrar/Will Johnson/Anders Parker/Yim Yames – New Multitudes
Purchase [mp3] / Stream via Rhapsody / Stream via Spotify
Some 15 years after their breakup, there have been countless dissertations concerning the legacy of Uncle Tupelo, with much of it concerning how the group's second fiddle (Jeff Tweedy) surpassed its perceived star in Jay Farrar. The Wilco vs Son Volt conversations are well past their sell by date, but it's worth bringing up here only in the context of Farrar following Tweedy in interpreting lost Woody Guthrie lyrics. Tweedy & Wilco's collaboration with Billy Bragg on the Guthrie venture Mermaid Avenue was a critical success, and helped push Wilco further into the music world's conscious. It also kickstarted the Guthrie estate into inviting more artists (The Klezmatics, Rob Wasserman) to interpret Guthrie's vast collection of yet unused lyrics and poems, with predictably mixed results. Whether the estate was thinking of catching lightning in a bottle again or just liked Farrar's approach, they approached the other Uncle Tupelo songwriter about taking a crack at it as well, and he brought in a dream team of Guthrie fans to share the wealth. The hard working Will Johnson (this is the 17th long player Johnson has had full contribution to, being the frontman of Centro-Matic and South San Gabriel), Yim Yames (My Morning Jacket's Jim James, working his contractual work around name changing magic again) and the Varnalines' Anders Parker. The resulting New Multitudes is conceptual in nature, with a much darker tone that previous Guthrie interpretations have attempted. Combing through lyrics, the quartet culled the more introspective bits, focusing much of it on his stay in Los Angeles. Each song takes on the style of the vocalist singing it (especially Yames' "My Revolutionary Mind"), but Guthrie's timing rings true in each — except for Farrar's songs, which stick out in their stubbornness to bend to whatever the deceased collaborator's wishes might have been (opener "Hoping Machine"). It's no Mermaid Avenue, but a worthy entry into the Guthrie cannon, in this the 100th year since the folk legend's birth.
Free AOL Album Stream
Download: "Old L.A." [mp3]
---
Anais Mitchell – Young Man in America
Purchase [mp3] / Stream via Rhapsody or Spotify
Probably the best way for Anais Mitchell to follow up the awe-inspiring-to-the-point-of-exhausting epic tale of the Greek underworld (2010's Hadestown) is to take a step back, which Mitchell understandably does on Young Man in America. With it, though, Mitchell still works that potent mix of childlike naivete with a wisdom of the ancients for full effect. Throughout YMiA a theme emerges of a child's ill-fated trust in their parents, as a possible metaphor for our current economic strife. "Your daddy didn't leave a will/he left a shovel and a hole to fill," she sings on album highlight "He Did." That her own father appears on the cover (and she adapts one of his short stories for the song "Shepherd"), suggests that "Daddy issues" are more than just a metaphor here. "Now that he's gone away there isn't anyone to tell me if I'm a diamond or a dime-a-dozen" Mitchell sings in the song "Tailor" about a lover that left, but it's obvious her lack of identity came prior, as she sings in the bridge: "Didn't I gleam in my father's eye? Who am I, who am I?"
---
More on the radar (and in the mp3 player) this week:
Plants and Animals – The End of That / Free AOL Album Stream / "Lightshow" [mp3]
Dirty Three – Toward the Low Sun / "Rising Below" [mp3]
Fanfarlo – Rooms Filled With Light
School of Seven Bells – Ghostory / Free AOL Album Stream / "The Night" [mp3]
Carolina Chocolate Drops – Leaving Eden / Free AOL Album Stream
Chiddy Bang – Breakfast
The White Buffalo – Once Upon a Time in the West / Free AOL Album Stream
Robert Glasper – Black Radio
Cuff the Duke – Morning Comes / "Standing on the Edge" [mp3]
Wallpaper – #STUPIDFACEDD
Ólafur Arnalds – Another Happy Day / Free AOL Album Stream