The Men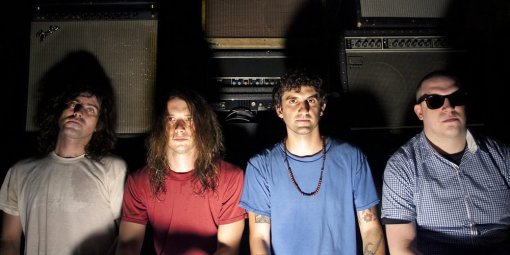 Words: Drake Lelane
What's the saying? "March enters like a lion and leaves like a lamb?" Between the sophomore releases from both The Men and Mike Wexler, we've certainly achieved the first part of that equation. Other artists with new releases this week include Andrew Bird, Bruce Springsteen, The Magnetic Fields, Bowerbirds, Time Fite, White Rabbits, Yellow Ostrich, Pond (no, not that one), Xiu Xiu, Nite Jewel, Kaiser Chiefs, Miniature Birds and Said the Whale.
Playlist: New Releases 03.06.12: Spotify
---
The Men – Open Your Heart
Purchase [mp3] / Stream via Rhapsody / Stream via Spotify
Open Your Heart carries on the tradition of the beer-swilling party anthems of The Replacements. It's as if the Brooklyn quartet set out to create an accurate document of the glory days of Homestead Records, occasionally switching up the party rock for some on target space jams (the "Country Song"/"Oscillation" combination) ala Sonic Youth or Spaceman 3, bouncing into some shoegaze before galloping off into some alt country punk. Open Your Heart has something for everyone without pandering to any genre, and that's something to be celebrated.
Download: "Open Your Heart" [mp3]
---
Mike Wexler – Dispossession
Purchase [mp3] / Stream via Rhapsody or Spotify
Speaking of Spaceman 3, Wexler's latest traverses some of the hallowed ground that the aforementioned band pioneered, taking his freak folk leanings to s place that the great Scott Walker might have gone if born 40 years later. Dispossession marks a giant leap forward for his sophomore release, acting as both dream and reality bleeding together for a otherwordly listening experience.
---
More on the radar (and in the mp3 player) this week:
Andrew Bird – Break it Yourself / Free AOL Album Stream
Yellow Ostrich – Strange Land / Free Paste Stream
The Magnetic Fields – Love at the Bottom of the Sea / Album Stream from Merge [mp3]
Bruce Springsteen – Wrecking Ball
Bowerbirds – The Clearing / Free AOL Album Stream / "Tuck the Darkness In" [mp3]
White Rabbits – Milk Famous / Free AOL Album Stream
Tim Fite – Ain't Ain't Ain't
Pond – Beard, Wives, Denim
Xiu Xiu – Always
Nite Jewel – One Second of Love
Kaiser Chiefs – Start The Revolution Without Me / Free AOL Album Stream
Miniature Tigers – MIA PHARAOH / Free AOL Album Stream
Said the Whale – Little Mountain / "Heavy Ceiling" [mp3]