Once A New Musical Original Broadway Cast Recording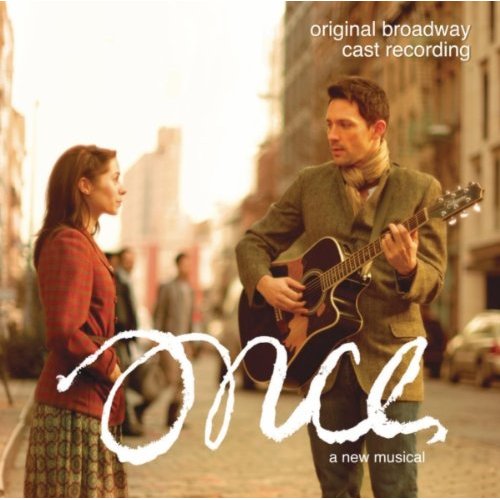 After a sold out run Off Broadway, Enda Walsh's Once: A New Musical began previews last month at the Bernard B. Jacobs Theatre on the Great White Way. The show opens on March 18 with Steve Kazee reprising his role of "Guy" and Cristin Milioti reprising her role as "Girl". In support of the show's opening, the Original Broadway Cast Recording of Once: A New Musical will be released this Tuesday, (March 13), and I've got a few copies to give away to some lucky Bumpershine readers. But, if you can't wait for my contest to end, and you're dying to hear the new cast album, you can head on over to NPR Music and stream the whole thing right now (well, until Tuesday at least) as part of their First Listen series.
Glen Hansard's winsomely shaggy voice is supplanted on this new recording by the more burnished baritenor of Steve Kazee, who's probably more leading man than street-busking lovable loser — he played Lancelot in Spamalot — but who certainly does know how to put a graceful shape on a melody. (His phrasing in "Falling Slowly," once he and co-star Cristin Milioti get past the song's deliberately tentative opening verse, is downright ravishing.)

And Milioti, taking the role originated by Hansard's Swell Season collaborator Marketa Irglova, is an astonishing discovery. Hers is a gorgeously grainy cello of a voice to Irglova's more waifish violin; the ache when she bends the lyric of "If You Want Me" upward over the verse's signature minor triad — "When I-i-i-i get really lonely" — is a chill-making thing, and she builds Irglova's song "The Hill" from a broken whisper to a torchy wail without letting it feel like a performance. [npr.org]
Once: A New Musical Original Cast Recording album track listing and contest entry form after the jump. Contest ends March 18 at midnight, US residents only, one entry per person.
Once A New Musical Orignal Cast Recording
01. The North Strand
02. Leave
03. Falling Slowly
04. The Moon
05. Ej Pada Pada Rosicka
06. If You Want Me
07. Broken Hearted Hoover Fixer Sucker Guy
08. Say It To Me Now
09. Abandoned In Bandon
10. Gold
11. Sleeping
12. When Your Mind's Made Up
13. The Hill
14. It Cannot Be About That
15. Gold (A Cappella)
16. Falling Slowly (Reprise)