Oberhofer at The FADER Fort at SXSW 2012 (03/14/12)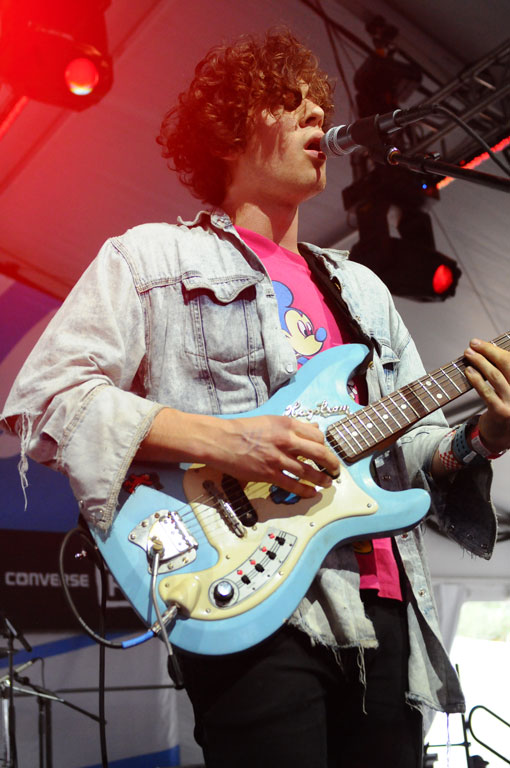 Photo: Chris Becker
After a busy SXSW (six shows in five days), Brad Oberhofer, aka Oberhofer, released his full length debut last week on Glassnote records.
Oberhofer's debut album, Time Capsules II, finds the Tacoma, Washington native reveling in a newly sophisticated musical playground. Lead-off track "HEART" opens on gentle piano and xylophone before exploding in a rainbow of instrumental colors. The coiled guitar energy of old (a strange word to use in reference to someone so young) is revived on "Away Frm U," but now it's gilded with layers of synths and whistles. Through it all, Brad's yearning vocals and melodies nicely evoke that specific post-adolescent feeling of having made some tough realizations while still retaining a starry-eyed innocence. [SPIN.com]
Oberhofer is currently touring in support of Time Capsules II until the beginning of May. Though they just headlined the Bowery last week (March 21), I would expect to see the band around here again this summer at some outdoor gigs. Stay tuned.
Stream Time Capsules II here.
Tour dates and more pictures of Oberhofer at The FADER Fort at SXSW 2012 after the jump.
Oberhofer 2012 Tour Dates
03/30 – Cactus Club – Milwaukee, WI *
03/31 – Maintenance Shop – Ames, IA *
04/02 – 7th Street Entry – Minneapolis, MN *
04/04 – A Club – Spokane, WA *
04/05 – Sunset Tavern – Seattle, WA *
04/06 – The Biltmore Cabaret – Vancouver, BC *
04/07 – Jinx Arts Space – Bellingham, WA *
04/08 – Squeak & Squeak Music Festival – The Space – 729 Court C – Tacoma, WA*
04/09 – Mississippi Studios – Portland, OR *
04/11 – Rickshaw Stop – San Francisco, CA *
04/15 – Coachella – Indio, CA
04/22 – Coachella – Indio, CA
04/25 – Hi Dive – Denver, CO +
04/26 – Replay Lounge – Lawrence, KS +
04/27 – The Luminary Center for the Arts – St. Louis, MO +
04/28 – MOTR Pub – Cincinnati, OH +
04/29 – The Basement – Columbus, OH +
04/30 – Beachland Tavern – Cleveland, OH +
05/01 – Andy Warhol Museum – Pittsburgh, PA +
* with Pond
+ with Young Man
Oberhofer at The FADER Fort at SXSW 2012 by Chris Becker