Dale Earnhardt Jr. Jr. at Sasquatch! (05/27/12) by Shawn Anderson


Words and Photos: Drake Lelane (aka Shawn Anderson) and Zach Gore
Sunday at Sasquatch Music Festival was marked by a couple of things. First (and most importantly) I managed to get my hands on a couple backstage wrist bands. That meant starting the day with some Kate Lebo savory pie, and getting the occasional beer and snack break when shooting near the main stage. It also meant getting a behind the scenes look at another Reignwolf performance, the artist who generated the most buzz on Saturday despite not having an actual set until Sunday. The other thing that marked the day for me was running with some of my old work mates at Rhapsody, who were a sponsor of the event. They kidnapped me at one point, pushing me into a Rhapsody van and carting me off to a yurt for a special stripped down performance by Clap Your Hands Say Yeah. The rest of the night was a blur… thankfully, I had Zach still plugging away at the various stages in my absence. Enjoy!
Hey Marseilles
Hometown heroes traditionally start the day, and we got to ease into Sunday with the baroque sounds of Hey Marseilles, the brainchild of singer/guitarist Matt Bishop and guitarist Nick Ward. The seven-piece drew a fair crowd given the early slot, with their song "Rio" pulling even more into the circle with hand-claps and wistful lyrics. — Shawn Anderson
To me, the most noticeable aspect of Hey Marseilles' set had nothing to do with the band. In fact, I was most struck by the sizeable throng of teenagers who'd gotten up early, taken the long walk from the campground, and were uniformly smiling ear to ear, despite these grim facts! Of course, Matt Bishop & co. didn't hurt the situation with sunny orchestral pop songs that fit the picturesque environment to a T. — Zach Gore
Greylag
Portland's Greylag began playing to a handful of people, but steadily drew passersby at the Yeti stage until the end of their set of melodic emotive folk songs. Their music is reminiscent of the more humble beginnings of Sasquatch Sunday headliners Bon Iver, but they looked genuinely thrilled to be playing at their much smaller stage. I wouldn't bet against them returning to play a bigger one sometime in the future, though. Keep an eye on these guys! — ZG
Dale Earnhardt Jr Jr
Could these guys be any more cheerful? The exuberant duo of Joshua Epstein and Daniel Zott may not have been wearing their NASCAR fire suits, but the stage was still smoldering from the energy put forth by the Detroit natives. Epstein is starting to look more and more like fellow Detroit resident Andrew W.K. — between the beard, long locks and white t-shirt, the unending positivity puts it over the top. — SA
Reignwolf
Saskatchewan's Jordan Cook, aka Reignwolf, was pretty much the talk of the festival. Those that knew of him ahead of time were talking, and those that witnessed one of his many performances throughout the festival spread the word further. The one-man rock n' roll machine — armed with just guitar, kick drum, amp and smoke machine — was a pinball, thumbing his nose at any limitation the stage and festival might have levied at him. Pretty much every time he covered Fleetwood Mac's "The Chain," he brought everyone in earshot to his side. His Yeti stage performance was so mesmerizing, even the security guards were getting into it, with one even allowing RW to climb on his back for a portion of a song. Later on, I caught him in another performance backstage for the podcast Too Beautiful to Live, where he threw in a cover of John Lennon's "Jealous Guy" for good measure. Catch the podcast here. — SA
Somehow I had never heard of Seattle via Saskatchewan's Reignwolf, which made me all the more grateful for my decision to stick around to catch their set at the Yeti stage. Jordan Cook, the group's front man, dazzled the crowd from the get-go with electric guitar (and mandolin!) licks that would've made Jimi Hendrix jealous and at some point began hammering on the guitar with one hand while using his other three appendages to keep a very respectable beat. They were easily the best surprise of Sasquatch for me. — ZG
Hospitality
Brooklyn's Hospitality might've appeared to be a pretty standard indie-pop act to a festival-goer who didn't stop too long to listen, but thankfully I stuck around long enough to realize the difference. Their arrangements proved to be rather complex and unique, perfectly complementing the lyrics of their relatively simple but quirky story songs. Singer Amber Papini was a very personable stage presence, blurring the line between sincerity and performance. — ZG
The winner of the best sarcastic face making contest for this year's Sasquatch easily went to Hospitality's Amber Papini, who's well-timed eye-rolls and smirking half-smiles pretty much won me over. She's like the little sister I wish I'd had — riding with me in the backseat while we wittily take down any parents or passers-by. Papini's stage personality pretty much drives Hospitality, with its poppy, yet offbeat approach all dripping with wit and a laissez-nous faire attitude. Set highlight "Betty Wang" is an ear-worm that's quite welcome to stay where it is, swimming in my skull. — SA
Here We Go Magic
When Here We Go Magic are at their best, they've settled into a melodious groove, gentling building layers of bass, guitar and vocal melody. It was no different at the Bigfoot Stage with set highlights "Make Up Your Mind," "How Do I Know" (both from the recently released A Different Ship), and "Collector." At one point, singer Luke Temple took things to a mellow place, and was summarily drowned out by Spac3man on the ill-advised 'mane stage.' I heard comedian Todd Barry had a similar issue at the Banana Shack, but was able to make it part of his routine. Here We Go Magic were understandably unable to tame the massive bass thumps into their own groove, and instead just had to go back to songs with more volume to combat. The lesson learned repeatedly was that Sasquatch needs to either do away with this fourth stage or have the performances not coincide with the nearby Banana Shack and Bigfoot stages. — SA
Blind Pilot
My second trip to the Mainstage was for Portland band Blind Pilot. Vocalist/multi-instrumentalist Kati Claborn and upright bassist Luke Ydstie provided just enough energy and stage presence for the six-piece indie-folk group, whose laid-back vibe would seemingly be more at home around a campfire in the woods than on such a grand stage. Their diehard fans showed up and they surely won some new ones with their endearing brand of poignant Americana tunes. — ZG
The War on Drugs
As Philly's The War on Drugs eased into their The Band-meets-My Bloody Valentine, it became quickly apparent with the crowd assembled that any war on drugs was going to be a losing affair during this set. Since co-founding member Kurt Vile had played the day before, there was some hope amongst fans that there might be a reunion, but Vile was long gone before TWOD took the stage, so those awaiting a surprise had to make do with a competent set from the current lineup. — SA
M. Ward
These days, M. Ward has become better known for his role as half of pop band She and Him (with Zooey Deschanel) which, in my opinion, is a shame. His original indie-rock/alt-country songs, being showcased on Sasquatch's Mainstage, reveal him to be a unique songwriter and excellent guitarist. However, the audience bobbed along largely unaffected until he broke out "Rave On," a Buddy Holly cover that appeared to have connected with their expectations and inspired wild cheers and singing along. — ZG
Wild Flag
"It's great to be here in this White Snake wind tunnel video" quipped guitarist and Portlandia star Carrie Brownstein about three songs into their whirlwind set. It was indeed pretty windy at the Bigfoot stage for most the afternoon, but the all-female supergroup was anything but breezy in their dual guitar onslaught. Brownstein may have garnered the most attention from the crowd, but my attention has always been on Mary Timony, being a Helium fan from way back, and she carried the stage for most the performance, with Brownstein deferring to her much of the time in favor of sticking by her appreciated guitar poses.
The Head & The Heart
Seattle folk band The Head and The Heart took to the Mainstage in front of a very large crowd with the kind of confidence they've earned after a whirlwind of a year that turned them (seemingly overnight) from a local secret into the internationally-touring headliners they were on this day. Compared to their Sasquatch performance a year ago, their experience playing other big festivals (Telluride, Newport, Bonnaroo, SXSW) was evident. They looked like a band with years of experience under their belts: they easily filled the stage, their set was polished, Jon Russell crooned and Josiah Johnson made knowing eye contact with many of their fans in the 'pit.' Violinist Charity Thielen capped their performance by thanking those "who have been with us from the beginning," a telling nod on this momentous occasion, in front of thousands and thousands of fans. — ZG
The Walkmen
NYC indie rock band The Walkmen played a big set of lush songs that ranged from pure pop to folk to pseudo-punk and appeared to have gleaned a new perspective on performance from their work in a Washington State studio with producer Phil Ek. They played a number of tracks from their brand new record that present a more mature version of their old selves, referring to more adult responsibilities and compromising the short-term for the long-term. Singer Hamilton Leithauser seemed to channel a lounge singer at times, which made for an interesting juxtaposition over the rock band's rich instrumentation. — ZG
Clap Your Hands Say Yeah (acoustic mini set… or, the kidnapping)
At this point, right before The Walkmen went on, I was abducted by Rhapsody folks (I was wearing my old Rhapsody employee zip-up after all) and transported out to a special stripped down performance (in a Yurt) from Clap You Hands Say Yeah's Alec Ounsworth and Lee Sargent. Because it was a quiet performance, I couldn't really shoot it (why are digital camera's so noisy anyway?), but I did get some behind the scenes shots of Ounsworth and Sargent sporting rarely seen smiles. Check out video of one of the songs from the special performance here. — SA
Zola Jesus
I don't know what was happening on this day with Nika Roza Danilova, singer/songwriter of Zola Jesus, but she seemed oddly self-conscious in the headlining slot at the Yeti stage. The band played their unique epic electronic/goth rock hybrid and Nika seemed to get a little bit more comfortable as they worked through their set, eventually ending with flailing arms and the crashing of her drummer's cymbals with their closing number. — ZG
Little Dragon
Before catching Bon Iver from the hill, I stopped by the Bigfoot stage once more for Swedish band Little Dragon's set and I was immediately glad I did. Lead singer Yukimi Nagano danced about and sang with the kind of heart and gusto that would be highly unexpected from her tiny frame if you didn't know any better. She encouraged the ample crowd to join her in singing their song "Ritual Union," which was all the invitation their audience needed to begin dancing about and ecstatically shouting along with the chorus. Hers was a dynamic, exciting performance that left the festival crowd raving long after the night's performances concluded. — ZG
James Murphy DJ Set
I've always wanted to stick around for some Banana Shack dancing-with-glow-sticks action, but it's a double-edged sitch, when you have a big heavy lens. It's too much to dance with, and it's mostly too dark to employ with much proficiency. Since it was LCD Soundsystem's James Murphy, I made an attempt anyway, and while the photographic evidence isn't that great, I can report that Murphy was enjoying this shit out of his set. Check out some of the million iPhone videos that made their way on YouTube. — SA
A ton more photos from Day 2 (Sunday) of Sasquatch 2012 after the jump.
Blind Pilot (Zach Gore)

Clap Your Hands Say Yeah (Shawn Anderson)

Dale Earnhardt Jr. Jr. (Shawn Anderson)

Deer Tick (Zach Gore)

Shawn Anderson

Greylag (Shawn Anderon)

Here We Go Magic (Shawn Anderson)

Hey Marseilles (Shawn Anderson)

Hospitality (Zach Gore)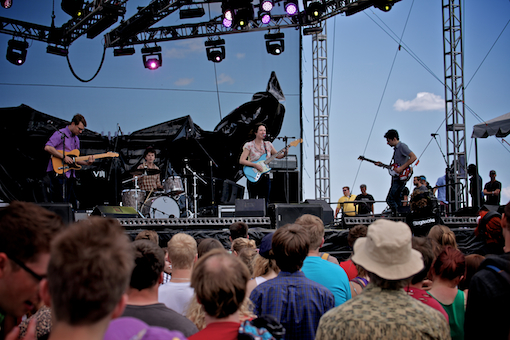 Hospitality (Shawn Anderson)

James Murphy (Shawn Anderson)

Little Dragon (Zach Gore)

M. Ward (Zach Gore)

Reignwolf (Zach Gore)

Reign Wolf (Shawn Anderson)

The Head and The Heart (Zach Gore)

The Walkmen (Zach Gore)

War On Drugs (Shawn Anderson)

We Are Augustines (Shawn Anderson)

Wild Flag (Shawn Anderson)

Zola Jesus (Zach Gore)