The Joy Formidable by Shawn Anderson at Sasquatch! 2012


Words and Photos: Shawn Anderson aka Drake Lelane
Additional Photography: Zach Gore
Here we go, the last of the Sasquatch 2012 coverage. Big thanks to Shawn and Zach for all their help! -ed.
Sasquatch! Music Festival 2012, Day 3
The final day is usually a mellow affair. The crowds develop later in the day and there's less pressure to hop stage-to-stage for sets. While things did start a little later, this Monday ended up being a lot more frantic than normal. The way things were scheduled, there were many photographers sprinting between stages trying to catch a set. The main stage ended up ruling the day for me, with garnering set highlights from Tenacious D, Feist and The Joy Formidable, while Damien Jurado and actor John C. Reilly were able to surprise some with their respective sets. Zach managed to cover a lot of secondary stage bands
Poor Moon
Fleet Foxes are a Sasquatch favorite, and since it's been three years since their last visit, this side project of Fleet Foxes members Christian Wargo and Casey Wescott did the trick. Naturally, Poor Moon's baroque pop features vocal harmonies, but it's also about textures housed in just enough reverb to keep the down the dust. Had hoped to catch Gold Leaves opening the Yeti stage, but it might have felt like too much of the same thing.
Damien Jurado
Delayed by more than 25 minutes of technical difficulties, Damien Jurado packed in as much as he could in his shortened set. At times, the troubadour looked like a man possessed, at times alternating between being on his knees and circling the stage, head down. Folks not familiar with his psychedelic latest release (Maraqopa), must have felt like they were at the wrong stage. While studio collaborator Richard Swift played the main stage a night prior (as a touring member of The Shins), his presence here was felt only in spirit and a photo taped to Jurado's guitar.
Cloud Cult
The Cloud Cult continued what Jurado started, taking a foundation of folk and transcending the genre in live performance, through instrumentation and — most importantly — energy. And then the ill advised 'Mane Stage' attacked again, with the nearby Don't Call the Cops' beats bleeding into Cloud Cult's earnest delivery. Time to move on…
The Joy Formidable
Speaking of energy, there was probably no other performance I saw at Sasquatch that ran on higher octane than the Welsh trio The Joy Formidable. Singer/guitarist Ritzy Bryan led the assault, with wild, expressive eyes and an array of guitar poses that would make Carrie Brownstein blush. Drummer Matt Thomas kept things moving, and won the weekend honor of 'most photogenic drummer' (it helps that they set the drums in the front, stage left). Fun. took a bite out of the audience that The JF would've otherwise enjoyed, but those who stuck to the main stage were not disappointed.
Feist
While her latest work, Metals, is a real moody piece in the mellowest of fashions, Feist was all bounce and smiles for her first ever Sasquatch performance. As a rule, Canadian artists (and audiences) flock to Sasquatch, so I had to double-check that, and yes, this was Feist's first appearance. Leslie Feist was backed by a bevy of musicians, including former Broken Social Scene bandmate Charles Spearin on bass and a trio of backup singers/percussionists dressed like they just came from a Shaman consultation. The audience was eating out of her hand from the start, as Feist had the crowds responding to even the slightest of whims.
Shabazz Palaces
This was the most hotly contested set time of the day, with Shabazz Palaces doing battle with Feist and Shearwater. Zach got Shearwater, I got Feist, but there was no way either one of us were going to give up on the Seattle hip-hop duo. Ishmael Butler and Tendai Maraire were having more fun with this set than I'd seen in the past, remixing their songs with both more melody and trippy elements. It blended beautifully with the sunshine and whatever smoke was blowing my way from the crowd.
John C. Reilly
There was fear from Reilly's camp that there wouldn't be any crowd, playing the lesser attended Yeti stage and being billed on the schedule as 'John Reilly.' But come they did, in droves, and Reilly met with the crowd ahead of time, shaking hands and beaming a big smile. Then he played his set, which was old country, and many soon departed after realizing that there would be no comedy and no Dewey Cox (despite the name being emblazoned on his guitar). Reilly's band was breezy in their delivery and Reilly himself appeared the humble star, deferring whenever possible to a band mate on stage. That didn't stop one woman from throwing her bra to Reilly. He remained his affable self, throughout, and remained afterwards to shake hands and talk with the fans afterwards.
Tenacious D
After only catching two songs of Ted Leo, I quickly made my way down to try and get into position at the main stage for the final acts of the night. The crowd for Tenacious D was much younger than I would've guessed, but Jack Black's audience has seemingly gotten younger every year since School of Rock, and my kids were especially impressed I was going to see the dude from The Muppets, Gulliver's Travels and Yo Gabba Gabba. Of course there's very little I could relay to them about the performance. Between the inflatable penis-as-phoenix to the entire audience sing-a-long of "Fuck Her Gently," this was a hard R rated performance. And of course, I LOVED IT. Black and cohort Kyle Gass were on their game throughout the performance, always ready with the right facial expression or body movement to ensure smiles were permanently installed on faces.
Beck
Following the D wasn't easy for Beck, but with enough hits in his arsenal, it wasn't too hard to keep hold of the crowd. It'd been four years since Beck had last performed, and he the rust was visible early on. He flubbed a lyric here, a wrong note on the guitar there and generally seemed nervous. A few songs in, though, Beck and the band hit their stride, zeroing in on lesser known tracks from Odelay ("Sissyneck"!), which is celebrating its 20th anniversary. He then moved on to Sea Change, remarking that the band that backed him on that album was on stage with him. The songs were flawless in delivery, washing effortlessly over the crowd. Later on in the two-hour set, Beck brought up his son for a song and then Tenacious D joined him on stage.at the end for "Motherfucker" and "E-Pro," sending Sasquatchers home with a smile on their face. Until next year…
A bunch more photos from Day 3 (Monday) of Sasquatch 2012 after the jump.
Beck by Shawn Anderson

Cass McCombs by Shawn Anderson

Cave Singers by Zach Gore

Clap Your Hands Say Yeah by Shawn Anderson

Cloud Cult by Shawn Anderson

Damien Jurado by Zach Gore

Don't Talk To The Cops by Zach Gore

Feist by Shawn Anderson

Gary Clark Jr. by Zach Gore

John C. Reilly by Shawn Anderson

John C. Reilly by Zach Gore

Nero by Shawn Anderson

Poor Moon by Shawn Anderson

Poor Moon by Zach Gore

Shabazz Palaces by Shawn Anderson

Shabazz Palaces by Zach Gore

Shearwater by Zach Gore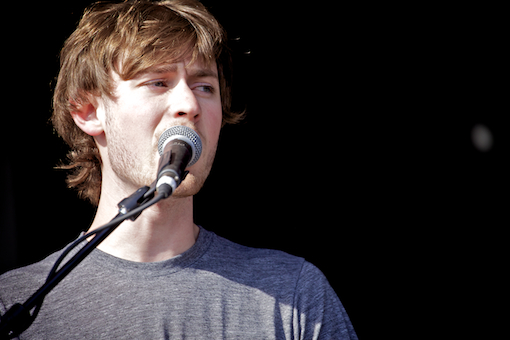 Ted Leo by Zach Gore

Ted Leo by Shawn Anderson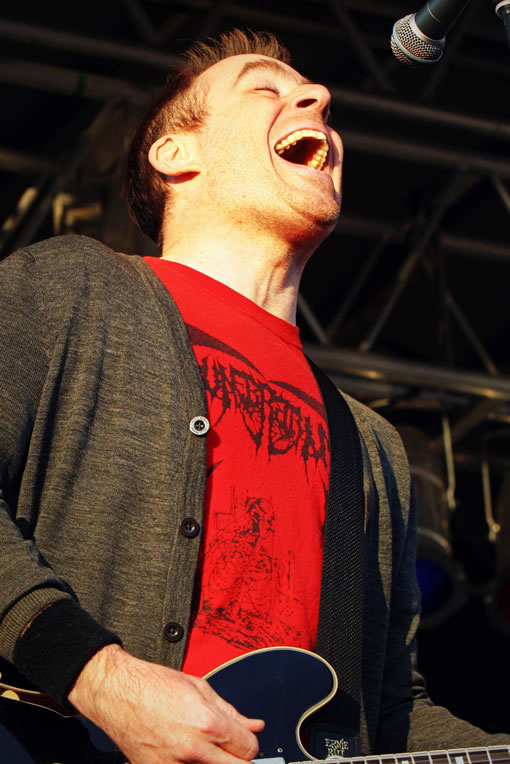 Tenacius D by Shawn Anderson

The Joy Formidable by Shawn Anderson

Vintage Trouble by Zach Gore

Walk The Moon by Zach Gore

Sasquatch!