Louie on FX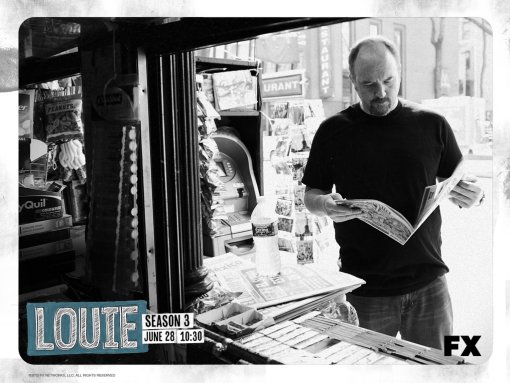 TV fans experiencing the summertime blues will be happy to hear that season 3 of Louis C.K.'s popular sitcom Louie premieres on Thursday, June 28 on the FX Network. In other exciting news, Louis just sent out a conveniently timed message to his fans that he will be hitting the road from October until February playing, "…all over the goddamn place." Of course, one of the places Louis will be performing includes his hometown of NYC, more precisely, the New York City Center from Oct 24 – Oct 28, 2012 (with what looks like room for a few additional dates.) For those of you unfamiliar with the venue (like myself), the New York City Center is located on West 55th Street, between 6th and 7th Avenues, and has a seated capacity of 2,257*.
Here's Louis' email announcing the shows:
hello folks! I'm going on tour this year from October through Feb. I'll be all over the goddamn place. This year, I'm trying something new, building on the fun, success and fan-benifit [sic] of selling my content online. We are selling tickets to this tour exclusively here on louisck.com. I only wanted to do this if there was a way, like with LIVE AT THE BEACON, that it could bring the price of tickets down and make them easier and less complicated to buy. We figured out a way.

Making my shows affordable has always been my goal but two things have always worked against that. High ticket charges and ticket re-sellers marking up the prices. Some ticketing services charge more than 40% over the ticket price and, ironically, the lower I've made my ticket prices, the more scalpers have bought them up, so the more fans have paid for a lot of my tickets.

By selling the tickets exclusively on my site, I've cut the ticket charges way down and absorbed them into the ticket price. To buy a ticket, you join NOTHING. Just use your credit card and buy the damn thing. opt in to the email list if you want, and you'll only get emails from me.

Also, you'll see that if you try to sell the ticket anywhere for anything above the original price, we have the right to cancel your ticket (and refund your money). this is something I intend to enforce. There are some other rules you may find annoying but they are meant to prevent someone who has no intention of seeing the show from buying the ticket and just flipping it for twice the price from a thousand miles away.

Some of these rules may be a pain in your ass, but please be patient. My goal here is that people coming to see my shows are able to pay a fair price and that they be paying just for a ticket. Not also paying an exhorbanant fee for the privalege of buying a ticket.

Tickets across the board, everywhere, are 45 dollars. That's what you'll actually pay. In every case, that will be less than anyone has actually paid to see me (after ticket charges) in about two years and in most cases it's about half of what you paid last year.

The benifit [sic] for me is that I won't get angry emails from anyone who paid a ton of money to see me due to circumstances out of my control. That makes me VERY happy. The 45 dollars also includes sales tax, which I'm paying for you. So I'm making more or less depending on the state.

Another benifit [sic] to me is also one to you. I get your email address (if you opt in) when you opt in. You don't have to join ANYTHING to buy these tickets and if you opt in, youll only hear from me once in an old man's jizz-cycle.

Obviously none of this means anything if the shows aren't good. So that's up to me. As I do every year, I'll be performing a brand new hour (or more) on all of these shows.

Lastly, it was a real challenge to find venues around the country that could work with our exclusive ticketing service under these perameters. It means I'm playing in very new places. I really appreciate all of these theaters that are letting us give this a try.

Setting up this tour has been fascinating and difficult. this ticketing service is a brand new thing and I really fucking hope it works and that there aren't any problems. If anything comes up, please be patient.

Doing things this way means I"m making less than I would have made if I did a standard tour, using the usual very excellent but expensive ticketing service. In some cities I've had to play smaller venues and do more shows. But I like doing more shows and about a year ago I reached a place where I realized I am making enough money doing comedy so the next thing that interested me is bringing your price down. Either way, I still make a whole lot more than my grandfather who taught math and raised chickens in Michigan.

alright, that's it, folks. I'll be sending this message out to folks on the opt-in list and sending a separate email that lays it out much more simply with the proper links. I am doing this because when I emailed you about LIVE AT CARNEGIE HALL, (which is still on sale for 5 dollars!) about half of the people who got the email really enjoyed the long, verbose, unedited message. The other half HATED it and would have preffered a price, a link, and me shutting the fuck up.

This way, you can read this if you like, or your can just see the massive shit-ball of text and throw it in the garbage, and focus on the simple email.

I hope to see you all on the road.

regards,

Louis C.K.
More Louis C.K. tour dates after the jump,
* For those of you reading this on Tuesday morning, there is a good chance that all of the NY City Center shows are already sold out.
Louis C.K. 2012-2013 Tour Dates
Oct 03, 2012 Severance Hall Clevela, OH
Oct 04, 2012 Minneapolis Convention Center Minneapolis, MN
Oct 05, 2012 Minneapolis Convention Center Minneapolis, MN
Oct 06, 2012 Fox Theatre St. Louis, MO
Oct 10, 2012 Riverside Theater Milwaukee, WI
Oct 11, 2012 Riverside Theater Milwaukee, WI
Oct 12, 2012 The Masonic Temple Detroit, MI
Oct 17, 2012 Johnny Mercer Theatre @ Savannah Civic Center Savannah, GA
Oct 18, 2012 The Brady Theater Tulsa, OK
Oct 19, 2012 Jesse H. Jones Hall for the Performing Arts Houston, TX
Oct 20, 2012 Majestic Theatre Dallas, TX
Oct 24, 2012 New York City Center New York, NY
Oct 25, 2012 New York City Center New York, NY
Oct 26, 2012 New York City Center New York, NY
Oct 27, 2012 New York City Center New York, NY
Oct 28, 2012 New York City Center New York, NY
Nov 07, 2012 Merrill Auditorium Portla, ME
Nov 08, 2012 Bushnell Center for the Arts Hartfo, CT
Nov 09, 2012 Chicago Symphony Center Chicago, IL
Nov 14, 2012 Davies Symphony Hall San Francisco, CA
Nov 15, 2012 Davies Symphony Hall San Francisco, CA
Nov 16, 2012 Chicago Symphony Center Chicago, IL
Nov 28, 2012 Broward Center for the Performing Arts Fort Lauderdale, FL
Nov 29, 2012 David A. Straz, Jr. Center for the Performing Arts Tampa, FL
Nov 30, 2012 The Classic Center Athens, GA
Dec 13, 2012 Austin City Limits Live Austin, TX
Dec 14, 2012 Austin City Limits Live Austin, TX
Dec 15, 2012 Wells Fargo Theatre @ The Colorado Convention Center Denver, CO
Dec 20, 2012 Paramount Theater Seattle, WA
Dec 21, 2012 Paramount Theater Seattle, WA
Dec 22, 2012 Celebrity Theatre Phoenix, AZ
Dec 31, 2012 Joseph Meyerhoff Symphony Hall Baltimore, MD
Jan 03, 2013 Boston Symphony Hall Boston, MA
Jan 04, 2013 Boston Symphony Hall Boston, MA
Jan 05, 2013 Boston Symphony Hall Boston, MA
Feb 01, 2013 The John F. Kennedy Center For The Performing Arts NW Washington, DC