Todd Barry – Super Crazy


Buy It | Win It
In his first hour-long special, before a live audience at the Gramercy Theatre in New York, Todd Barry reflects on his history as a germaphobe, gives important travel tips, and explains what you're really paying for when you order spaghetti at a restaurant.

The "Todd Barry: Super Crazy" extended and uncensored DVD, featuring over 15 minutes of material not seen in the broadcast, will be released on July 24 by COMEDY CENTRAL Home Entertainment. The bonus features include Barry's uncut full performance from "The New York Friars Club Roast of Chevy Chase," and Barry on "Giggles, Wiggles and Giggles with Gordy."
If you'd like to own your very own copy of Super Crazy on DVD, you could always go out and buy one, or you could head over to www.bumpershine.com/toddbarry and try your luck at winning one. No purchase necessary. Contest ends on July 31 at 11:59 59 PM ET, 1 entry per person.
Todd is going out on the "Summer Value Tour" in support of his new special with fellow comedians Neil Hamburger and Brendon Walsh starting in August, but he'll be playing (at least) one NYC show before he leaves town. Todd will be at the at Liam McEneaney's venerable TYF at The Bell House on Wed, Aug 1 with Wyatt Cenac and Janeane Garofalo, tickets are on sale now.
More Todd Barry tour dates and TYF at The Bell House flyer after the jump.
TYF w/ Liam McEaneny, Todd Barry, Wyatt Cenac and Janaene Garofolo (08/01/12)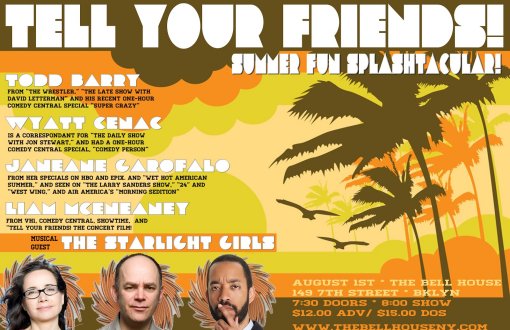 Todd Barry 2012 Tour Dates
JUL 23-26 – MONTREAL, QC Just For Laughs Festival
AUG 01 – BROOKLYN, NY TYF at The Bell House
AUG 15 – COLUMBIA, SC Tapps Arts Center ##
AUG 16 – CHARLESTON, SC The Pour House ##
AUG 17 – RALEIGH, NC Kings Barcade ##
AUG 18 – RICHMOND, VA Gallery 5 ##
AUG 19 – ASHEVILLE, NC Grey Eagle ##
AUG 21 – NASHVILLE, TN Exit/In ##
AUG 22 – KNOXVILLE, TN Pilot Light ##
AUG 23 – ATHENS, GA 40 Watt Club ##
AUG 24 – ATLANTA, GA Plaza Theatre ##
## – Summer Value Tour 2012 with Neil Hamburger and special guest Brendon Walsh