Mumford and Sons – Babel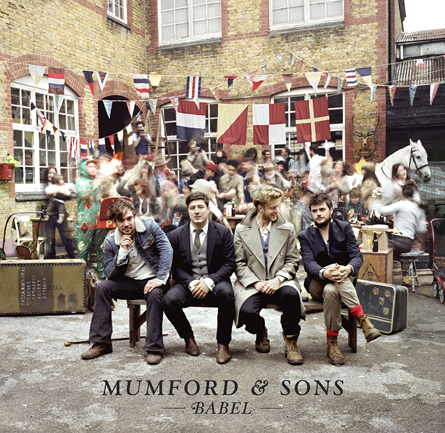 The new Mumford & Sons record is now available for presale on mumfordandsons.com. Babel will be released via Glassnote Records on September 25, 2012.
"We are more than excited to release Babel into the world. We had started writing new songs well before we got into the studio to record. At first, we peeled ourselves off the road quite reluctantly. We love playing live, obviously, but it had also become an important part of our creative process, we had been writing and rehearsing in soundchecks, and sort of 'road-testing' new songs on our very gracious audiences. But then we fell in love with recording again. The album started to come together, and with the help of Markus Dravs once more (and engineer Robin Baynton), we started to relish the challenge of making this album. As a band, we've never been closer or more collaborative, all working to our strengths. And so we feel that this record is a natural progression that we're proud of, and we cannot wait to take it out on the road." – Mumford & Sons
As you might expect, the Mumfords are heading out on the road to promote their new record. Their only local show on their upcoming tour is at Pier A in Hoboken, NJ on Aug 1. Unfortunately, that show is sold out already, but I'd expect they'll announce something in NYC in September, closer to the date of the record release. While Hoboken is "technically" the Mumford's only local show, Mumford & Sons member Ben Lovett is DJing at Union Hall on Aug 2 for the monthly Communion NYC show. That bill features Vacationer, Aaron Embry, Aaron Lee Tasjan, Caleb Hawley and a Special Guest. I don't know anything about who the "Special Guest" is, but if I were you, I'd buy a ticket.
Communion NYC flyer, Babel tracklisting and more Mumford & Sons tour dates after the jump.
Babel Tracklisting:
1. Babel
2. Whispers In The Dark
3. I Will Wait
4. Holland Road
5. Ghosts That We Knew
6. Lover Of The Light
7. Lovers' Eyes
8. Reminder
9. Hopeless Wanderer
10. Broken Crown
11. Below My Feet
12. Not With Haste
Mumford & Sons 2012 Tour Dates:
01 Aug – Pier A, Hoboken, New Jersey
02 Aug – Union Hall, Brooklyn, NY (Ben Lovett DJ Set)
04 Aug – Portland, Maine (Gentlemen of the Road Stopover Show with Mumford & Sons + St. Vincent, Dawes, The Maccabees, Apache Relay, Simone Felice, Haim)
06 Aug – Providence Performing Arts Centre, Providence, Rhode Island
07 Aug – Marvin Sands Performing Arts, Canandaigua, New York
09 Aug – nTelos Wireless Pavilion, Portsmouth, Virginia
11 Aug – Bristol, Tennessee (Gentlemen of the Road Stopover Show with Mumford & Sons + Dawes, JEFF The Brotherhood, The Very Best, Apache Relay, Simone Felice, Justin Townes Earl, Haim)
13 Aug – Louisville Waterfront Park, Louisville, Kentucky
14 Aug – The LC Pavilion, Columbus, Ohio
18 Aug – Dixon, Illinois (Gentlemen of the Road Stopover Show with Mumford & Sons + Gogol Bordello, Dawes, Abigail Washburn, The Very Best, Apache Relay, Haim)
20 Aug – Pinewood Bowl Theatre, Lincoln, Nebraska
21 Aug – Gryphon Theatre, Laramie, Wyoming
22 Aug – The Saltair, Magna, Utah
25 Aug – Monterey, California (Gentlemen of the Road Stopover Show with Mumford & Sons + Gogol Bordello, The Very Best, Apache Relay, Haim)
28 Aug – Red Rocks Amphitheatre, Morrison, Colorado
29 Aug – Red Rocks Amphitheatre, Morrison, Colorado
01 Sep – Aspen Jazz Festival, Aspen, Colorado
13 Oct – Belvoir Amphitheatre, Perth
15 Oct – Entertainment Centre, Adelaide
17 Oct – Riverstage, Brisbane
18 Oct – Entertainment Centre, Sydney
23 Oct – Derwent Entertainment Centre, Hobart
25 Oct – Rod Laver Arena, Melbourne
26 Oct – Royal Theatre, Canberra
28 Oct – Kuranda Amphitheatre, Cairns
29 Oct – Convention Centre, Townsville
31 Oct – Convention Centre, Gold Coast
02 Nov – Vector Arena, Auckland
04 Nov – Town Hall, Wellington
06 Nov – CBS Arena, Christchurch