Lewis Black at NY City Center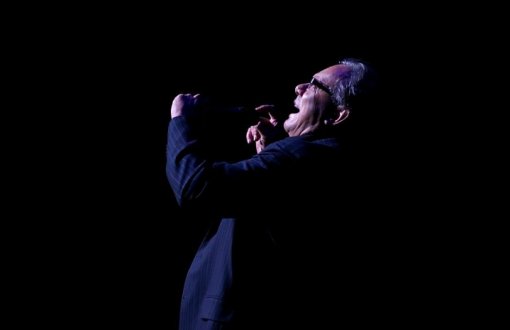 Photo: Lewis Black's Facebook
Comedian and Daily Show regular ranter Lewis Black is bringing his new one man show, Running On Empty, to Broadway's Richard Rogers Theatre for a six night run in October.
"It will be me just doing the same old s–t, only now I'll be doing it in New York as opposed to Boise. I'm going to be calling it the Running on Empty Tour. I've reached the final point." [Montreal Gazette]
Tickets for Lewis Black's Running On Empty go on fan club presale on Thursday, July 26 at 10AM (that's today), regular on sale begins Aug 6 at 10AM ET.
Jerry Seinfeld – Thursday Nights in 5 Boroughs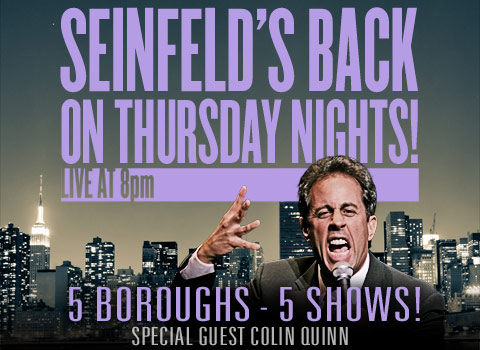 In other comedy news, Porsche enthusiast and the king of observational humor, Jerry Seinfeld, is returning to the road this year with a brand new stand-up routine. Seinfeld's last comedy special, I'm Telling You for the Last Time, aired live on HBO on August 9, 1998.
For the first time in 14 years, Jerry Seinfeld is presenting full performances of his signature stand-up comedy in New York City. Seinfeld will perform five stand-up shows – one in each New York City borough – on five Thursday nights this fall.
Jerry's five borough tour stops on Oct 4 at Beacon Theater in Manhattan; Oct 11 at the Lehman Concert Hall in the Bronx; Oct 18 at the Colden Auditorium at Queens College; Nov 1 at the St. George Theater in Staten Island; and Nov 8 at the Walt Whitman Theater at Brooklyn College in Brooklyn. Tickets for the Brooklyn College show go on BC presale starting on July 26 at 10AM, the presale password is BCJS12. Some other shows are also on sale today, while the rest go on sale Monday.
More Lewis Black and Jerry Seinfeld tour dates after the jump.
Lewis Black 2012 Running On Empty Tour Dates
07/27 Just For Laughs Monteal, QC, Canada
08/02 Deadwood Mountain Deadwood, SD
08/03 Alberta Bair Theater Billings, MT
08/04 Belle Mehus Auditorium Bismarck, ND
08/15 City Winery Chicago, IL
08/16 City Winery Chicago, IL
08/17 City Winery Chicago, IL
08/18 City Winery Chicago, IL
08/19 City Winery Chicago, IL
09/07 Massey Hall Toronto, Ontario, Canada
09/08 National Arts Centre Theatre Ottawa, Ontario Canada
09/09 National Arts Centre Theatre Ottawa, Ontario Canada
09/14 Riverside Theatre Milwaukee, WI
09/15 Mystic Lake Casino Prior Lake, MN
09/16 Weidner Center Green Bay, WI
09/20 Paramount Theatre Austin, TX
09/21 Majestic Theatre San Antonio, TX
09/22 Hobby Center Houston, TX
09/23 Mahalia Jackson Theatre New Orleans, LA
09/27 Warner Theatre Washington, D.C.
09/28 Warner Theatre Washington, D.C.
10/09 Richard Rodgers Theatre New York, NY
10/10 Richard Rodgers Theatre New York, NY
10/11 Richard Rodgers Theatre New York, NY
10/12 Richard Rodgers Theatre New York, NY
10/13 Richard Rodgers Theatre New York, NY
10/14 Richard Rodgers Theatre New York, NY
11/09 Mirage Hotel & Casino Las Vegas, NV
11/10 Mirage Hotel & Casino |Las Vegas, NV
11/16 Fox Theatre Detroit, MI
11/29 San Manuel Indian Bingo & Casino Highland, CA
11/30 Spotlight 29 Casino Coachella, CA
12/01 Terrace Theatre Long Beach, CA
Jerry Seinfeld 2012 Tour Dates
07/26 Greensboro, NC War Memorial Auditorium
07/27 Roanoke, VA Roanoke Performing Arts Theatre
08/03 Washington, DC The Kennedy Center For The Perf. Arts
08/04 Washington, DC The Kennedy Center For The Perf. Arts
08/10 Mashantucket, CT MGM Grand At Foxwoods
08/11 Mashantucket, CT MGM Grand At Foxwoods
08/23 Wichita, KS Concert Hall
08/24 Memphis, TN Orpheum Theatre
09/07 Vancouver, BC Orpheum
09/08 Vancouver, BC Orpheum
09/22 Phoenix, AZ Comerica Theatre
10/04 New York, NY Beacon Theatre
10/11 The Bronx, NY Lehman Concert Hall
10/18 Queens, NY Colden Auditorium at Queens College
10/20 Atlantic City, NJ
11/01 Staten Island, NY St. George Theatre
11/08 Brooklyn, NY Brooklyn College (Buy Tickets on Jul 26 @ 10AM | Presale Password: BCJS12)
12/26 Las Vegas, NV Caesars Palace
12/27 Las Vegas, NV Caesars Palace