5th Annual Eugene Mirman Comedy Festival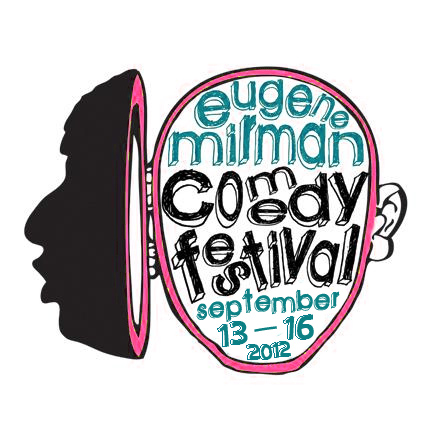 It's almost Fall again and that can only mean one thing, it's time for the 5th Annual Eugene Mirman Comedy Festival. This year, in lieu of a Kickstarter Campaign, the gang is putting on a big auction and fundraiser gig to help support the festival. That show is on Friday, Aug 24 at The Bell House and here's a little bit more info on it:
EMCF Fundraiser Friday August 24th at Bell House!
We're doing a show this Friday to raise money for our 5th Annual Eugene Mirman Comedy Festival. You should come. Then you'll 1) see a great show with me, Brendon Small (Home Movies, Metalocolypse), James Adomian (Comedy Band Bang, Craig Ferguson) and surprise guests 2) be able to bid on awesome silent auction prizes like Sarah Silverman doing your outgoing voicemail message, tickets and a meet and greet to Jim Gaffigan's Apollo show, plus 3) a raffle with such prizes as David Cross' mustache clippings in a Potpourri bag made by Amber Tamblyn, dinner with me and festival producers and more!
View the full 2012 Eugene Mirman Comedy Festival lineup after the jump.
2012 Eugene Mirman Comedy Festival Lineup
SEPTEMBER 13TH – 16TH
Thursday 9/13
We Appreciate Ourselves: The Five Year Anniversary Celebration of The Eugene Mirman Comedy Festival
with Eugene Mirman and special guests!
Featuring:
People live tweeting about outfits!
A VIP Herring Room!
Recognizable celebrities walking around avoiding eye contact!
A Slam Poet that you can throw water balloons at!
And probably much, much more!
8:00 PM Doors / 8:30 PM Show
Bell House
21+, $20
Friday 9/14
This Is The Night These Comics Get Discovered and Become Stars!
7:00 PM Doors / 7:30 PM Show
Union Hall
21+, $15
Friday 9/14
StarTalk Live! with Neil deGrasse Tyson
plus Eugene Mirman, Sarah Silverman and more!
8:30 PM Doors / 9:00 PM Show
Bell House
21+, $20
Saturday 9/15
Uh Oh: Dangerous, Inappropriate Comedy For Teenagers
A comedy show for sexually active teens* or families that don't feel too weird if adult subject matter is discussed.
*Teens don't actually have to be sexually active, in fact, it's better if you wait 'til sophomore year of college.
4 PM Doors / 4:30 PM Show
Union Hall
ALL AGES, $15
Saturday 9/15
Comedians Two to Five Years Away From Their Own TV Shows
7 PM Doors / 7:30 PM Show
Union Hall
21+, $15
Saturday 9/15
Talent Show presents: Speech & Debate
hosted by Kevin Townley and Elna Baker, featuring special guests!
8:30 PM Doors / 9:00 PM Show
Bell House
21+, $20
Sunday 9/16
The Eugene Mirman International Film Festival Hour
An evening of short films, unreleased gems and weird videos by comedians
6 PM Doors / 6:30 PM Show
Union Hall
21+, $10
Sunday 9/16
Invite Them Up
hosted by Bobby Tisdale with Eugene Mirman and special guests!
8:00 PM Doors / 8:30 PM Show
Bell House
21+, $20