Boardwalk Empire on HBO (09/16/12)

Well, it's the fall and that can only mean one thing, it's time for me to sit back on my ass and watch my DVR fill up again. While the pickings look kind of slim as far as new shows go, I am excited for the return of Homeland, Boardwalk Empire, and The Walking Dead. In the new show category, The Mindy Project looks promising, but there isn't a lot after that that I'm too excited about. Here's a look at the rest of what I'm looking forward to watching, recording, renting and/or streaming in the fall 2012 TV season.
2012 Fall Most Interesting TV Shows (that I know of so far)
HBO
Boardwalk Empire Season 3 (Sep 16)
Treme Season 3 (Sep 23)
ABC
Last Resort (Sep 27)
666 Park Avenue (Sep 30)
Revenge (Sep 30)
Nashville (Oct 10)
Suburgatory (Oct 17)
Adult Swim
Robot Chicken (Sep 17)
The Walking Dead on AMC (10/14/12)

AMC
The Walking Dead Season 3 (Oct 14)
Comic Book Men Season 2 (Oct 14)
BBC America
Copper (Aug 19)
Bedlam (Oct 6)
Ripper Street (TBD)
Spies of Warsaw (TBD)
Luther Season 3 (TBD)
Comedy Central
Key and Peele Season 2 (Sep 26)
CBS
Elementary (Sep 27)
CW
Arrow (Oct 10)
The Vampire Diaries (Oct 11)
The Mindy Project on Fox (09/22/12)

Fox
Fringe (Sep 22)
The Mindy Project (Sep 25)
The New Girl Season 2 (Sep 25)
FX
Sons of Anarchy Season 5 (Sep 11)
The League Season 4 (Oct 11)
BrandX (Oct 11)
It's Always Sunny in Philadelphia (Oct 11)
American Horror Story Season 2 (Oct 17)
Hulu
The Thick of It Series 4 (Sep 9)
Trapped In The Closet on IFC

IFC
Trapped In The Closet (Fall 2012)
Whisker Wars Season 2 (Nov 23)
Out There (Jan 2013)
Portlandia Season 3 (Jan 2013)
Maron (TBD 2013)
NBC
Revolution (Sep 17)
The Office Final Season (Sep 20)
Parks & Recreation (Sep 20)
Up All Night (Sep 20)
30 Rock Final Season (Oct 4)
Community (Oct 19)
Netflix
Lillyhammer Season 2 (TBD)
House of Cards (TBD)
Arrested Development (2013)
PBS
Downton Abbey Season 3 (Sep 16 UK Premiere)
The Artists Den Season 5 (Oct 5)
Homeland on Showtime (09/30/12)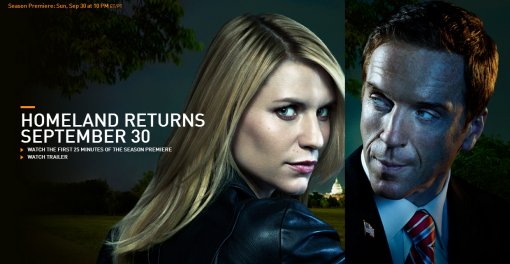 Showtime
Dexter Season 7 (Sep 30)
Homeland Season 2 (Sep 30)
Starz
Boss (Aug 17)
Trapped in The Closet trailer and new and upcoming TV on DVD releases after the jump.