The Crystal Ark Party Machine at The FADER Fort at CMJ 2012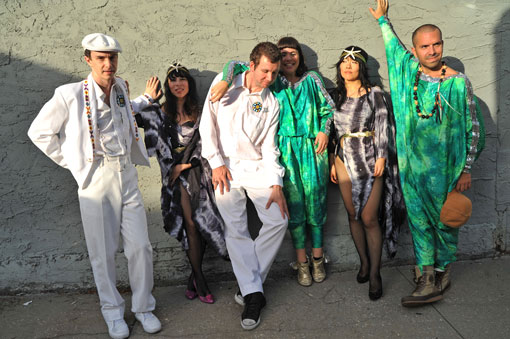 Photo: Chris Becker Jr.
Former LCD Soundsystem keyboardist Gavin Russom and collaborator Viva Ruiz recently released a new album for their experimental disco project, The Crystal Ark Party Machine. They played The FADER Fort at CMJ in October, and just last week played a big record release party at LPR for The Crystal Ark, where they also debuted a new video for the song, "We Came To". The New York Times spilled a little ink about the band and their debut LP this weekend.
Released last month on DFA Records, the Crystal Ark's album, "The Crystal Ark," is teeming with contagious grooves, referring not just to Mr. Russom's touchstones like German kosmische music and Chicago house but also the mesmeric energy of Afro-Cuban batá drumming and Afro-Brazilian Candomblé religious music. The Crystal Ark live looks like what might have happened if Andy Warhol's Exploding Plastic Inevitable had been realized instead by the filmmaker Jack Smith: the stage bursting with musicians, a pulsing psychedelic light show and visuals, campy costumes and a polymorphous panoply of exotic dancers. "We're proponents of shamelessness, for sure," said Ms. Ruiz, Mr. Russom's key collaborator in Crystal Ark, herself a member of the clothes-optional downtown troupe the Dazzle Dancers.
…
Desperate for work in 2001, Mr. Russom advertised his vintage synth proficiency in an e-mail sent to some 600 people, he recalled. Mr. Murphy, a founder of DFA records, was the only respondent, and Mr. Russom soon became DFA's house technician and an important influence on the label's sound. Eventually he was drafted by Mr. Murphy to play keyboards on LCD Soundsystem's final album and farewell tour. At sold-out concerts, Mr. Russom witnessed huge crowds having a profound and powerful reaction to the band's music.

"To really see how much that did for people," Mr. Russom said, "made me feel like it would make sense to make the Crystal Ark a band and let it evolve to become this thing that it seemed to want to become." [NYTimes.com]
More photos of the Crystal Ark Party Machine from The FADER Fort at CMJ and the video for "We Came To" after the jump.
The Crystal Ark Party Machine at The FADER Fort at CMJ 2012