Nick Cave and the Bad Seeds – Push The Sky Away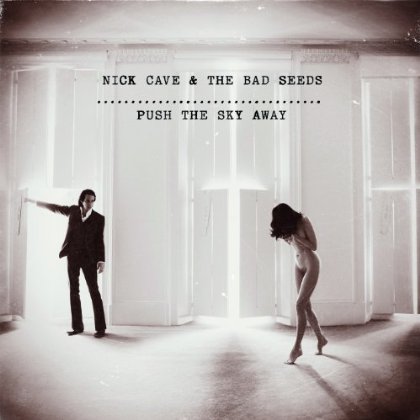 Watch: "We No Who U R" – Nick Cave and the Bad Seeds
Nick Cave and The Bad Seeds will release their 15th album, Push The Sky Away on February 19, 2013.
The songs on this album took form in a modest notebook with shellac covers over the course of almost a year. The notebook is a treasured analogue artefact but the internet is equally important to Nick: Googling curiosities, being entranced by exotic Wikipedia entries "whether they're true or not". These songs convey how on the internet profoundly significant events, momentary fads and mystically-tinged absurdities sit side-by-side and question how we might recognise and assign weight to what's genuinely important.

Push the Sky Away was produced by Nick Launay and recorded at La Fabrique, a recording studio based in a 19th Century mansion in the South of France, where the walls of the main studio are lined with an immense collection of classical vinyl.
In support of PTSA, Nick and the Bad Seeds will be playing The Beacon Theatre on March 28 and March 29, 2013 with Sharon Van Etten as support. Tickets for those shows are on sale now.
In addition to the new album and tour, the music of Nick Cave and Warren Ellis will be featured in the US Premiere of Faust: A Love Story at BAM from Dec 12—Dec 16, 2012.
Faust: A Love Story

BAM Harvey Theater
Tickets start at $25
Best availability: Dec 15 at 2pm and Dec 16 at 3pm

Iceland's Vesturport Theatre returns to BAM with a spectacle of slapstick, horror, and aerial circus daredevilry for an inventive reimagining of Goethe's Faust. Music by longtime collaborators Nick Cave and Warren Ellis is harnessed to Vesturport's trademark acrobatics—including a high-flying act performed above a vast trampoline net stretched over the audience. Having succumbed to the temptation offered by the demon Mephisto, the once-great actor Johann, retired and at the height of despair, finally pursues the happiness that has long eluded him by embarking on the performance of a lifetime. [BAM.org]
More Nick Cave and The Bad Seeds tour dates, video for "We No Who U R," and track listing for Push The Sky Away after the jump.
Nick Cave and the Bad Seeds 2013 North American Tour Dates
March 14, 2013 – Dallas, TX – McFarlin Auditorium
March 16, 2013 – Nashville, TN – Ryman Auditorium
March 17, 2013 – Asheville, NC – The Orange Peel
March 19, 2013 – Philadelphia, PA – Keswick Theater
March 20, 2013 – Washington, DC – Strathmore
March 22, 2013 – Montreal, QC – Metropolis
March 23, 2013 – Toronto, ON – Massey Hall
March 24, 2013 – Boston, MA – Orpheum Theater
March 28, 2013 – New York NY – Beacon Theater
March 29, 2013 – New York NY – Beacon Theater
April 01, 2013 – Chicago, IL – Chicago Theater
April 03, 2013 – Denver, CO – Ogden Theater
* Sharon Van Etten Supports On All Dates
Push The Sky Away Track Listing
We No Who U R
Wide Lovely Eyes
Water's Edge
Jubilee Street
Mermaids
We Real Cool
Finishing Jubilee Street
Higgs Boson Blues
Push The Sky Away