An Evening with Bob and David and Posehn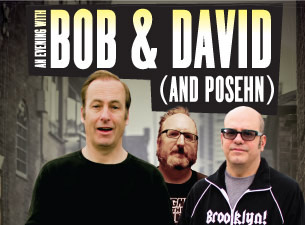 Bob Odenkirk, David Cross and Brian Posehn are doing a little five city comedy tour that will be making pit stops in NYC on September 10 (Powerhouse Arena) and September 12 (Town Hall). Tickets for the Town Hall show go on Amex presale on Wednesday, July 24.
Or is it tonight? I don't know. I purposely stay away from the internet unless it's specifically porn-based or baseball. Or local Georgia politics. Or banana bread recipes. Or help for Borderlands 2. But definitely NOT facebook! I don't get it. Anyone who's seen a longer set I've done in the last six months or so knows how I feel about facebook (and it's clones). But the best thing about facebook. The only best thing about facebook, is letting people know about gigs and things I'm doing that you may want to know about (as opposed to a photo of a "pretty good" Bahn Mi sandwich I had at that place near the ferry). So, with that in mind, here are the dates and places (or vice versa I suppose) of where Bob and Brian and I will be doing at least three new sketches (if not a bunch more) and stand-up, and who knows what all else? We'd be doing more but unfortunately our schedules don't allow for it. Bob is very busy with The Birthday Boys (premiering soonish on IFC) and I am directing a movie I wrote in upstate NY. I'll tell you more about that later. We start shooting a week from today and it's got Matt Walsh, Dave Koechner, Amy Sedaris, Wyatt Cenac, Derrick Waters, Russ Tamblyn and his daughter Amber, and a ton of other great folks. Oh. I just told you about it now didn't I? Should be a really fun shoot and ultimately up for consideration of being one of the top twelve movies in cinematic history.[David Cross on Facebook]
All Bob and David and Brian tour dates after the jump.
Bob Odenkirk, David Cross & Brian Posehn Tour Dates
09/10 – Brooklyn, N.Y. @ powerHouse Arena
09/12 – New York, N.Y. @ Town Hall Theatre
09/13 – Boston, Mass. @ Shubert Theatre
09/14 – Boston, Mass. @ Harvard Bookstore at Brattle Theater
09/20 – Chicago, Ill. @ Vic Theatre
09/21 – Chicago, Ill. @ Second City with The Book Cellar
09/27 – San Francisco, Calif. @ Book Passage at Corte Madera
09/27 – San Francisco, Calif. @ Palace of Fine Arts Theatre
09/28 – Portland, Ore. @ Powell's Bookstore at downtown Burnside
09/28 – Portland, Ore. @ Newmark Theatre