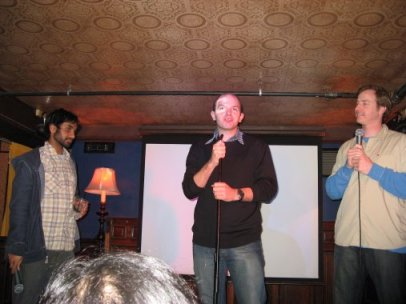 Aziz, Paul and Rob at Union Hall on March 25, 2007
Hey Folks,
Please check out my full interview (originally done for the defunct juxtaviews.com) with MTV's Human Giant (Rob Huebel, Aziz Ansari, and Paul Scheer) after the jump. The guys gave some really great answers to my questions, hope you enjoy it.
PS The show premieres tomorrow night on MTV at 10:30 EST. It's available for free download on iTunes now.
What's a Human Giant? If you guessed, a standup comedian, two improv
actors, and a hotshot director then you'd be right. Rob Huebel
(Inconsiderate Cell Phone Guy), Paul Scheer (VH1's Best Week Ever),
Aziz Ansari (UCB's Crash Test) and Jason Woliner are the driving force
behind many popular short films on YouTube (and other video sharing
sites) and a very funny new show premiering April 5th on MTV. Rob,
Paul and Aziz were kind enough to stop by Juxtaviews and answer my big
list of questions.
Name, age, the last pitchfork rating you agree with, and when you
sleep at night, you dream about?
AA: Aziz Ansari, 24, LCD Soundsystem – Sound of Silver. I usually
don't dream, and I can't remember ones I had, sorry for such an
uninteresting response, hopefully Rob and Paul came through.
PS: Paul Scheer, 31, The Pipettes – We are the Pipettes. Hanging out
with the cast of Goonies (not the actors, the characters).
RH: Rob Huebel, 34, I agree with everything Pitchfork says. When I
sleep at night I dream about my own shortcomings in terrifying and
humiliating ways"¦
I have to ask this "" you're called Human Giant, why?
PS: The name Human Giant was taken from Shutterbugs (Episode 2). A
Character refers to Michael Clarke Duncan as the Human Giant. Aziz and
I thought that was particulary funny because we were working on a film
with him at the time and the name stuck.
For those folks not familiar with your stuff, describe the Human
Giant's brand of comedy in 5 words.
PS: It's the Taste Kids Love & Mom's Approve Too (shit I went over
five) How about these 5 words: Hippos, Death-Mask, Grapes, Dentistry,
and Solange.
Through the power of sites like YouTube, CollegeHumour, Google Video,
and your own site, TheHumanGiant.com, you were able to widely
distribute some memorable short films including: Shutterbugs, Clell
Tickle: Indie Marketing Guru, Shittiest Mix Tape, and Other Music and
Illusionators. Will we be seeing any of those short films on the MTV
show? If so, how will they be different?
PS: Shutterbugs, Clell Tickle, Shittiest Mixtape and Illusionators
will all be on the show in some form. The biggest changes in these
pieces occur in adapting it into a running time that is acceptable for
TV. Also certain legal matters like rights, clearances, and language.
prevent pieces from airing they way they did online. So watch them now
before they disappear forever.
AA: We shot a bunch of new stuff with the Bugs and Illusionators.
Mixtape we had to change some of the songs, because apparently Paula
Cole and Gloria Estefan don't want their music associated with a short
called "Shittiest Mixtape." What's a bummer is I'm sure the Miami
Sound Machine could have used some of that hefty check we would have
had to pay for "Conga."
I know the Shutterbugs episodes were screened at the Channel 102 film
festival in New York, what was that experience like?
PS: 102 was a great place to show shorts and it also gave you a
deadline to work towards, that show really made you proactive, if you
let it. After Shutterbugs Aziz and I wanted to do a new video about
Magicians (The Illusionators) we originally where going to debut it at
102 but the scope became too large and we didn't want to compromise
it, so we opted to play it around the city at different venues
instead.
How long did you typically spend filming and editing those early web
videos? When you were initially putting this stuff out, what were you
hoping would come out of it?
PS: Each of the them was a different amount of time. We didn't have a
set system with Post or Production. We just spent as much time was
needed on each piece. Illusionators (the 12 minute version) took about
3 weeks where as Shutterbugs took a weekend . We really didn't have a
goal for the group immediately we just wanted to make shorts and play
them around NYC.
RH: When we first started shooting stuff (Shutterbugs/Illusionators)
it was mainly because we liked working together and wanted to show
stuff around the nyc comedy scene. Back then our director, Jason had
all the time in the world to edit and tweak stuff and really make it
great. We never thought we'd get a tv show out of it.
How did you guys manage to make the jump from the web to MTV? Did you
actively pitch your idea for a Human Giant TV show to other networks?
AA: MTV approached us based on our live performances individually (me
as standup, Rob and Paul as improvisers) and our work in the videos we
made collectively. They were really excited to get the project running
and really wanted to move fast and not leave us sitting in development
for months and months.
RH: They [MTV] saw our stuff online and new all of us as comedians
around NYC. So we basically never pitched them. They asked us to do a
pilot"¦we did one a year ago"¦and blammo here we are.
What do you think had the greatest effect on the popularity of your
web videos: the Upright Citizens Brigade Theatre (UCB), Channel 102,
Blogs, MySpace, YouTube, or was it something else?
RH: As far as sheer numbers are concerned it's probably been a
combination of a bunch of Internet stuff. Definitely YouTube, MySpace
and people blogging about them and sending them to their friends –
that all built awareness for us. Coming from UCB and being able to
test-screen stuff there for live audiences – that also helped a lot in
the development of the show.
PS: I think it's a combination of all those. Basically bored people at
work are the people we should be thanking, they can make you or break
you with just one click of a mouse.
Before you started working on the MTV series, how did you guys
generally divide up the workload for the Human Giant videos? Did
anyone else write for the MTV show?
PS: Before MTV we were the only creative people involved in the
project. However we always lets anyone we cast improvise around their
lines, we really trust everyone. We even continued that during the
actual MTV show.
RH: We used to write loose scripts for pieces"¦then we'd improvise a
lot while shooting and then Jason would edit out all the crap and keep
all the good stuff. Once we went into production at mtv we were able
to have some of our friends come in for a bit and pitch ideas and help
solidify scripts. We worked a lot with Jon Glaser, Brian Posehn, and
Dan Mintz. All really funny dudes. We also worked with Chad Carter,
Patton Oswalt, Kristen Schaal, Morgan Murphy, and Ian Roberts. We're
lucky to have friends with similar sensibilities that all could help
out. Our show runner, Tom Gianas was amazing. He's an old friend and
writer from SNL and Tenacious D. We couldn't have done it without him.
You guys have all worked at the UCB, did you do any improv at all
during the filming of this show, or was everything tightly scripted?
PS: We have a strong scene idea and a tight script but when we get to
set we kinda just throw it out the window and see what else we can
find.
AA: All our scripts were treated very loosely and we improvised a lot
around them. We usually always found great jokes on set. Also, all the
guests on the show were friends of ours who are super talented and
great improvisors, who also added a ton to the show with what they
brought to their characters.
RH: We did tons of improvising. That's where a lot of our best stuff came from.
What's your favorite pre-MTV Human Giant web video and what's your
favorite video from the MTV show? What are some the new sketches you
guys have worked out for the show that you are excited about?
PS: Before the show, it was the 12 minute Illusionators. For the show,
my favorite might be something called Spacelords, I watched the rough
cut yesterday and I think it's really funny.
AA: I am pretty proud of all our pre-MTV work. Shutterbugs will always
be a little special since it was our first thing. The 12 minute
Illusionators we made on our own will also be one of my favorites, due
to how ambitious it was and how we pulled it off the way we did
without a crew, permits, etc. Of the new stuff, I love the new
editions of Bugs and Illusionators and a lot of new stuff – Let's Go,
Spacelords, Camping Weekend, Moving Company, SeaLand Psycho,
Lunartics, Mosh Pit, Escalating Interview, Dick on the Face, Re-
enactment, etc. That use of etc. makes no sense, since you don't the
rest of the sketches I would list.
What was the biggest challenge going from writing and producing
episodes for the web to writing and producing episodes for MTV? What
did you do differently for TV than the web?
PS: The biggest difference was the sheer amount of work. We went from
having 6 shorts online to having to write, produce and star in 90
pieces.
RH: It was fairly similar. MTV never said to gear stuff more for a
younger viewer or anything like that. We never wanted to go too
"˜broad'. We like to keep things short and fast and sometimes weird and
violent. We just had more people involved in the crew for MTV. We owe
them a lot.
AA: At first, it was strange having a large crew with us all the time,
we used to just have Jason and maybe someone holding a boom. With MTV,
we got a huge crew of people, who were great in they could help us be
more ambitious with props, locations, etc. However, we still did a
large chunk of the show with a 'skeleton' crew that was reminiscent of
our old days so we could be faster and find new bits on our shoots.
That's what we found to work best – a mix of both.
As a follow up question, on the web, you have no censor except for
yourself, during the filming of the show, what was it like dealing
with directives given by the network's standards and practices? Did
you ever come up with something in response to a note from standards
and practices, only to find out later that the sketch worked better
because of it?
PS: We never tried to censor ourselves, we wrote the best ideas we
could and then let Standards squash them later. Standards made us much
more creative with our weapon choices, so for that I thank them.
Goodbye Gun, Hello Crossbow.
AA: Standards people have great ideas sometimes – instead of "raped by
a dinosaur" – they suggested "diddled by a dinosaur." Instead of
handguns, they suggested missile launchers, oozies, and crossbows –
all way funnier than handguns. Thank you standards!
RH: I don't think we ever had to adjust something to suit the
standards folks and felt it was necessarily "˜better'. That said,
they've been pretty cool with us. We've gotten away with way more shit
than we thought we could. I think they want to take a chance on this
show and see if it can connect with people. We're not overly crude or
gross or anything and we don't do stuff like that just to be "˜edgy'.
Some things will be offensive for sure but that's just the nature of
comedy. It offends some people.
When you were making individual short films for the web, (with the
exception of Shutterbugs), they all existed basically as one-off
concepts. When you were given the green light to make a TV show, did
you have to step back and think about how each short film would tie
together in the context of a half hour show and a whole season?
PS: Not really. We still made a high percentage of one-offs for the
series. We only have 3 re-occuring series in the show Shutterbugs,
Illusionators, and Spacelords. The rest are stand alone short films.
AA: Well one thing we started for the show were bits where we just
played ourselves – Aziz, Rob, and Paul. Their is no continuity to this
world – our jobs always change, sometimes one of us is a character, we
also die constantly. One of the MTV guys compared it to Looney Tunes.
There are a few recurring bits like Shutterbugs, and a lot of them
have that "packaging" like we used in our old stuff. Basically the
show feels like a bunch of short films starring the three of us.
Sometimes we're ourselves, sometimes characters, sometimes a
combination of the two.
RH: We had to generate a huge amount of material. We knew we had some
things we liked from the past (Shutterbugs, Illusionators) that we
wanted to spin out into recurring bits. But we basically made the show
modular, that is that sketches can be mixed and matched into various
episodes. We created several story arcs along the way for diff
characters and pieces that we wanted to explore a little. Those will
unfold over the season.
I know Jason (Woliner) directed the Human Giant's videos for the web,
did he also direct all the episodes of MTV show? How many episodes of
the Human Giant are scheduled to air this year?
RH: Jason pretty much directed all of our stuff. We did 8 episodes and
they start airing Thursdays at 10:30 starting April 5th. We had a
couple other directors come in when things got super busy. They were
both great dudes and amazing directors too.
PS: Jason directed the majority of the pieces but was also joined by
Jay Chadraskahr (Arrested Development) and Rusty Cundieff (Chappelle
Show).
I read that you were given "high end video cell phones" during the
making of the show, can we expect to see some of your cell phone
outtakes as extras for the web? Also, can you tell me what kind of web
campaign (streaming episodes, iTunes downloads, blogs etc.) will be
backing up the show? I also read that there be a mobile version, can
you speak to that at all?
PS: We'll be available on Itunes, Xbox, and Amazon"¦1st episode is
free. The high end camera phones were only used for a few days, they
were really complicated to use. I got frustrated with them, but we do
have a bunch of "Behind the Scenes" footage that we have edited that
will be avail for the DVD or online.
RH: We tried to shoot some behind the scenes stuff with some
cellphone, but I'm not sure what became of that stuff. Hopefully some
tech genius at MTV has made that footage look awesome, because we're
pretty shitty videographers. There's a lot of stuff rolling out too on
MTV's site and hopefully on blogs of cool people that like us.
Given that your key demographic consists probably of folks that do not
watch too much TV in the traditional sense, has MTV given you any
indication that it will be looking at other metrics aside from Nielsen
ratings when judging your success? Aside from big ratings, personally,
what will make you guys think your show is a success?
PS: I think Online and amount of downloads is the new Neilsen, so I'm
sure the big wigs will be watching that. In my mind our show is a
success if we can continue to grow and audience and ultimately it's a
success if we are happy with it and so far we are.
RH: In the TV world, I think that ratings are all that matter. It
would definitely help if zillions of folks downloaded it from Itunes
too. So do that if you don't have a TV. And email clips around to your
friends. We'd appreciate it. Personally though, we know we've made a
show we can be proud of. We hope other people connect with it and
enjoy it too. We will be pretty psyched if people find it funny.
You guys are all experienced live performers, when you were making these
short films, did you ever miss the rush of having an immediate live
audience reaction?
PS: It was difficult, you use the audience to guide you, but that's
why we play the shorts around town a bunch, because now the audience's
reactions are used to guide the pieces after they are completed to
make sure we are releasing the best possible piece.
AA: One thing that's been great is we've gotten to test screen our
pieces in live shows in NY and LA and that's been so great in boosting
our spirits during this process, not to mention giving us valuable
feedback on our work.
RH: It's really two different things. Performing live is a blast
because there's an audience there. But when you're shooting you kind
of have to go for a different goal. You have to imagine people
watching it at home and laughing. Or you just try to crack each other
up. You know you're doing okay if everyone on set is laughing.
Aziz, Paul and Rob Show Human Giant Clips at Union Hall
Some of the stuff you guys do is a little off the wall, was there
anything really publicly embarrassing that happened during the filming
of the show (Aziz, your mixtape sketch comes to mind)?
AA: Mixtape is the only reality type piece we ended up doing. But
walking around in some of our jackass costumes (Illusionators) is not
always fun. We'd also have dumb hairdos (slick backs, ponytails, etc.)
that could be fairly annoying. My favorite was one time In LA I was
driving on the highway dressed as Udon, my character from Spacelords.
I looked like Zod from Superman II and I had a ponytail and a gold
crown on my head as I bopped along the 110-E in my Taurus SEL
(rental).
RH: We shot a bit where i get hit by a car suddenly. There was a stunt
man that got creamed for me. He was awesome. Then he pops up off the
street and I lay down where he was. We started rolling and all of a
sudden there were sirens blaring off in the distance. Then a
helicopter started hovering overhead. Then ambulances flew up. Then a
ton of firetrucks. Someone in NYC was looking out their window and
thought I was really hurt. We had to apologize to the firemen. We felt
bad.
Can you name some video podcasts or YouTube channels that you watch
frequently? Any TV shows that you think are particularly funny?
PS: TV: (Currently) Extras: Season 2, The Sarah Silverman Program,
South Park, The Office, 30 Rock, Andy Milonakis and The Riches. Video
Podcasts: Kasper Hauser/Sky Maul. YouTube Channels: ru42 (A Disney
World You Tube Channel). * I also watch Eugene Mirman, Jonah Ray, and
Jay Johnston's stuff on Super Deluxe.
RH: TV: The Office, 30 Rock, Curb Your Enthusiasm, Arrested
Development, Freaks and Geeks, The Daily Show, Colbert Report, SNL.
Lots of British stuff: Mighty Boosh, Snuffbox, and Garth Marenghi.
AA: TV: The Office, Extras, and Colbert.
Please name a few websites you must visit every day?
PS: What Would Tyler Durden Do?, The Defamer, BruceWillis.com – I love
his journal
AA: Google, YouTube, MySpace – hahaha I purposefully gave you a shitty
answer, because I don't like that question!!! AHAHAHAH!
Do you have any tips for an aspiring comedians/writers/actors?
PS: I guess I'd suggest continue to work on what you find funny and
find other like minded people and eventually that partnership will
lead you to next step. Also always be watching and learning from your
peers, no matter if they are on stage or on the internet.
AA: Put out good stuff and work hard.
RH: Learn to improvise. It's the best training for writing and
performing. And shoot your own stuff. Don't wait around for the
perfect idea. Just start shooting stuff.
What's next for Human Giant or for each of you? Will you guys continue
to produce material for the web after all the episodes have aired?
PS: I'm starting Hot Dog Place called Jersey's Best Dogs"¦I know
nothing about cooking so I have to get started on that. Later.
RH: We just want to make this series great. Right now that's all we
think about. But yeah, we'll def be doing more stuff down the road
that will pop up on the internet. That's where the people are
nowadays.
Human Giant premieres Thursday, April 5th on MTV at 10:30 EST