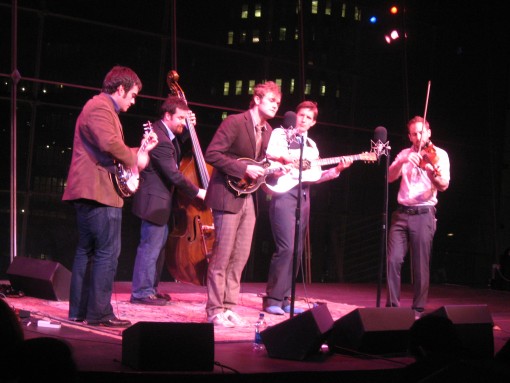 I'm just gonna come right out and say it, The Allen Room is the best place in the New York to see music. It's just so very… civilized. Not to mention the comfortable seating, awesome acoustics and amazing view (which also happened to include a lunar eclipse last night). But what of the Punch Brothers you say, weren't you also there to see them play? Well yes I was, and I wasn't disappointed. The Punch Brothers took advantage of the Allen Room's considerable charms to showcase their considerable talents (Thile is, after all, the self proclaimed Jimi Hendrix of the Mandolin) as well as a number of tracks off of their upcoming release, Punch (Nonesuch). The new material in the show included "Punch Bowl" and "Sometimes" as well as all four parts of "Movement". While I liked hearing the new stuff live, I can't say it really made me want to run out and buy the album (which was available at the merch table last night, but is set for a February 26 release). The near 100 minute set also featured several cuts off of How To Grow A Woman From The Ground (including The Strokes "Heart In a Cage") and ended on a real high note with a stellar cover of Radiohead's "Morning Bell".
PS Don't use the above image without permission.
See all Punch Brothers tour dates after the jump.

Punch Brothers 2008 Tour Dates
Feb 22 2008 Wintergrass Music Festival Tacoma, Washington
Feb 23 2008 The Independent – 2 SHOWS: & 10:00P San Francisco, California
Feb 25 2008 Sierra Nevada Tap Room Chico, California
Feb 27 2008 Belly Up Tavern Solana Beach, California
Feb 28 2008 Troubadour Los Angeles, California
Feb 29 2008 Tonight Show with Jay Leno Los Angeles, California
Mar 01 2008 Soho Restaurant & Music Club Santa Barbara, California
Mar 06 2008 Buskirk-Chumley Theatre Bloomington, Indiana
Mar 07 2008 Southern Theatre Columbus, Ohio
Mar 08 2008 The 930 Listening Room Louisville, Kentucky
Mar 09 2008 Clemons Fine Arts Center Paducah, Kentucky
Mar 26 2008 Singletary Recital Hall Lexington, Kentucky
Mar 27 2008 Grey Eagle Tavern & Music Hall Asheville, North Carolina
Mar 28 2008 Carolina Theatre Greensboro, North Carolina
Mar 29 2008 The Clayton Center Clayton, North Carolina
Mar 30 2008 North Carolina Blumenthal Performing Arts Center Charlotte, North Carolina
Apr 01 2008 The Ark Ann Arbor, Michigan
Apr 02 2008 The Kent Stage Kent, Ohio
Apr 03 2008 Seton Performance Hall Cincinnati, Ohio
Apr 05 2008 Gild Hall Arden, Delaware
Apr 06 2008 Shubert Theater New Haven, Connecticut
Apr 07 2008 Museum of Fine Arts Boston, Massachusetts
Apr 09 2008 Rams Head On Stage – EARLY SHOW Annapolis, Maryland
Apr 09 2008 Rams Head On Stage – LATE SHOW Annapolis, Maryland
Apr 10 2008 Sellersville Theatre 1894 Sellersville, Pennsylvania
Apr 11 2008 Satellite Ballroom Charlottesville, Virginia
Apr 12 2008 Bijou Theatre Knoxville, Tennessee
May 23 2008 The Birchmere Alexandria, Virginia
May 25 2008 Delfest Cumberland, Maryland