Mission:Metallica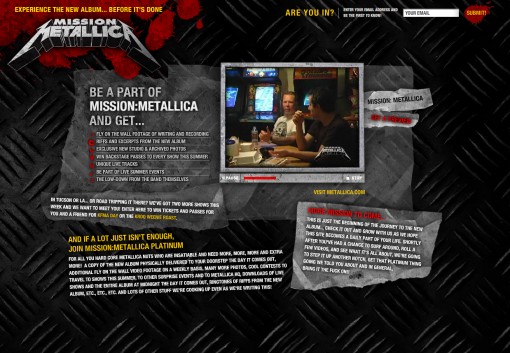 Taking a cue from Radiohead and Trent Reznor, Metallica (didn't they retire?) just launched a new website offering streaming excerpts from their new album and behind the scenes of footage of recording sessions.
NEW YORK (Billboard) – As the September release of its first album in five years draws near, Metallica has launched a Web site to offer fans exclusive content and teasers of new songs.

At "Mission: Metallica", a preview clip shows the rock band recording and clowning around in the studio. Fans who sign up will be eligible to "win backstage passes to every show this summer," among other special offers.

"Mission: Metallica" also has a "platinum" level, entitling fans to a copy of the new album delivered on its release date, weekly "fly on the wall" video clips, contests to travel to shows or Metallica's San Francisco compound, live show downloads, ringtones and more.

It is unclear what, if anything, the services will cost. [Reuters/Billboard]
Metallica plays the Wiltern Theatre in LA tonight, all other currently know tour dates below.

Metallica 2008 Tour Dates
May 14 Wiltern Theatre Los Angeles, California
May 16 Pima County Fairgrounds Tucson, Arizona
May 17 Verizon Wireless Amphitheater Irvine, California
May 28 Slaski Stadium Chorzow
May 30 Pinkpop Festival Landgraaf
May 31 Electric Weekend Getafe, Madrid
Jun 03 Slavia Stadium Prague
Jun 05 Rock In Rio Festival Lisbon
Jun 07 Rock Am Ring Nurburgring
Jun 08 Rock Im Park Nurnberg
Jun 13 Bonnaroo Manchester, Tennessee
Jul 16 Bergenhus Castle Bergen
Jul 18 SKK Hall St. Petersburg
Jul 20 Skonto Stadium Riga
Jul 22 Parco Nord Bologna
Jul 23 Cotroceni Football Stadium Bucharest
Jul 25 Levski Stadium Sofia
Jul 27 Ali Sami Yen Stadium Istanbul
Aug 09 Ozzfest Dallas, Texas
Aug 14 Grand d'Arras Arras, Nord-Pas-de-Calais
Aug 15 Pukkelpop Festival Hasselt
Aug 17 Degenaupark Wil/Jonschwil
Aug 20 Marlay Park Dublin
Aug 22 Leeds Festival Leeds
Aug 24 Reading Festival Reading