Broken Social Scene at Siren Festival (07/19/08)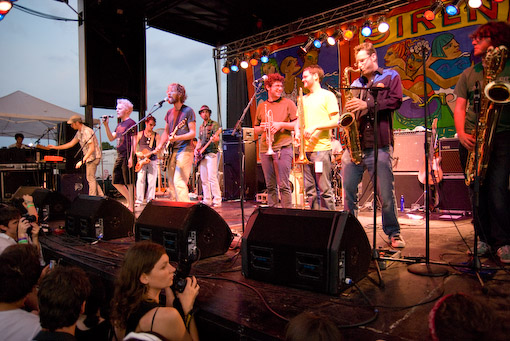 Photos: Jon Klemm for Bumpershine/Siren Music Festival
On Thursday of last week Brendan Canning and the current incarnation of Broken Social Scene (Canning, Kevin Drew, Justin Peroff, Andrew Whiteman, Sam Goldberg, Charles Spearin, Leon Klingstone, Gentleman Reg, and the "Philly Elite" horn section) played the Mercury Lounge, by all rights, it's a show I should have been at, but due to circumstances beyond my control, I couldn't make it. Jonny Leather, on the other hand was there, and here's some of what he had to say:
After opening with "Chameleon," they informed the crowd that they only know how to play 5 of Canning's songs, so they'll be playing a lot of other stuff, which of course no one had any quarrels with. The set consisted of the 5 Canning songs, a bundle of Broken Social Scene classics including the phenomenal "Fire-Eyed Boy," 1 Kevin Drew song, an Apostle of Hustle song, as well as few more interesting moments.

When Kevin Drew, wanting to make sure that it was Canning's night, took out a ring to give to Brendan Canning, we knew it'd be a very interesting night. Before we knew it, the 2 men were acting like kids and pretending to be the Wonder Twins. The overall vibe remained loose, as the band joked about Dj Jazzy Jeff & The Fresh Prince, and sang Madonna. Kevin Drew kept the '80s nostalgia alive singing Huey Lewis' "I Wanna New Drug" in between songs.
…
There would be false starts, and a few screw ups, but Broken Social Scene's performance never felt sloppy, but rather loose and fun, as if we were watching a band who was there to have a good time. And that was exactly what they were doing, and no there was better moment than when the band went into an impromptu country jamboree about how they'll never be a professional band. It was seemingly as unexpected for the band as the crowd, and perfectly summed up the night.

After nearly 2 hours, the guys in the band were tired, but the crowd seemed unwilling to let them leave the stage. Finally, Drew gave the audience a vote on the set closer. It was close but "KC Accidental" got the loudest applause, and the band assembled for one last thrill. [JonnyLeather.com]
On Saturday night, Broken Social Scene headlined the Siren Festival and that's where the above pictures came from. Finally, lest we forget, Brendan Canning's new record, Something For All of Us comes out tomorrow (07/22) in CD format (it has been available as a digital only release at the Arts & Crafts store since last month).