UPDATE: If you have not heard by now (11/16/08), your child is NOT a finalist in the 2008 babyGap & GapKids Casting Call contest.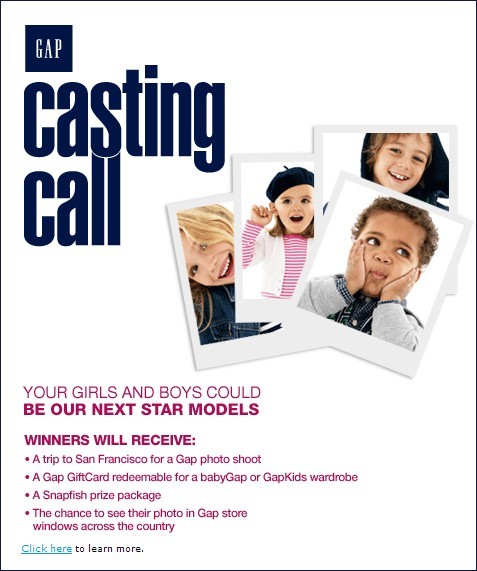 It's been a long lonely year of waiting, but the annual babyGap and GapKids Casting Call is finally here again. To enter your adworthy offspring (because hey, what kid isn't model cute) in this year's online contest, go to gap.com/castingcall. Here are the details for the 2008 Casting Call:
Gap is excited to announce the launch of its annual Casting Call contest – a nationwide search for the cutest babies and kids to become babyGap and GapKids models. Gap is teaming up with Snapfish, a leading online photo service, to invite you to enter babies (ages four and under) and kids (ages five to ten) across the country into the Casting Call. From September 15 through October 22, 2008, submit your favorite photo of your child(ren) for a chance for them to be featured in an upcoming babyGap or GapKids campaign. Finalists and winners will receive prize packages including special gifts from babyGap, GapKids, and Snapfish.

How it works:
A panel of judges will narrow all entries received down to 20 finalists (5 boys, 5 girls, 5 baby boys, and 5 baby girls). Those finalists will be voted on by the public from December 8 through December 21, 2008. The children who receive the most votes in each category will be announced as winners in January 2009.
Here's some further contest details from the official contest rules:
3. CONTEST PERIOD: The Contest runs between 12:00 a.m. Eastern Time ("ET") on September 15, 2008 and 11:59 p.m. ET on December 21, 2008 (the "Contest Period") and consists of three (3) phases as set forth in the chart below:

Phase
Starts at 12:00 a.m. ET
Ends at 11:59 p.m. ET
Submission
September 15, 2008
October 22, 2008
Judging /
Finalist Notification
October 23, 2008
December 7, 2008
Voting
December 8, 2008
December 21, 2008

…
6. FINALIST VERIFICATION/DISQUALIFICATION: Potential Finalists will be notified on or about November 1, 2008 by phone, email, and/or mail using the contact information given at the time of entry. Each potential Finalist (or parent of legal guardian if potential Finalist is a minor in his/her state of residence) will be required to sign and return an Affidavit of Eligibility, Liability & Publicity Release ("Affidavit") within two (2) days from the date of notification. Potential Finalists will also be required to execute a babyGap & GapKids Casting Call Contest Release and Photo Release. If a potential Finalist does not return such documentation within the required timeframe, then he/she will be disqualified. Potential Finalists must travel to San Francisco, CA on November 16, 2008 and return on November 21, 2008 for a photo shoot (as described in paragraph 8 below). If a potential Finalist fails to travel to San Francisco, CA for the photo shoot, he/she forfeits the prize, will not advance to the Voting Phase and will be disqualified. The Sponsors, in their sole discretion, may disqualify a Finalist for any reason relating to behavioral issues with respect to the Finalist's child and/or illness/death of Finalist's child. In the event of disqualification, Sponsors will select another potential Finalist in accordance with the judging procedures listed in Section 5(a), up to two (2) times (if time permits), after which the applicable Finalist Prize will not be awarded.
In addition to having the online contest, this year the Gap is putting together a "photo tour" from September 19th to October 18th at selected stores. At these in-store events you can "have your child's photo taken by a professional photographer and enjoy special offers for babyGap and GapKids" (whatever that means). I've posted the NY and NJ photo tour details after the jump, click this link for the full schedule.
PS Click here to see the post I wrote last year about getting your child into modeling.
PPS If you were one of the 20 finalists selected, you probably received something like this in your inbox.