Free Starbucks Brewed Coffee on Nov 4th

Free Star Shaped Donut at Krispy Kreme on Nov 4th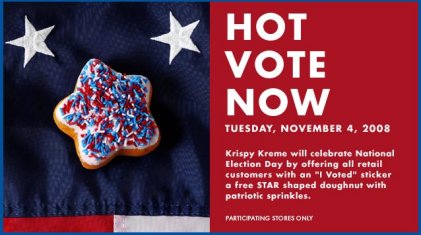 Hey, if free coffee and junk food won't encourage Americans to vote, I'm not sure what will (well, maybe same day voter registration in all 50 states would help). Anywho, here's a couple goodies you can get for FREE on November 4th, 2008:
Starbucks: Giving away a free tall coffee to people with proof of voting (or a pledge of having voted)

Krispy Kreme: Giving away free star-shaped donuts with red, white and blue sprinkles (while supplies last) to people with an "I voted" sticker all day

Ben & Jerry's: Giving away a free scoop in any flavor from 5pm to 8pm to anyone who says they voted. [WalletPop.com]
If only every day were election day, sigh.