As promised, here are the pictures from the M83 set at Webster Hall on Friday, November 14.
M83 at Webster Hall (11/14/08)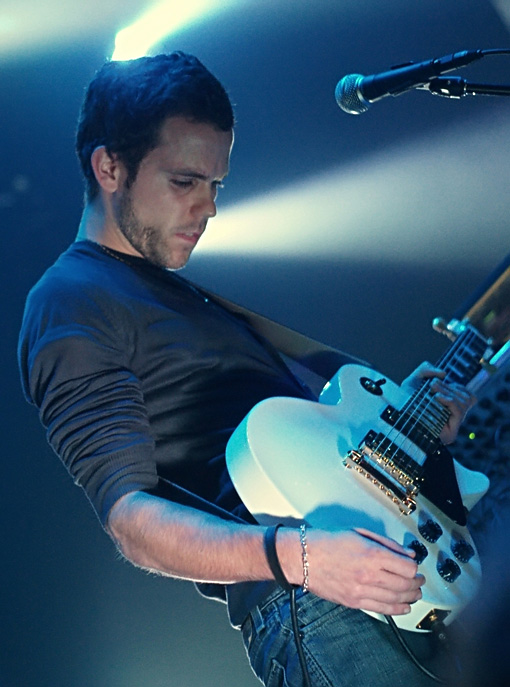 Photos: Tim Griffin
I wasn't there, but Tim said Webster was more packed than he'd even seen it before. Here's what Stories in High Fidelity contributor Marc Rosenberg had to say about the show:
From the opening sounds of "Run Into Flowers", in which my friend Franny leaned over to me and said "this concert is going to be pretty awesome" I knew the night would not be a let down.

When a band has a large discography I always hope they play the songs I want to hear and M83 did just that. "Run Into Flowers" was the perfect opening number and led into other greats like "Kim and Jessie" "Graveyard Girl" "We Own the Sky" "Moonchild" "Don't Save Us From the Flames" and the apparent fan favorite "Teen Angst". The show was almost a playlist off my iTunes and I could not have been more pleased.

The group just sounded so great together. The pre-recorded voice samples were a nice touch and still played out well live. As did the explosive live drumming, which was utterly fantastic. [Stories In High Fidelity]
More pictures and M83 tour dates after the jump.
M83 2008 Tour Dates
21 Nov Chicago, Bottom Lounge
22 Nov Minneapolis, Triple Rock Social Club
25 Nov Seattle, Neumo's
26 Nov Vancouver, Richards On Richards
27 Nov Portland, Doug Fir Lounge
28 Nov San Francisco, Fillmore
29 Nov Los Angeles, Henry Fonda Theater
01 Dec Brighton,Brighton Centre
02 Dec Nottingham, Trent FM Arena
04 Dec Newcastle,Metro Arena
05 Dec Sheffield,Sheffield Arena Sheffield
07 Dec Glasgow, SECC
08 Dec Liverpool,Echo Arena Liverpool
10 Dec Birmingham, NIA
11 Dec London,The O2 Arena
14 Dec London,BIC Bournemouth
16 Dec Manchester,Evenings News Arena Manchester, Northwest
17 Dec Cardiff, International Arena Cardiff
19 Dec Dublin ,O2 Dublin
20 Dec BelfastOdyssey Arena Belfast
22 Dec London ,Wembley Arena