The Bloodsugars at After The Jump Fest (06/21/08)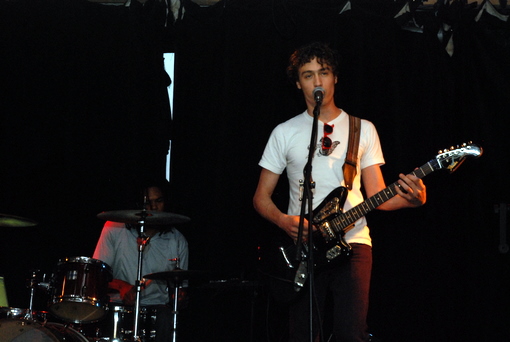 This Sunday (Feb 15) the monthly Kidrockers series continues at 92Y Tribeca with Engine Room recording artists The Bloodsugars and iPod Nano darlings Chairlift (buy tickets). Kidrockers is hosted by comedians Seth Herzog and Craig Baldo. All adults must be accompanied by a kid and vice versa (ages 3-13 recommended).
Right after the Kidrockers show, Chairlift is going on a major tour that will keep them on the road through May. And as for The Bloodsugars, they're heading to SXSW for a bunch of shows in March, and while they don't have any other dates listed right now, surely they'll be popping up at gigs around town in the near future.
All Chairlift and The Bloodsugars tour dates after the jump.
Chairlift 2009 Tour Dates
Feb 13 2009 Brooklyn Academy of Music Brooklyn
Feb 15 2009 Kidrockers @ 92Y Tribeca New York (1:00PM)
Feb 20 2009 Route du Rock Hiver St Malo
Feb 21 2009 Le GD Mix [w/ Kill the vulture, Vetiver] Lille
Feb 22 2009 La Maroquinerie [w/ Women] Paris
Feb 24 2009 Koko [NME award w/ Metronomy London
Feb 25 2009 Pure Groove In-Store London
Mar 07 2009 Santos Party House New York
Mar 13 2009 Grog Shop Cleveland Heights, Ohio
Mar 14 2009 Schubas Tavern Chicago, Illinois
Mar 16 2009 Gargoyle Club St.Louis, Missouri
Mar 17 2009 The Jackpot Saloon Lawrence, Kansas
Mar 18 2009 Opolis Norman, Oklahoma
Mar 19 2009 Red 7 Austin, Texas
Mar 19 2009 Club 1808 Austin, Texas
Mar 20 2009 Urban Outfitters Austin, Texas
Mar 22 2009 House Of Blues – Pontiac Garage Dallas, Texas
Mar 23 2009 Warehouse Live Houston, Texas
Mar 23 2009 Club Downunder Tallahassee, Florida
Mar 24 2009 Spanish Moon Baton Rouge, Louisiana
Mar 25 2009 House of Blues Parish New Orleans, Louisiana
Mar 27 2009 40 Watt Club Athens, Georgia
Mar 28 2009 Exit In Nashville, Tennessee
Apr 13 2009 Chop Suey [w/ Sebastian Tellier] Seattle, Washington
Apr 15 2009 Doug Fir Lounge [w/ Sebastian Tellier] Portland, Oregon
Apr 17 2009 The Independent [w/ Sebastian Tellier] San Francisco, California
Apr 19 2009 Bluebird Theater Denver, Colorado
Apr 21 2009 Fine Line Music Cafe [w/ Peter Bjorn & John] Minneapolis, Minnesota
Apr 22 2009 Pabst Theatre [w/ Peter Bjorn & John] Milwaukee, Wisconsin
Apr 23 2009 Metro [w/ Peter Bjorn & John] Chicago, Illinois
Apr 24 2009 Southgate House [w/ Peter Bjorn & John] Newport, Kentucky
Apr 25 2009 Phoenix Theatre [w/ Peter Bjorn & John] Toronto, Ontario
Apr 26 2009 Capital Music Hall [w/ Peter Bjorn & John] Ottawa, Ontario
Apr 27 2009 Le National [w/ Peter Bjorn & John] Montreal, Quebec
Apr 28 2009 Paradise [w/ Peter Bjorn & John] Boston, Massachusetts
Apr 29 2009 Webster Hall [w/ Peter Bjorn & John] New York, New York
Apr 30 2009 Music Hall Of Williamsburg [w/ Peter Bjorn & John] Brooklyn, New York
May 01 2009 World Cafe [w/ Peter Bjorn & John] Philadelphia, Pennsylvania
May 02 2009 9:30 Club [w/ Peter Bjorn & John] Washington DC
Jun 11 2009 Bonnaroo Manchester, Tennessee
The Bloodsugars 2009 Tour Dates
Mar 18 SXSW Austin, TX
Mar 19 Rusty Spurs Austin, TX
Mar 20 SXSW Austin, TX
Mar 21 Red Gorilla Music Fest Non's on Sixth Austin, TX
Mar 21 SXSW Austin, TX