All Points West Festival 2009 (07/31/09 – 08/02/09)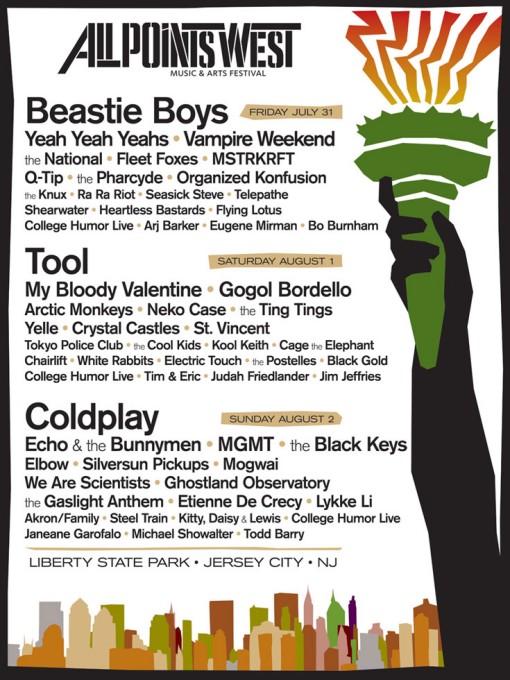 UPDATE: Jay-Z has replaced the Beastie Boys.
The headliners aren't a huge attraction for me personally, though I think the supporting acts for each night are solid enough to make it worth the trip to NJ, especially if you haven't seen most of these artists before. All in all, it is similar in nature to last year's festival (minus Radiohead of course), and maintains its status as the little sister of the grown Coachella Festival. Expect the Coldplay, MGMT night (Sunday) to sell out fast and first, then I predict the Beastie Boys, Yeah Yeah Yeahs, Vampire Weekend, The National, Fleet Foxes night (Friday) will go next. Though I don't claim to be Nostradamus or anything, I think they might have a hard time selling out the Saturday night, where Tool is the headliner. Tickets go on sale to the public April 3, the presale starts April 2 at noon (password: WRXP).
Full lineup after the jump.
The ALL POINTS WEST MUSIC & ARTS FESTIVAL LINE-UP (as of 3/30) is as follows:

Friday, July 31: Beastie Boys, Yeah Yeah Yeahs, Vampire Weekend, The National, Fleet Foxes, MSTRKRFT, Q-Tip, The Pharcyde, Organized Konfusion, The Knux, Ra Ra Riot, Seasick Steve, Telepathe, Shearwater, Heartless Bastards, Flying Lotus, College Humor Live, Arj Barker, Eugene Mirman and Bo Burnham.

Saturday, August 1: Tool, My Bloody Valentine, Gogol Bordello, Arctic Monkeys, Neko Case, The Ting Tings, Yelle, Crystal Castles, St. Vincent, Tokyo Police Club, The Cool Kids, Kool Keith, Cage the Elephant, Chairlift, White Rabbits, Electric Touch, The Postelles, Black Gold, College Humor Live, Tim & Eric, Judah Friedlander and Jim Jeffries.

Sunday, August 2: Coldplay, Echo & The Bunnymen, MGMT, The Black Keys, Elbow, Silversun Pickups, Mogwai, We Are Scientists, Ghostland Observatory, The Gaslight Anthem, Etienne De Crecy, Lykke Li, Akron/Family, Steel Train, Kitty, Daisy & Lewis, College Humor Live, Janeane Garofalo, Michael Showalter and Todd Barry.
Read the full press release over here.