Stellastarr* at Rumsey Playfield in Central Park (09/10/08)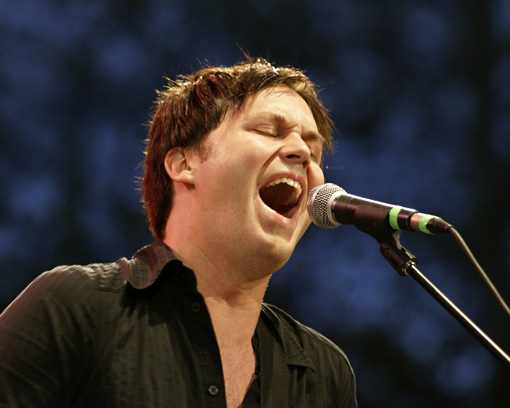 Photo: Tim Griffin
UPDATE: Bookmark this page for the most up to date Summerstage 2009 listings.
As you may or may not have noticed, I have been quietly updating my 2009 Summerstage listings over here for the last little while, but in case you weren't following along, I figured I'd make a big splashy blog post about it today. While I've listed some shows that I think are "speculative" (and denoted them as such), the rest seem more or less legitimate as far as I can tell. Despite that ambiguous disclaimer, this listing is still completely unofficial and please feel free to tell me if I'm missing something. (According to a recent press release, Summerstage will host at least 32 free and six benefit shows this year, I'll keep posting 2009 events as I become aware of them.)
Central Park Naumberg Bandshell
04/11/09 Goldenchild Hope Halo Benefit Concert
Central Park Summerstage and Rumsey Playfield 2009 Unofficial Schedule
05/31/09 Reality Shock, Yaakov Chesed + more TBA (Salute To Israel)
06/05/09 TV on the Radio, Dirty Projectors (Buy Tickets/Sold Out)
06/12/09 The New York Pops, with Josh Ritter
06/13/09 Tye Tribbett & G.A. (Speculative/Can't confirm)
06/16/09 Indigo Girls, Matt Nathanson (Buy Tickets 03/27 @ noon)
06/17/09 Wally Lamb (Reading from "The Hour I First Believed")
06/20/09 The Sound Physician, SXNDRGS (Speculative/Can't confirm)
06/21/09 Fête de la Musique, (World Music Day) with Yannick Noah
06/25/09 311, Ziggy Marley (Presale: 04/14, Public Sale: 04/17)
06/28/09 Ledisi
06/30/09 Explosions In The Sky (Buy Tickets)
07/05/09 Oumou Sangare, Les Nubians
07/08/09 Juana Molina
07/09/09 Matisyahu, Umphrey's McGee (Presale: April 15-17, Password = LIGHT, Public Sale: April 17 – noon EST)
07/18/09 Dobet Gnahore
07/24/09 Bettye Lavette
08/01/09 M. Ward FREE
08/14/09 Morphoses (Dance)
08/15/09 Morphoses (Dance)
08/16/09 Dinosaur Jr, The Walkmen
08/29/09 Paul Van Dyk (Buy Tickets) #
09/25/09 Phoenix, Passion Pit (Buy Tickets) #
09/26/09 Phoenix, Passion Pit (Buy Tickets) #
# While these shows will take place at the Rumsey Playfield in Central Park (aka Summerstage), they not part of the official "Summerstage" concert series.