King Khan at the 2009 Sasquatch! Festival (05/23/09)


Words and Photos: Drake Le Lane
It was quite the eventful Sasquatch! Festival this year. Oh sure, anytime you throw that many people in a confined space with entertainment with their own plentiful supply of drugs and alcohol, crazy things are bound to happen. Commuting in each day from my folks' place nearby, I felt a bit like a tourist at times, like I'd wandered into some commune, or indie rock-worshipping cult, as there was a lot of familiarity between concert goers.
Sasquatch! Day 1 Wrap Up (May 23, 2009)
A.A. Bondy
I caught his set halfway through, and really only stopped for a couple songs knowing that I was going to have to begin to penetrate the Wookie Stage crowd for Blind Pilot in order to get in position for Passion Pit. I'd last seen Bondy as the front man for Verbena, who were pegged to be the next Nirvana, circa '98 or so. He was an angry young man, and while there were hints of his Verbena angst here and there, Bondy seems a lot more mellow and at home with his folk-meets-alt country leanings.
Passion Pit
This is the first set of the festival that brought the kids together, all excited in anticipation, nervously biding their time through the end of the Blind Pilot set. The boys from Boston started out strong enough, but the synth-heavy pop kind of melted under the heat before our eyes. Michael Angelakos' falsetto was a bit to frail to handle the festival setting, and about halfway through the set, the crowd began to thin noticeably.
Dent May & His Magnificent Ukulele
The Yeti Stage is conveniently located next to the Media Services area, so whenever I needed a refill of water, I'd stop to hear a couple songs and snap a couple photos. Dent May's doo-wop ukelele proved to be the perfect antidote to the sweaty Passion Pit set.
M Ward
My first dip in the Main Stage pool was with the Portland singer/songwriter Matt Ward. Ward's profile has risen dramatically since I last saw him, and, as is often the case, his output has become a bit more watered-down in the process. It was a proficient, yet, kind of boring set. (In retrospect, my complaint about M Ward being a bit boring might have had something to do with the set that followed it, though.)
King Khan and the Shrines
The first crazy Sasquatch! experience comes with the always outrageous King Khan, performing here with his high-energy German outfit, The Shrines. Complete with horns, Mr. Speedfinger on guitar, Fredovitc on organ, and a cheerleader, King Khan and the Shrines had the crowd eating out of the palm of their hand. During the great "I Wanna Be a Girl," Saxaphonist Ben Ra provided a visual aid to the song, pulling down his pants and tucking his junk. His little dance reminded me of the disturbing scene from Silence of the Lambs ("Would you fuck me? I'd fuck me. I'd fuck me hard.")
Shearwater
Jonathan Meiburg's outfit soundchecked with their opening song, and then proceeded to perform the songs almost exactly as they sound on their recordings, eerily so. I had to duck out after only three songs, though, to mosy over to the main stage.
Animal Collective
One of the more anticipated sets of the day, I knew going in I would be disappointed with the visual aspect of the group. Three dudes on stage turning knobs and bobbing heads is never my idea of exciting. And even when Avey Tare was walking around on guitar or just with microphone in hand, might as well have been sitting a half mile away staring up at the clouds. The extended "Fireworks" jam would've had those clouds dancing (assuming you'd also taken the mushrooms that made the rounds).
Tim & Eric
I had run into Eric Wareheim earlier at the King Khan show, and thought I'd break the twitter wall and say hello. Called him Tim. Walked away in shame. Caught the end of their set, "The Tim & Eric Touch" infomercial-like routine. Folks were eating it up. If only I could say hello again and call him Eric. "Awesome show, Eric. (Good job.)"
Bon Iver
After Mos Def delayed festivities, making folks wait a half-hour before finally going on (and then, of course, running over,) Bon Iver was forced to shorten his set a bit. With the abbreviated setup, there were some technical difficulties, but you'd never know from listening to Justin Vernon's delivery of his songs. Live, the songs are so much bigger and rich with texture, you can already hear where the next album is going to be headed (less hushed falsetto, a bit more ROCK). The emotional and physical wallup of the songs delivered made this, hands-down, the set of day one. – Drake Le Lane
Big thanks to Sr. West Coast Sasquatch! Correspodent Drake Le Lane for his review. More pictures from Day 1 of the 2009 Sasquatch! Festival after the jump. (There are also a few more pictures from Day 1 over here.)
Review of Day 2 coming soon!
AA Bondy

Animal Collective

Bon Iver

Dent May & His Magnificent Ukulele

King Khan and the Shrines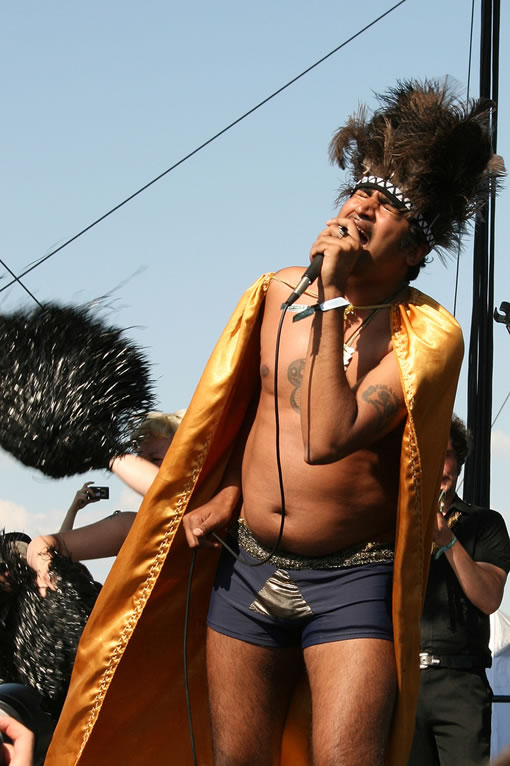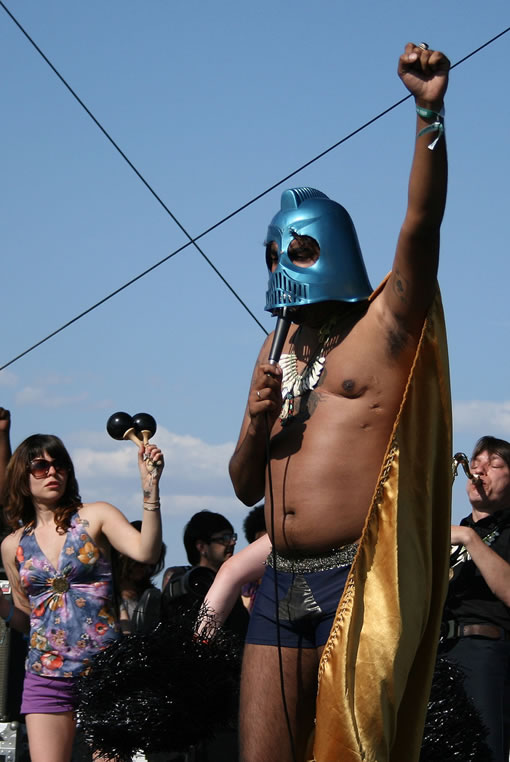 M Ward

Passion Pit

Shearwater

Tim and Eric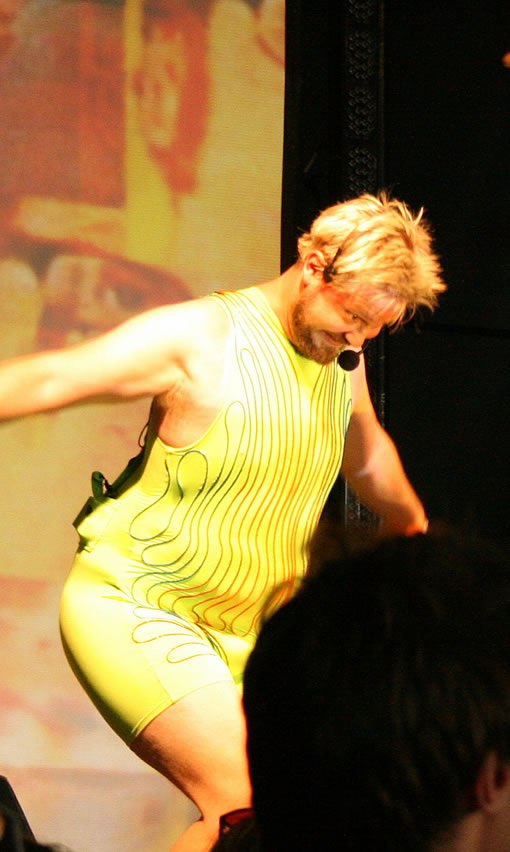 Yeah Yeah Yeahs