The New Zune HD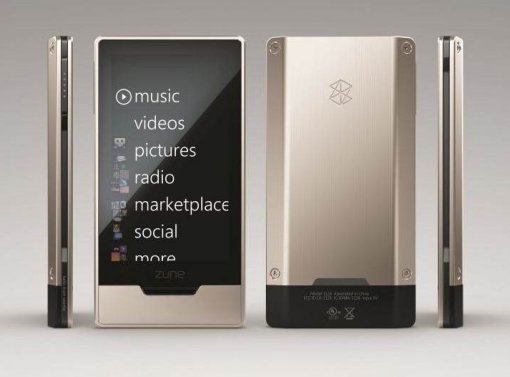 What looks good about the new Zune HD:
New form factor (it looks somewhat familiar, but I can't quite put my finger on where I've see that look before.)
Bigger (480 x 272) OLED screen, touch sensitive, multitouch enabled
Built-in HD Radio receiver
HD video (720p) playback via HDMI cable
A full-screen Internet browser (IE) optimized for multitouch
Wi-Fi enabled, capable of instant streaming from the Zune store
What details are still a little bit fuzzy:
The press release makes no mention of capacity. If it's not a 64GB device at a reasonable price, the chances of making a serious dent in Apple's market share are pretty slim.
"At Expo (E3) next week, attendees will see firsthand how Zune integrates into Xbox LIVE to create a game-changing entertainment experience." This vague marketing speak makes no sense to me. Will they be making an apps store? Daddy needs some Twitter on his Zune.
Will the Zune Pass ever include Video? As I've said before, having this feature would truly be a game changer, and probably convince a lot of folks (including me) to buy the Zune hardware.
Full Zune HD press release after the jump.
Microsoft Announces the Expansion of the Zune Entertainment Service to New Platform and Markets; Confirms New Zune HD Portable Media Player
Premium Zune digital entertainment service to be available internationally on Xbox LIVE.

REDMOND, Wash. — May 26, 2009 — Microsoft Corp. today announced the evolution of Zune, the company's end-to-end music and entertainment service, to a new platform and new markets. Zune will extend its video service to Xbox LIVE internationally this fall. This marks an important development in the Zune strategy and brings the Zune brand to more than 17 million international Xbox LIVE subscribers. In addition, Microsoft confirmed the next generation of the Zune portable media player, Zune HD. Available in the U.S. this fall, Zune HD is the first portable media player that combines a built-in HD Radio receiver, high-definition (HD) video output capabilities, organic light-emitting diode (OLED) touch screen, Wi-Fi and an Internet browser.

"The Zune music player is an integral part of the overall Zune experience, and we're proud to be growing and extending our offering beyond the device," said Enrique Rodriguez, corporate vice president of the Microsoft TV, Video and Music Business Group. "Delivering on Microsoft's connected entertainment vision, this news marks a turning point for Zune as it brings cross-platform experiences and premium video content to living rooms around the world."

Zune Service Expands to New Platform
Zune will be a premium partner in the Xbox LIVE Video Marketplace, bringing an exciting catalog of TV and film to the platform. Zune will occupy the first slot within the Xbox user interface in the Xbox LIVE Video Marketplace, exposing the Zune brand experience to millions of new consumers for the first time. At the Electronic Entertainment Expo (E3) next week, attendees will see firsthand how Zune integrates into Xbox LIVE to create a game-changing entertainment experience.

Introducing Zune HD
Zune HD is the next iteration of the Zune device family and brings a new level of listening and viewing experiences to the portable media player category.

*Zune HD comes with a built-in HD Radio receiver so users can listen to higher-quality sound than traditional radio on the go. Users also will have access to the additional song and artist data broadcast by HD Radio stations as well as additional channels from their favorite stations multicasting in HD. If you don't like the song playing on your station's HD channel, switch to its HD2 or HD3 channels for additional programming.

*The bright OLED touch screen interface allows users to flip through music, movies and other content with ease, and the 16:9 widescreen format display (480×272 resolution) offers a premium viewing experience on the go.

*The HD-compatible output lets Zune HD customers playback supported HD video files from the device through a premium high-definition multimedia interface (HDMI) audiovisual docking station (sold separately) direct to an HD TV in 720p.*

*Zune HD will include a full-screen Internet browser optimized for multitouch functionality.

*Zune HD is Wi-Fi enabled, allowing for instant streaming to the device from the more than 5 million-track Zune music store.

More information on Zune and related images is available at http://www.zune.net/press and http://www.zune.net/ZuneHD.

About Zune
Zune is Microsoft's music and entertainment brand that provides an integrated digital entertainment experience. The Zune platform includes a line of portable digital media players, elegant software, the Zune Marketplace online store, Zune Pass music subscription service, and the Zune Social online music community, created to help people discover more music. Zune is part of Microsoft's Entertainment and Devices Division and supports the company's software-based services vision to help drive innovation in the digital entertainment space. More information can be found online at http://www.zune.net/en-us/press.

About Xbox LIVE
Xbox LIVE connects more than 17 million members across 26 countries to each other and the entertainment they love. Home of more content from one remote than can be found from any device connected to the television, Xbox LIVE is also a unified online social network bringing friends together, no matter where they are — in the living room or across the world. More information and Xbox LIVE membership can be found online at http://www.xbox.com/en-us/live.