Kumail Nanjiani at Union Hall (09/07/08)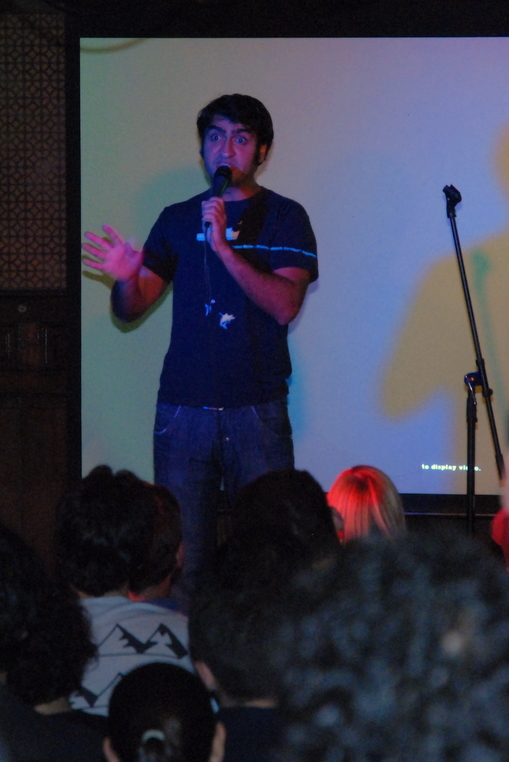 With Tearing The Veil of Maya on hiatus, I guess Monday night has become a the new night for comedy. Check out what's happening in the city tonight (Monday, August 31):
ECNY SHOWCASE at COMIX
Monday, August 31 @ 8PM
Admission: $15 plus a two item minimum purchase in the showroom
Where: Comix, 353 West 14th Street

HOST: Jon Friedman (Late Night with Jimmy Fallon, The Rejection Show)

WITH:
Michelle Collins (Best Week Ever)
Sara Schaefer (Late Night with Jimmy Fallon)
Leo Allen (Saturday Night Live, Michael and Michael Have Issues)
Kumail Nanjiani (Michael & Michael Have Issues)
Harvard Sailing Team
and a very special Giant Tuesday Night of Amazing Inventions Reunion!

Videos by Nick Kroll & John Mulaney, Sean Crespo, Elephant Larry & College Humor.

Music by Valley Lodge (featuring Dave Hill)

---

WHIPLASH #2L2Q
Monday, August 31 @ 11PM
Admission: Free
Where: UCB Theater, 307 W. 26th St. (corner of 8th Ave)

HOST: Leo Allen (Saturday Night Live, Michael and Michael Have Issues)

WITH:
Hannibal Burress (Saturday Night Live)
Eugene Mirman (Flight of the Conchords, Delocated)
Marc Maron (Air America Radio)
Joe DeRosa (Last Call w/ Carson Daly), and
Rory Scovel

---

TELL YOUR FRIENDS!
Monday, August 31 @ 8PM
Admission: $5
Where: Lolita Bar, 266 Broome Street (Corner of Allen Street)

HOST: Daniel St. Germain

WITH:
Joe DeRosa
has appeared on on "Last Call with Carson Daly," Comedy Central's "Premium Blend," and the "New Faces" showcase at the Montreal Comedy Festival.

Dave Hill
is a musician, writer, and comedian whose work has been featured in The New York Times, Blender, The Huffington Post, HBO, VH1, Spike TV, Sundance Channel, starred in the hilarious "The King of Miami" (which is now available on iTunes), and is featured in NPR's This American Life Tour with Ira Glass

Victor Varnado
has appeared on Late Night w/ Conan O'Brien, Jimmy Kimmel Live!, Premium Blend, My Name id Earl, in the movies End of Days, Pluto Nash, and Julien Donkey Boy, and is on his special/documentary The Awkward Kings of Comedy

Liam McEneaney
has toured all over Europe and has appeared on Comedy Central and VH1

Laura & Bradford
sketch comedy performers and great friends of show

and more TBA!
Will Dave Hill be cloning himself tonight?