Black Gold at Hammerstein Ballroom (11/23/09)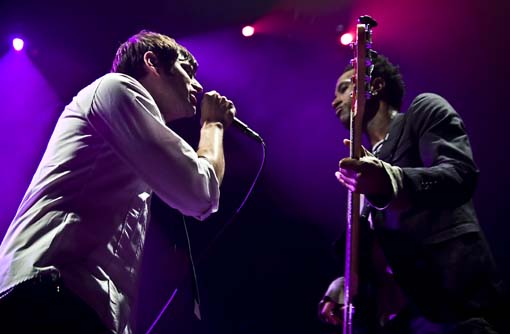 Photo: Dese'Rae Stage
Black Gold opened up night 1 (Nov 23) of The Pixies residency at the Hammerstein Ballroom, and bumpershine guest reporter Abbey Braden was there to "capture" the action.
Black Gold at The Hammerstein Ballroom (11/23/09)
by Abbey Braden
"This one goes out to all the lovers out there-" a pause fell over the crowd at Hammerstein Ballroom as Eric Ronick sat down behind his keyboard to play. Then two responses began to echo competively throughout the audience. On the one hand several happy couples were going "awwww." These exclamations were up against cynics going "Seriously?" Well, cynics, I think that's exactly the point. When was the last time a ballad moved you so much you held a (real) lighter in the air? Can you think of the last time a drummer – in this case Than Luu – made you exclaim "Holy sh*t, this is totally Larry Mullen Jr grade raw talent" ? For that matter, when was the last time you ever came across a band like Black Gold?
This mild mannered looking Brooklyn duo, when unleashed live, blows the plaid shirt and skinny jeans notion of a band from that borough out of the water. Yeah they look like they stroll down Bedford, but don't get it twisted they definitely possess super hero identities: one that renders their songs a mobius band of slamming piano chords, machine gun percussion, call and response harmonies, and melodies free from guitar riffs.
It's a unique combination that works with several demographics. Lyrically, they have the heartwrenching power pop "I know you feel lost but you're not alone" stuff (dare I say Emo-esque) down pat. Take their single "Detroit": Locked on the inside / I wonder where your thoughts are / Out of the daylight / I wonder who you are / Fallen so far to be nowhere / Whatever made you think so / I wonder where you are. Makes you feel like a tween again. On another level, thanks to the sheer force of Ronick's vocals, it works for people who love to be reminded of REO Speedwagon too. Got it? Good.
Which brings us back to Hammerstein Ballroom, with an audience jonesing for the headlining act to take the stage. I do not envy any band that plays before the Pixies, especially when the Pixies are going to play one of the greatest albums of all time, Doolitle, in full. Please note that Black Gold handled this with aplomb. Of course they did, because they were handpicked by the band to open for them on tour. Endorsed by Black Francis himself, Than and Eric added guitar and bass-playing band members to their lineup for the night.
It was with this rush of confidence that Black Gold (complete with additional members) dove headfirst into their set. With a rather agressive rendition of "What You Did" it became very apparent that the band was there to conduct business. The first song led into the aformentioned "Detroit" which concludes with a hopeful slant. "You're Having a Breakdown" was a reality check, and I thought at one point Eric would knock his keys over. One of the most impressive elements is that the band's audio levels matched those of the headliners. For all of the shrieks and growls packed into Dolittle, Ronick and Luu are fully capable of dishing it back. It was the first time I've ever witnessed an opening band's sound fill up the venue.
When it came time for their exquisite ballad moment in the form of "Shine" the adrenaline was flowing enough for the lead singer to heckle the hecklers right back. He then dedicated "The Come Down" to all the lovers out there, and the audience was schooled. You'd be hard pressed to find more progressive pop that manages to slip in the best of Richard Marx. Ladies and gentlemen may I present Black Gold: the hybrid of 2010.
More Black Gold photos and UK tour dates after the jump.
Black Gold 2009 UK Tour Dates
12/08/09 London, United Kingdom The Lexington
12/09/09 Birmingham, United Kingdom Hare & Hounds
12/10/09 Glasgow, United Kingdom King Tut's Wah Wah Hut
12/11/09 Leeds, United Kingdom The Cockpit
12/12/09 Cambridge, United Kingdom Portland Arms
12/13/09 Brighton, United Kingdom Freebutt
* All dates are with The Bookhouse Boys
Black Gold at Hammerstein Ballroom (11/23/09) by Dese'Rae Stage