Dan Zanes and Friends at BAM (02/06/10)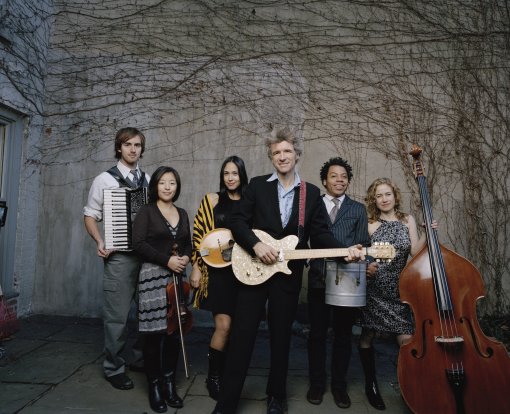 On his new album, instead of traditional folk songs or the poems Carl Sandburg, Dan Zanes puts his unique stamp on 17 Broadway classics on the thoroughly enjoyable 76 Trombones. Special guest stars on Trombones include Broadway luminaries like Carol Channing, Brian Stokes Mitchell and Matthew Broderick as well as Zanes regulars like Father Goose, and the fetching Sonia De Los Santos. In celebration of the new album, Brooklyn's King of Kid Pop is putting together a couple of wild dance parties on Saturday, February 6th at the famed Gilman Opera House at the Brooklyn Academy of Music. The special family shows promise to be a unique celebration of the borough's many wonderful cultures and will feature some of Dan's good friends including: Derick K. Grant, Tareq Abboushi, the Bed-Stuy Resoration Youth Arts Academy, The Brooklyn Symphony Youth Orchestra and many others! Because Dan Zanes concerts are a cause for celebration around here, Festival Five Records and Bumpershine.com are giving you the opportunity to win a set of 4 tickets for you and your family to the BAM shows along with some other special prizes including copies of 76 Trombones on CD as well as their new live concert DVD The Fine Friends Are Here! Check out the complete list of awesome Dan Zanes prizes below!
1) 4 Tickets to Dan Zanes at BAM, Saturday, February 6 at 2 & 5pm
2) Fine Friends Are Here and 76 Trombones CD/DVD bundle
3) Fine Friends Are Here DVD
4) 76 Trombones CD
To enter the contest, please fill out the entry form after the jump. Contest is available to US residents only. Deadline to enter the contest is January 22, 2010 at noon.
Dan Zanes tour dates and track listing for 76 Trombones after the jump.
Dan Zanes 2010 Tour Dates
01/23 Albany, NY The Egg
02/06 Brooklyn, NY BAM, BAMfamily and Sounds Like Brooklyn Concert
03/06 Berkeley, CA Cal Performances
03/07 Berkeley, CA Cal Performances
04/17 Englewood, NJ Bergen Performing Arts Center
04/18 Flushing, NY Kupferberg Center for the Arts
05/02 North Bethesda, MD Strathmore
05/08 New York, NY Metropolitan Museum of Art
05/22 Westhampton Beach, NY Westhampton Beach Performing Arts Center
05/23 Morristown, NJ Mayo Center for the Performing Arts
76 Trombones Track Listing
1. Seventy Six Trombones
2. Hello, Dolly! (with Carol Channing)
3. I Can Do That (with Derick K. Grant)
4. I Like Ev'rybody (with Brian Stokes Mitchell)
5. I Won't Grow Up
6. Big On Broadway (with Father Goose)
7. Thumbelina (with Father Goose)
8. Tomorrow (Mañana) (with Sonia De Los Santos)
9. I Don't Need Anything But You (with De'Adre Aziza)
10. Gary, Indiana/ The Wells Fargo Wagon
11. You I Like
12. The Inch Worm
13. I'm Flying
14. Before The Parade Passes By (with Matthew Broderick)
15. You're Never Fully Dressed Without a Smile
16. I Am What I Am (with the band aka The Friends)
17. Goodnight, My Someone