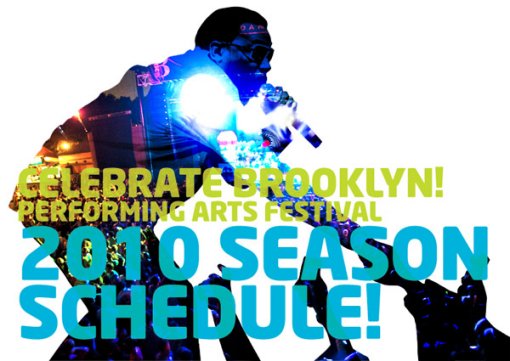 True to their word, the folks at Celebrate Brooklyn! announced the full 2010 schedule today and here what it looks like:
Celebrate Brooklyn! 2010 Season at the Prospect Park Bandshell
All performances rain or shine. Please do not bring pets, alcoholic beverages, glass, cans, coolers, recording devices or professional (long lens) cameras.
June 9 (Opening Night Gala)
Norah Jones
8:00PM/gates 6:30PM
June 12
Allen Toussaint, Davell Crawford
7:30PM/gates 6:30PM
June 17
Eugene Mirman & Pretty Good Friends
7:30PM/gates 6:30PM
June 18
JG Thirwell's Steroid Maximus, Dr. Lonnie Smith
7:30PM/gates 6:30PM
June 19
Bitches Brew Revisited with Graham Haynes, James Blood Ulmer, DJ Logic and more!
7:30PM/gates 6:30PM
June 24
Orquesta Buena Vista Social Club featuring Omara Portuondo, Nelida Tirado
7:30PM/gates 6:30PM
June 25
Kid Koala: Short Attention Span Theater vs. The Slew, Hess Is More
7:30PM/gates 6:30PM
June 26
Texas Tornados, Red Clay Ramblers
7:30PM/gates 6:30PM
July 1
Zoom: Zvidance, Son Lux with Lottdance
8:00PM/gates 7:00PM
July 2
Fab 5, Uzalo
7:30PM/gates 6:30PM
July 8
Itutu: Armitage Gone! Dance featuring Burkina Electric
8:00PM/gates 7:00PM
July 9
Ozomatli, Fidel Nadal, Toy Selectah
8:00PM/gates 6:30PM
July 11
OkayAfrica with The Roots, Talib Kweli and more!
4:00PM/gates 3:00PM
July 17
African Festival with Konono No. 1, Omar Pene, Super Diamono and more!
2-9:00PM/gates 1:00PM
July 22
The Chaplin Mutuals: Carl Davis, The Two Man Gentlemen Band
7:30PM/gates 6:30PM
July 23
Bomba Estereo, La Secta Allstar, Rita Indiana
7:00PM/gates 6:00PM
July 24
Field of Dreams (Un Mundo Nuevo): Andres Levin & The Bruce High Quality Foundation
4:00PM/gates 3:00PM
July 29
MI21: Mother India 21st Century Remix with DJ Tigerstyle, Falu
8:00PM/gates 7:00PM
July 30
The Swell Season, The Low Anthem
7:30PM/gates 6:30PM
July 31
Sonic Youth, Grass Widow, Talk Normal
7:00PM/gates 6:00PM
August 5
Metric, Joan as Police Woman, Holly Miranda
7:00PM/gates 6:00PM
August 6
House of Usher: Marco Benevento, White Magic
7:30PM/gates 6:30PM
August 7
Sharon Jones & the Dap Kings, Budos Band and more!
7:00PM/gates 6:00PM
August 8 (Ezra Jack Keats Family Concert)
Brady Rymer, Elizabeth Mitchell
4:00PM/gates 3:00PM
Benefit Shows
June 29
Passion Pit (sold out)
7:30PM/gates 6:30PM
July 20
Rufus Wainwright (Buy Tickets | LN Password: KEYBOARD, WFUV Password: SONGS)
7:00PM/gates 6:00PM
July 27
The National (sold out)
7:30PM/gates 6:30PM
August 3
The Dead Weather (Buy Tickets May 7 @ 12PM)
7:00PM/gates 6:00PM