Rufus Wainwright at The Rose Bar at the Gramercy Hotel (03/15/10)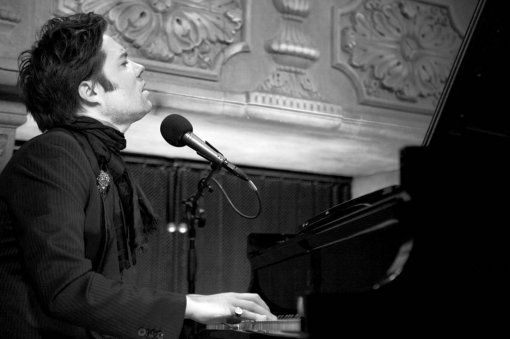 Photo: Aaron Stern
Just before SXSW, Rufus Wainwright played an invite only gig at the Rose Bar at the Gramercy Hotel where he previewed his entire new record, All Days Are Nights: Songs For Lulu before a crowd of industry folks, music journalists and famous admirers like Lou Reed, Zachary Quinto, Michael Kors, Alan Cumming, Susan Sarandon, Drew Barrymore, Penn Badgley, Scarlett Johanson and his dad Loudon Wainwright III (just to name a few). If you weren't among the select few to hear the live preview in March, the good news is you can catch Rufus at Celebrate Brooklyn! in Prospect Park on July 20, 2010. Tickets for that show go on Live Nation, Venue and WFUV presale today (May 4) at 10AM (Buy Tickets). The Live Nation password is KEYBOARD and the WFUV presale password is SONGS. The RufusWainwright.com presale is happening right now over here.
Plunging into the songs—the album is just him on piano—he warns that he's still learning to perform many of them. The first, called "Who Are You, New York?" ("Saw you on the corner / Saw you in the park / Saw you on the platform of Grand Central station … "), fills the room with his big, sonorous tenor. The music is heavier than the songs that made him famous: As if to emphasize that fact, he follows up with three Shakespeare sonnets he set to music for a theater piece by the avant-garde director Robert Wilson.

Then he plays "The Dream," an epic number of love and loss that cries out for big pop orchestration, which, on the album, Wainwright miraculously wrings out of the piano. But live, he stumbles, making amusingly tortured faces. He plays so far up the keyboard that his mouth runs to the right of the microphone, muting him. When he finishes, the room applauds the effort. "Whatever," he drawls. [NYMag.com]
That mini-review was part of a long New York Magazine profile on Rufus Wainwright which hit upon many subjects including his personal history and career in music, the new album, his mother's death and his new opera Prima Donna.
More Rufus Wainwright tour dates after the jump.
Rufus Wainwright 2010 Tour Dates
May 05 2010 Teatro Circo Price Madrid, ES
May 06 2010 Coliseu Porto, PT
May 07 2010 Aula Magna Lisbon, PT
May 09 2010 Palacio Euskalduna Bilbao, ES
May 11 2010 Grand Teatre del Liceu Barcelona, ES
May 13 2010 Teatro Della Pergola Firenze, IT
May 15 2010 Conservatorio Milan, IT
May 16 2010 Kaufleuten Zurich, Zurich, CH
May 17 2010 Muffathalle Munich, DE
May 19 2010 Volksbuhne Berlin, DE
May 22 2010 Sentrum Scene Oslo, NO
May 24 2010 Nokia Concert Hall Tallinn, EE
May 25 2010 House of Culture Helsinki, FI
May 27 2010 Filadelfiakyrkan Stockholm, SE
May 29 2010 Palladium Warsaw, PL
May 30 2010 Radio Concert Hall Copenhagen, DK
May 31 2010 Kampnagel Hamburg, DE
Jun 02 2010 Theater am Tanzbrunnen Cologne, DE
Jun 03 2010 Carre Amsterdam, NL
Jun 04 2010 Theater Carre Amsterdam, NL
Jun 12 2010 Southbank Centre – Celebration of Kate McGarrigle (Meltdown) London, GB
Jun 14 2010 The Elgin Theatre *Note: Rufus is not performing at this event Toronto, ON
Jun 15 2010 Elgin Theatre Toronto, ON
Jun 16 2010 The Elgin Theatre *Note: Rufus is not performing at this event Toronto, ON
Jun 17 2010 The Elgin Theatre Toronto, ON
Jun 18 2010 Albright-Knox Art Gallery – Rockin' at the Knox Buffalo, New York
Jun 18 2010 The Elgin Theatre *Note: Rufus is not performing at this event Toronto, ON
Jun 19 2010 The Elgin Theatre *Note: Rufus is not performing at this event Toronto, ON
Jun 20 2010 Salle Albert-Rousseau Sainte-Foy, Quebec
Jun 21 2010 Theatre St-Denis Montreal, Quebec
Jul 03 2010 Kenwood House HAMPSTEAD HEATH, London and, GB
Jul 04 2010 Brighton Centre BRIGHTON, East Sussex, London and, GB
Jul 11 2010 Westhampton Beach Performing Arts Center Westhampton Beach, NY
Jul 20 2010 Prospect Park Bandshell Brooklyn, NY
Aug 04 2010 Mann Center for the Performing Arts Philadelphia, PA
Aug 23 2010 The Mountain Winery Saratoga, California, US
Nov 22 2010 Royal Albert Hall (Special Guest: Martha Wainwright) London, GB