Tom Petty and The Heartbreakers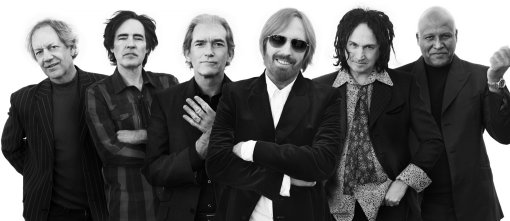 Tom Petty – "Flash of Freedom"
TOM PETTY AND THE HEARTBREAKERS with special guest My Morning Jacket at the Izod Center on August 24 (Buy Tickets). In celebration of Tom Petty & The Heartbreakers upcoming appearance on the season finale of SNL this weekend, a special No Service Fee offer will be available for this show Saturday, May 15th at 11:30PM EST – Tuesday, May 18th at 11:59PM EST. Tickets will be available via ticketmaster.com. [Live Nation on Facebook]
UPDATE: As of 6:20 PM ET on May 15, this deal is not in effect. Unless "No Service Fee" means $17.25 in fees on a single ticket.
UPDATE 2: As of 2:00 PM ET on May 16, this deal is now in effect. It'll still cost you $3.50 in "facility fees" per ticket, but gone are the $13.75 in "convenience fees".
…And another thing, if you buy your concert ticket online (do some people not buy their tickets online?), you get an MP3 download of Tom Petty's new album Mojo, plus a selection of live tracks from the tour.
Every tour ticket purchased online will include an MP3 download of every track on Mojo!

Once fans purchase tickets online they will receive an email with codes entitling them to download two tracks from Mojo ("First Flash Of Freedom" and "Good Enough.") Then, on release date, they will be sent a download of the entire album. Also included with every online ticket purchase, is a selection of live tracks recorded during the tour, to be delivered at the end of the summer, after the tour.
Tom Petty will also be playing Madison Square Garden in NYC with Buddy Guy on July 28, 2010 (Buy Tickets). More Tom Petty tour dates after the jump.
Tom Petty 2010 Tour Dates
Jun 01 Denver Red Rocks Amphitheater (w/Joe Cocker)
Jun 03 Denver Red Rocks Amphitheater (w/Joe Cocker)
Jun 05 Oakland Oracle Pavilion (w/Joe Cocker)
Jun 08 Vancouver GM Place (w/Joe Cocker)
Jun 11 Seattle The Gorge (w/Joe Cocker)
Jun 12 Seattle The Gorge (w/Joe Cocker)
Jun 15 Calgary Pengrowth Saddledome (w/Joe Cocker)
Jun 16 Edmonton Rexall Place (w/Joe Cocker)
Jun 19 Winnipeg MTS Centre (w/Joe Cocker)
Jun 22 St Paul Xcel Energy Center (w/Drive-By Truckers)
Jun 23 Omaha Qwest Center (w/Drive-By Truckers)
Jun 25 Milwaukee Summerfest (w/ZZ Top)
Jun 26 Milwaukee Summerfest (w/ZZ Top)
Jul 10 Indianapolis Verizon Wireless Amphitheatre (w/Drive-By Truckers)
Jul 13 Kansas City Sprint Center (w/Drive-By Truckers)
Jul 15 Cincinnati Riverbend Music Center (w/Drive-By Truckers)
Jul 17 Chicago United Center (w/Drive-By Truckers)
Jul 20 Cleveland Blossom Music Center (w/Drive-By Truckers)
Jul 22 Detroit Palace of Auburn Hills (w/Drive-By Truckers)
Jul 24 Pittsburgh First Niagara Pavilion (w/Drive-By Truckers)
Jul 28 New York Madison Square Garden (w/Buddy Guy)
Jul 31 Philadelphia Wachovia Center (w/Buddy Guy)
Aug 01 Philadelphia Wachovia Center (w/Buddy Guy, new 2nd show)
Aug 11 Atlanta Philips Arena (w/Crosby, Stills and Nash)
Aug 12 Nashville Sommet Center (w/Crosby, Stills and Nash)
Aug 14 Darien Lake, NY Darien Lake Performing Arts Center (w/Crosby, Stills and Nash)
Aug 15 Bristow Jiffy Lube Live (w/Crosby, Stills and Nash)
Aug 17 Hartford Comcast Theater (w/Crosby, Stills and Nash)
Aug 19 Boston Comcast Center (w/My Morning Jacket)
Aug 21 Boston Comcast Center (w/My Morning Jacket)
Aug 24 East Rutherford IZOD Center (w/My Morning Jacket)
Aug 25 Toronto Air Canada Center (w/Crosby, Stills and Nash)
Aug 27 Saratoga Springs Saratoga Performing Arts Center (w/Crosby, Stills and Nash)
Sep 16 Tampa St. Pete Times Forum (w/TBD)
Sep 18 Raleigh Time Warner Cable Pavilion at Walnut Creek (w/TBD)
Sep 19 Charlotte Verizon Wireless Amphitheatre ((w/TBD)
Sep 21 Dallas Superpages.com Center (w/TBD)
Sep 24 Houston Cynthia Woods Mitchell Pavilion (w/TBD)
Sep 26 Phoenix US Airways Arena (w/TBD)
Sep 28 San Diego Cricket Wireless Pavilion (w/TBD)
Oct 01 Los Angeles Hollywood Bowl (w/TBD)
Oct 02 Irvine Verizon Wireless Amphitheatre (w/TBD)