LCD Soundsystem at Sasquatch! 2010 (05/30/10)


Words and Photos: Drake LeLane
Sasquatch Day 2 Wrap Up (May 30, 2010)
Another day, another morning wasted trying to get into the festival (sorry Caribou). Today marked the big schedule conflict between LCD Soundsystem + Pavement vs Girls + Dirty Projectors, but lessons learned from Saturday (Bigfoot stage not so good for sight lines and telephoto lens) pushed me where I was already leaning.
Local Natives
For an early show, this was way too crowded an affair — not quite Edward Sharpe crowded, but probably would've been later in the day. And the fans I encountered (all female) became hostile to me when they realized I had gotten in on a media pass ("I had to pay for my ticket, so if you think you're getting around me…"*), so I remained in a less than ideal position to take photos. (I think the ladies were intimidated by the length and girth of my lens.) Just as well, as the band didn't do much for me. Midway through the set, the mustachio'd Taylor Rice dedicated "Who Knows Who Care" to his special lady friend, which made the hostiles both more enamored by the lead singer and angered by my presence (displaced jealousy). I took a shot of said lady friend singing along and exited the proceedings.
*My metaphorical response, "just because you're a guest at this hotel doesn't give you the right to bar the bell boy's entrance," was lost on this intoxicated sorority girl.
The Tallest Man on Earth
False advertising! Kristian Matsson is certainly not tall, in fact, his lack of height made it dificult to see him at all, with all the heads in the way. However, what Natsson lacks in size, he more than makes up in depth, with his Dylanesque picking and turn of phrase. My highly unscientific polling of the crowd had them with the highest ratio of folks who didn't own any of the artists work. I wonder how many TTMOE albums sold after his set? The set closer "King of Spain" probably sold a few copies of The Wild Hunt by itself.
The Long Winters
Ladies and gents, John Roderick has a new grill! I know he's had his teeth fixed for a few months already, but it was quite a contrast from the last time I saw him, with missing teeth and a mountain man beard and hair to match. The band's had a bit of a shake up to the lineup, with a goodbye to the keyboards leaving a more guitar-dependent lineup. To with, the band ended their set with a cover of Grateful Dead's one MTV hit, "Touch of Grey." With They Might Be Giants coming on next, this seemed like a good time for John Hodgman to show up, since he's a direct link between Roderick and TMGB, but alas, no Hodgmen to be found.
They Might Be Giants
Here's where I wish my kids could've been with me, especially my eldest, Eli. Yes, TMBG has done a few kids albums and this set was supposed to be oriented to an adult audience, but this five year old could care less about the kids albums as he's watched (requested!) the documentary on TMBG (Gigantic: A Tale of Two Johns) multiple times and counts non-kids' tracks like "Purple Toupee" and "The Mesopotamians" as his favorite TMBG songs. For a band that's been touring a lot this past year, the stage was pretty chaotic — John Flansburgh was a pinball onstage, bouncing off every member at one point. The set drew from their entire career, even tossing in a kids song here and there ("A Shooting Star is Not a Star") and predictably (for parents, anyway) handed the set over to puppets at one point. It was a muddled mess at times, but it was TMBG!
Avi Buffalo
Here's the one Yeti stage set I had circled in my planner, as the Sub Pop debut was still swirling in my head, and these kids (youth!) did not disappoint. In baseball, they like to talk about ceiling when dealing with a player's worth, and the potential that these California youngins possess is boundless. They come off a lot more conventional on stage than their recordings let on, but there was still plenty of haunting goosebumps to go around from the stage. One's to watch, as they say.
Mt. St. Helens Vietnam Band
As far as last minute replacements go, this was a nice surprise, with the band driving all the way from San Francisco, where they played the night before. The understandably tired MSHVB still lack something in their live set, with Benjamin Verdoes unable to move much in his juggle of fretwork and vocals, but I'm encouraged by some of the new songs they tested out on the crowd, like the epic "Leaving Trails".
The Xx
This was another crowded affair that easily could've outdrew main stage competitor Tegan & Sara at that time. One of 2009's "It" bands, I feel on the outside looking in with regards to crix adoration. Live they sound just fine, like the hushed Joy Division tribute their debut comes off as, but I had hoped for a bit more to justify the drool.
LCD Soundsystem
Since this is rumored to be James Murphy's last tour as LCD SS, there was a lot of anticipation, and the performance was mostly up to the task. The audience was in fine form, choreographing dance routines to favorites, including near full participation during "Daft Punk is Playing at My House," and the band obliged with great renditions of all their 'hits.' Only drawback is they were limited to only one hour, so songs were shortened to accomodate and the disco ball hanging above didn't get any love. After the set, the ball was lowered and removed to make way for Pavement (slack don't do mirror balls, y'all).
Pavement
Widely panned, Pavement's set was actually exactly how I remembered the band. Sloppy, infighting on stage all topped by momentary payoffs of (sometimes unintended) brilliance. It's all part of the Pavement charm. Some of the extra sloppiness this time out might have had to do with it being Stephen Malkmus' birthday along with LCD Soundsystem's infinite supply of champagne backstage. He (along with bassist Mark Ibald) might've enjoyed a bit too much of the bubbly, as folks who stuck around were treated to him angrily tuning Ibald's bass for him several times before they were able to play "Rattled By the Rush" all the way through. Bob Nastanovich did his best to play Ying to Malkmus' Yang, keeping the mood light with dancing cymbal solos and even had his kid onstage to play keyboard on "Range Life." Highlights were "Silence Kit" and "Gold Soundz," "Here" and, well basically everything.
~~
A full set of pictures from Day 2 of the 2010 Sasquatch! Festival after the jump.
Local Natives

Tallest Man On Earth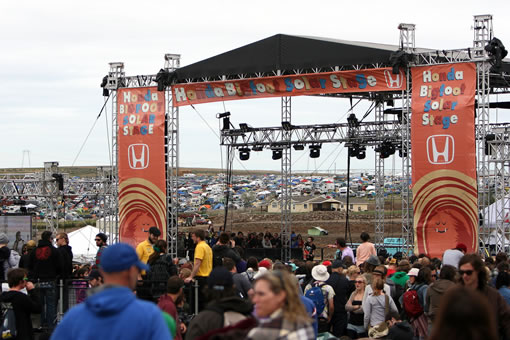 Long Winters

They Might Be Giants

Avi Buffalo

Mt. St. Helen's Vietnam Band

The Xx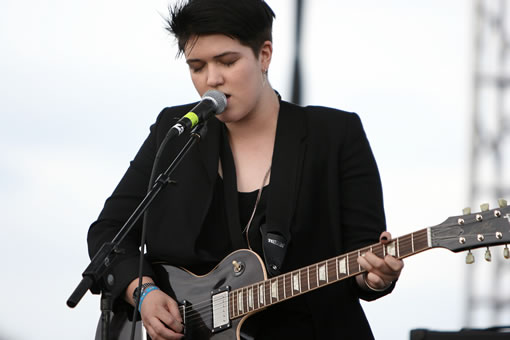 LCD Soundsystem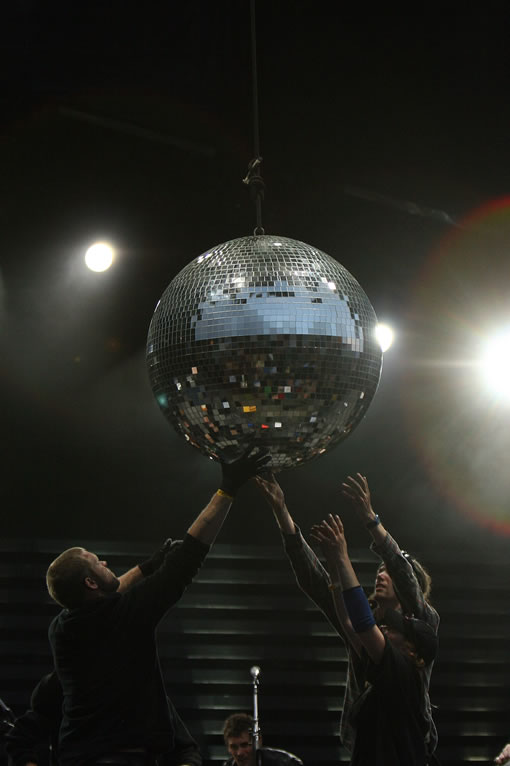 Pavement