Dale Earnhardt Jr. Jr. at CMJ (10/20/10)


Photo: Jon Klemm
Dale Earnhardt Jr. Jr. played a lot of shows at CMJ this year, and when they did, they usually showed up in full NASCAR regalia. However, at this particular gig, the band had to dial it back in both size (less members) and scale (no costumes) due to "production problems".
About 30 minutes later, their huge "JR JR" glowing letters had been set up and the guys took their places on the stage, commenting that they were going to do a stripped down set due to the limited space. ("So stripped down we're wearing the clothes we normally wear under our jumpsuits.") The Motor City natives did three lovely songs (including a cover of The Beach Boys song "God Only Knows") before drawing their show to a close.

At the end of the show they announced that they'd be handing out comment cards ("like the ones they give out on Top Chef") and that 5 meant awful and 1 meant fantastic. Based on that scale, I would have filled out my imaginary rating card at a 1. Dale Earnhardt Jr. Jr. charmed me with their fun, poppy songs and upbeat and funny banter. [TheModernAge.org]
Dale Earnhardt Jr. Jr. just released a new remix EP on Tuesday (Nov 2) entitled My Love Is Easy: Remixes Pt. 1 via Quite Scientific. The EP will be followed by their full length debut in Spring 2011.
Track listing for My Love Is Easy: Remixes Pt. 1 and more pictures of (the costumeless) Dale Earnhardt Jr. Jr. from CMJ after the jump.
Dale Earnhardt Jr. Jr. – My Love Is Easy: Remixes Pt. 1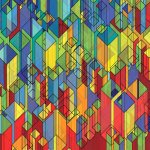 Track Listing
1. Nothing But Our Love (Kasper Bjørke Remix)
2. Vocal Chords (Deastro Remix)
3. Nothing But Our Love (Prussia Remix)
4. Vocal Chords (Diego and the Dissidents Remix)
Dale Earnhardt Jr. Jr. by Jon Klemm