Bruce Springsteen: Darkness On The Edge of Town (Buy Tickets)
One Night Only! November 4, 2010
Ziegfeld Theatre, New York, NY
Hey folks, this is not the HBO documentary, The Promise, but rather something entirely new and never before seen.
IN PERSON: E Street Band drummer Max Weinberg & director Thom Zimny for post-show conversation.

For one night, DOC NYC moves into the grand Ziegfeld Theater in midtown Manhattan to present the world premiere of an extraordinary concert film. Darkness on the Edge of Town captures a performance by Bruce Springsteen and the E Street Band that no one has seen. In December, 2009, the band set up at the historic Paramount Theatre in Asbury Park, NJ and performed – just for themselves and no audience – the entire 1978 album of Darkness on the Edge of Town. Springsteen's manager Jon Landau has said this presentation "best captures the starkness of the original album."

Grammy and Emmy award-winning director Thom Zimny has collaborated with Springsteen for the past decade. They captured this special concert with an intimacy that makes us feel like we're on stage. The concert makes a wonderful complement to Zimny's documentary The Promise: The Making of Darkness on the Edge of Town. While that documentary was about process, this concert film is about results, demonstrating why songs like "Badlands," "Candy's Room," and "Prove It All Night" have become classics. As the band delivers its renowned intensity, the performance is rendered with gorgeous cinematography evoking the album's shadowy mood. Springsteen fans shouldn't miss this unique opportunity to experience it on the big screen. [DOCNYC.net]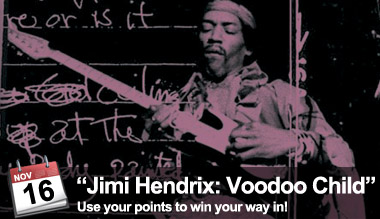 Jimi Hendrix: Voodoo Child (Win Tickets)
November 16, 2010
P.C. Richard & Son Theater, New York, NY
Drawing upon interviews granted by Hendrix, coupled with letters, writings and recordings, "Jimi Hendrix Voodoo Child" provides new insight into one of the most enduring icons of popular culture. The special is filled with never before seen photographs and film footage from the Hendrix family archive and features a soundtrack that includes such legendary Hendrix recordings as "Purple Haze," "Hey Joe," "Fire," "Voodoo Child (Slight Return)" together with never before heard live performances. Funk legend and Rock and Roll Hall of Fame member Bootsy Collins of Parliament-Funkadelic renown, is featured as the voice of Jimi Hendrix. [JimiHendrix.com]
Enter to win free tickets to this screening here. Contest entry deadline is 11/11/2010 at 11:59 PM.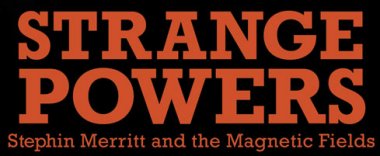 Strange Powers
Now through Tuesday, November 9
Film Forum, New York, NY
The title figure in the celebrity doc Strange Powers: Stephin Merritt and the Magnetic Fields has the supercilious deadpan of Jack Benny and a Brahmin lockjaw that seems cultivated to keep the world at an ironic distance. (He's not a Brahmin.) His singing voice is an unsustained moan that's hit-or-miss, but Claudia Gonson, the band's other vocalist (and Merritt's surrogate big sister), covers many of the cracks. For all the time they spent with Merritt, filmmakers Kerthy Fix and Gail O'Hara don't get too close. But that's part of the movie's charm. As in his pithy, tuneful songs—many written from different perspectives, in different styles—Merritt is committed to stylizing his misery instead of boring you with it. [NYMag.com]
Watch a preview for Strange Powers after the jump.