Cage The Elephant at All Points West (08/01/09)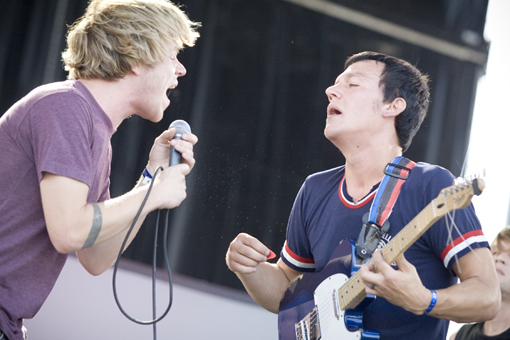 Photo: G!
In celebration of the release of their second album, Thank You, Happy Birthday, Kentucky's Cage The Elephant are playing an invite only gig at the P.C. Richard and Son Theater on Wednesday, January 12th. As usual, you can enter to win free tickets to this show at the P.C. Richard & Son Theater site. In addition, bumpershine readers can also earn an exclusive 1000 bonus points by clicking here and entering the code CTEBS.Last but not least, I'm giving away a pair of tickets to one lucky bumpershine reader courtesy of iheartradio. Contest entry form is after the jump, entry deadline is Jan 10, 2011 at midnight, 1 entry per household please.
More tour dates (including The Studio at Webster Hall on Jan 11) and contest entry form after the jump.
Cage The Elephant Tour Dates
01/10/11 New York, NY @ The Studio at Webster Hall
01/11/11 Cage The Elephant @ The Late Show with David Letterman
01/12/11 Cage The Elephant @ PC Richard and Son Theater
01/13/11 Newbury Comics In-Store @ Boston, MA
02/19/11 Las Vegas, NV @ The Cosmopolitan
04/14/11 Mesa, AZ @ the Mesa Amphitheatre