120dB Concert Photography Group Show (01/27/12)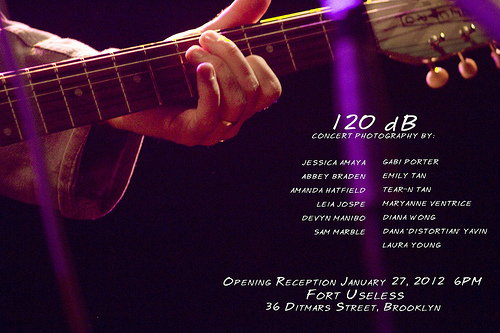 Hey folks, occasional Bumpershine photographers, Jessica Amaya and Abbey Braden, are just two of the good people taking part in 120db group photography show that opens this Friday (Jan 27) at Fort Useless in Brooklyn. The details below, if you can't make it to the opening, the show runs until March 24, 2012 during events and by appointment.
120dB
A Fort Useless Event
Curated by Maryanne Ventrice
Opening: Friday, January 27, 2012

Fort Useless is proud to announce 120db, a group exhibit showcasing the work of thirteen female concert photographers prominently featured in Stereogum, Brooklyn Vegan, Prefix, Impose, Village Voice, NPR, House List and many other sites and publications. [I guess Bumpershine falls into the "many other sites" category. -ed.]

Participating photographers include: Jessica Amaya • Abbey Braden• Amanda Hatfield • Leia Jospe • Devyn Manibo • Samantha Marble • Gabi Porter • Emily Tan • Tear-n Tan • Maryanne Ventrice • Diana Wong • Dana Yavin • Laura Young

You are invited to join us for our Exhibit Opening and Artist Reception on Friday, January 27 from 6pm-10pm

Following the reception the exhibit will be open through March 24th, available for viewing during all other events and by appointment.