I'm From Barcelona at Southpaw (08/06/07)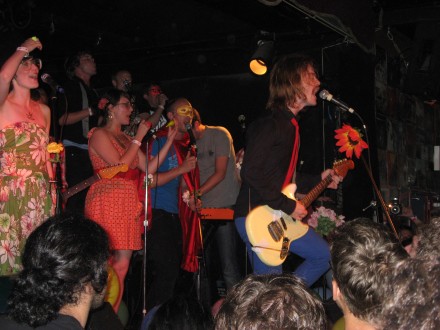 Photo: D. Caplan (more)
According to the Brooklyn Paper, the pioneering Park Slope club will shutter its doors on February 20 to make way for a kids tutoring center.
A long-standing Park Slope concert hall will close and become a tutoring school now that the hood caters more to kiddies than roadies, owners say.

Southpaw — the legendary music venue that hosted the likes of Patti Smith and Joan Jett — will close on Fifth Avenue and Sterling Place by the end of February, according to co-owner and music guru Mikey Palms. [BrooklynPaper.com]
This is a disappointment to be sure, but in all honesty, the booking at Southpaw has gone off the rails over the last few years, and the club is rarely even open during the week. I've seen some great shows at Southpaw over the years (Neko Case, I'm From Barcelona, and M. Ward, just to name a few), but the void created by the passing of Southpaw has more than been filled by newer Park Slope clubs like The Bell House, Littlefield and even Union Hall.