Bruce Springsteen at The Apollo (03/09/12)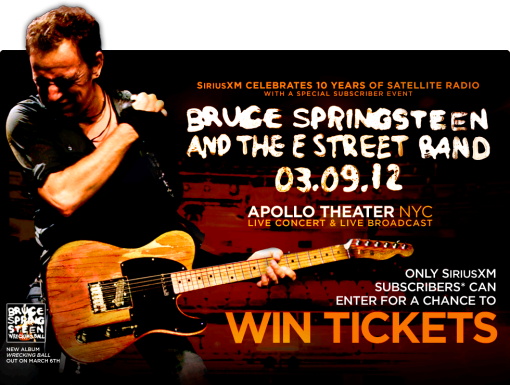 BRUCE SPRINGSTEEN AND THE E STREET BAND ANNOUNCE FIRST US LEG OF 2012 'WRECKING BALL' WORLD TOUR
Bruce Springsteen and the E Street Band launch the first US leg of the 2012 'Wrecking Ball' World Tour on March 18 in Atlanta. Bruce Springsteen's 17th studio album 'Wrecking Ball' will be released on Columbia Records on March 6.

"We Take Care Of Our Own," the album's first single,' is "classic Springsteen" with "anguish and challenge [that] run thick and fast" (Rolling Stone); a "richly orchestrated Wall of Sound… that nods to the 'Born to Run' era" (Billboard).

The E Street Band's members are: Roy Bittan – piano, synthesizer; Nils Lofgren – guitar, vocals; Patti Scialfa – guitar, vocals; Garry Tallent – bass guitar; Stevie Van Zandt – guitar, vocals; and Max Weinberg – drums; with Soozie Tyrell – violin, guitar, vocals and Charlie Giordano – keyboards. [BruceSpringsteen.net]
In addition to those officially announced tour dates in support of his new album, Wrecking Ball, The Boss will be playing a special SiriusXM Satellite Radio contest winner only show at The Apollo Theatre on March 9, 2012. Wrecking Ball will be released on March 6 via Columbia Records.
To enter the Sirius contest, go to www.siriusxm.com/bruce.
YouTube stream of "We Take of Our Own," the first single from Wrecking Ball and more Bruce Springsteen 2012 tour dates after the jump.
PS If you didn't get tickets to Bruce's shows at MSG, Izod Center, or The Prudential Center, (and many people didn't) you're out of luck, at least until more shows are announced.
Bruce Springsteen 2012 Tour Dates
09 March New York, NY Apollo Theatre
18 March Atlanta, GA Philips Arena On Sale Feb 4
19 March Greensboro, NC Greensboro Coliseum Feb 3
23 March Tampa, FL Tampa Bay Times Forum
26 March Boston, MA TD Garden
28 March Philadelphia, PA Wells Fargo Center
29 March Philadelphia, PA Wells Fargo Center
01 April Washington, DC Verizon Center
03 April East Rutherford, NJ Izod Center
04 April East Rutherford, NJ Izod Center
06 April New York, NY Madison Square Garden
09 April New York, NY Madison Square Garden
12 April Detroit, MI The Palace of Auburn Hills
13 April Buffalo, NY First Niagara Center
16 April Albany, NY Times Union Center
17 April Cleveland, OH Quicken Loans Arena
24 April San Jose, CA HP Pavilion Feb 3
26 April Los Angeles, CA Los Angeles Memorial Sports Arena On Sale Feb 3
29 April New Orleans, LA New Orleans Jazz & Heritage Festival
02 May Newark, NJ Prudential Center
13 May Sevilla Estadio Olimpico
17 May Barcelona Estadio Olimpico Lluis
18 May Barcelona Estadio Olimpico Lluis
25 May Frankfurt Commerzbank Arena
27 May Cologne Energie Stadion
28 May Landgraf Pink Pop 3 Mar
30 May Berlin Olympia Stadion
02 June San Sebastian Estadio Anoeta
03 June Lisboa Rock in Rio Lisboa
07 June Milan Stadio Meaza
10 June Florence Stadio Francesco
11 June Trieste Stadio Trieste
17 June Madrid Estadio Santago Bernabu
19 June Montpellier Park & Suites Arena
21 June Sunderland Stadium of Light
22 June Manchester Etihad Stadium
24 June Isle of Wight Isle Of Wight Festival
04 July Paris Bercy
05 July Paris Bercy
07 July Roskilde Roskilde Festival
09 July Zurich Stadium Letzigrund
11 July Prague Synot Tip Arena
12 July Vienna Ernst Happel Stadium
14 July London Hard Rock Calling
17 July Dublin RDS
18 July Dublin RDS
21 July Oslo Valle Hoven
23 July Bergen Koegen
24 July Bergen Koegen
27 July Gothenberg Ullevi
28 July Gothenberg Ullevi
31 July Helsinki Olympic Stadium