Neil Young Journeys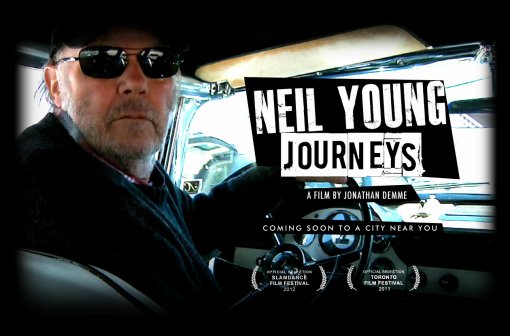 On June 8, 2012, director Jonathan Demme and musician Neil Young will be appearing at the Kaufman Concert Hall at the 92nd Street Y to discuss their latest film collaboration, Journeys. As of this writing, some tickets are still available for the discussion/Q&A, possibly with some music.
Join rock legend Neil Young in conversation with acclaimed director Jonathan Demme (Married to the Mob, Rachel Getting Married) and see an excerpt from the forthcoming film Neil Young Journeys, their third collaboration, in which Demme follows Young on a road trip to his hometown in Ontario for the last nights of his world concert tour.
Journeys will be released by Sony Pictures Classics on June 29, 2012.
In other Neil related news, Neil Young and Crazy Horse will release a new album entitled AMERICANA on June 5, 2012. AMERICANA is the first album from Neil Young & Crazy Horse in nearly nine years.
As you'll see from the track-listing, AMERICANA is collection of classic, American folk songs. In their day, some of these may have been referred to as "protest songs," "murder ballads," or campfire-type songs passed down with universal, relatable tales for everyman.
No tour dates have been announced yet, but I wouldn't be surprised to NY & Crazy Horse play a proper show in NYC around the album release date.
View the track listing from AMERICANA and watch a clip from Journeys after the jump.
AMERICANA Track Listing:

Oh Susannah
Clementine
Tom Dooley
Gallows Pole
Get A Job
Travel On
High Flyin' Bird
She'll Be Comin 'Round The Mountain
This Land Is Your Land
Wayfarin' Stranger
God Save The Queen