Ty Segall and Timothy "White Fence" Presley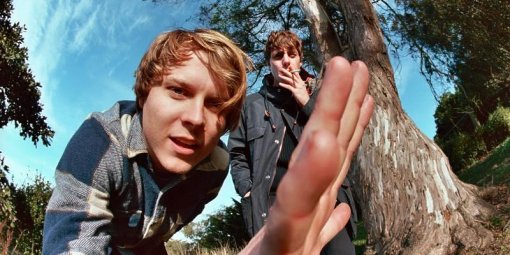 Words: Drake LeLane
We're [Drake et al. -ed.] back after taking a week off for a little R&R in Mexico last week (sorry Spiritualized and Moonface… we'll get you next time). This week is marked by a lot of classic guitar-based rock influences. Ty Segall and White Fence hole up in a garage for 30 minutes of psych rock fun, while Jack White puts all his appreciation of rock history into his debut solo release. Elsewhere, White's Raconteur partner Brendan Benson returns with an album, while there's noteworthy new releases from Death Grips, Brad (Pearl Jam's Stone Gossard + friends from Satchel), Bad Veins, Diamond Rugs, Toro y Moi, Torche, Battleme, Human Don't Be Angry (Arap Strap guitarist Malcolm Middleton), The Raveonettes, Eddie the Gun and a live album from Peter Gabriel.
Playlist: New Releases 04.24.12: Spotify
---
Ty Segall & White Fence – Hair [Insound]
LP/CD/FLAC/mp3 purchase via Drag City / iTunes
For those already familiar with the psych rock of both Ty Segall and White Fence, the side project of Darker My Love's Timothy Presley, than Hair won't seem so much of a surprise as it is a realization of how two great tastes can taste great together. Sure, throwing the two in a room to jam in a room full of illicit drugs (of my own imagining) could have gone horribly wrong, but the Syd Barrett on speed mix of Hair is the kind of beautiful mess that a psych rock jam should shoot for. Joined by White Fence bro Sean Presley and Segall collaborator Mikal Cronin, Hair is further insurance (along with Thee Oh Sees, Davilla 666, etc) that the prolific SF Bay area garage scene isn't slowing down any time soon.
Download: "I Am not a Game" [mp3]
---
Jack White – Blunderbuss
Purchase [mp3 purchase & stream via Google Play] / iTunes / Stream via Rhapsody or Stream via Spotify
Wrote in some depth already about Blunderbuss' prevalent theme of relationships and the ensuing chaos, but it's worth pointing out that White has made a point that his debut solo release has little or nothing to do with his recent ex, model Karen Elson. Considering how much of the album is dedicated to a man scorned by his love, Meg White appears to be the target of much of the fiery barbs and resulting melancholia. Besides the consistent ground covered via lyrics, White has varied up his sound enough here that you don't feel too White'd out, a danger given how much of the same ground the blues-rock purveyor has had to tread over the years. It's accessible, but just weird enough for it to seem like an odd introduction for the remaining few not familiar with White's oeuvre — not that there are that many by this point. As with any White-related release, one of the highlights is what song he chooses to cover, and in the case of Hair, it's no exception — "I'm Shakin'" was originally a hit for Little Willie John, and hin White's hands, it's a moving tribute to the power of rock from that era of time. And reminds us that those bouncy numbers sung by the brothers Miser were cribbed a bit from Little Willie.
---
More on the radar (and in the mp3 player) this week:
Brendan Benson – What Kind of World [Google Play] / Free AOL Album Stream
Death Grips – The Money Store [Google Play] / Free AOL Album Stream
Brad – United We Stand [Google Play]
Toro y Moi – June 2009 [emusic]
Bad Veins – The Mess We've Made [Google Play]
Diamond Rugs – Diamond Rugs [Google Play]
Battleme – Battleme [iTunes] / Free AOL Album Stream
The Raveonettes – Into the Night [Google Play] / Free AOL Album Stream
Human Don't Be Angry – Human Don't Be Angry [Google Play]
Waco Brothers and Paul Church – Great Chicago Fire [Google] / "Chicago Fire" [mp3]
Torche – Harmonicraft [Google Play] / "Kicking" [mp3]
Eddie the Gun – Kids [Google Play] / Free AOL Album Stream
The Macabees – Given To The Wild [Google Play]
Peter Gabriel – Live Blood (Live In London/2011) [Google Play] / Free AOL Album Stream