TYF Spring Fling at The Bell House (05/15/12)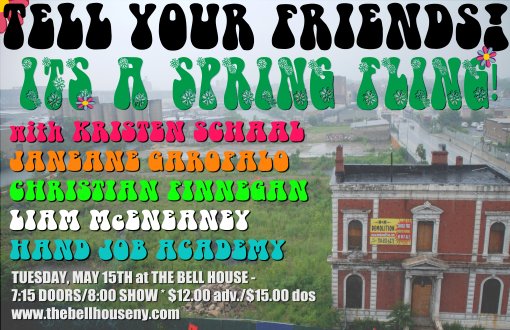 Buy Tickets | Win Tickets
Hey folks, a mixture of sad and happy news here. The long running Tuesday night comedy show, Tell Your Friends!, hosted by my friend (whom I've never actually met) Liam McEneaney will be ending its 6+ year run at Lolita at the end of June. Fear not though, this is not the end of the TYF!, but merely a new beginning. According to Liam, here's what's the future holds for TYF:
Not that Tell Your Friends! will be going away any time soon. Details are TBA, but I do know that TYF! will continue as a semi-regular Big Show at venues like the Bell House, and I am looking for a venue to create a more regular monthly gig starting in the Fall. We shall see what we shall see.

But we have two more months before the plug is pulled, so let us not mourn the passing of Tell Your Friends! at Lolita!, but continue to celebrate what has been one of the consistently best indie comedy shows in NYC.
In the mean time, TYF will be holding a "Spring Fling" at The Bell House on Tuesday, May 15, (which could construed as a 6 3/4 anniversary show I suppose), with Janeane Garofalo, Kristen Schaal, Christian Finnegan, Liam McEneaney, and musical guest, Hand Job Academy. As with all such shows like this, there is of course, always the possibility of Special Guests. You can buy tickets for that show over here, you can also enter to win a pair of tickets at www.bumpershine.com/tyf.