Rufus Wainwright at The Artists Den (05/17/12)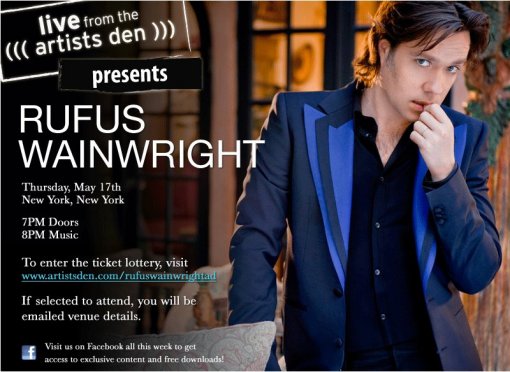 Live from the Artists Den presents

Rufus Wainwright
Thursday, May 17th
New York, NY

7pm Doors
8pm Music

To enter the ticket lottery, visit
www.artistsden.com/rufuswainwrightAD

If selected to attend, you will be emailed venue details.
In other related news, Rufus will be appearing with his pops Loudon Wainwright III and some other family members (Lucy Wainwright Roche, Suzzy Roche, Martha Wainwright and Sloan Wainwright) on May 18 at The Town Hall (Buy Tickets). His new Mark Ronson produced album, Out of the Game, came out on May 1 via Decca records.
More Rufus Wainwright 2012 tour dates after the jump.
Rufus Wainwright 2012 Tour Dates
May 11 – Fox Theatre – Oakland, CA
May 12 – Orpheum Theatre – Los Angeles, CA
May 13 – Humphreys – San Diego, CA
May 17 – Secret Show – New York, NY
May 18 – w/ Loudon Wainwright III, Town Hall, New York, NY
Jun 10 – Festival Stage – David Pecaut Square – Toronto, ON – FREE SHOW
Jun 15 – The Songs of Kate McGarrigle – Massey Hall – Toronto, ON
Jun 30 – The Power Center – Ann Arbor, MI
Jul 01 – Frederick Meijer Gardens & Sculpture Park – Grand Rapids, MI
Jul 24 – The Filene Center At Wolftrap – Vienna, VA
Jul 25 – Penn's Landing – River Stage – Philadelphia, PA
Jul 27 – The PAC at SUNY Purchase – Purchase, NY
Jul 28 – Westhampton Beach Performing Arts Center – Westhampton Beach, NY
Jul 29 – Bank of American Pavilion – Boston, MA
Jul 31 – State Theatre – Portland, ME
Aug 01 – The Green at Shelburne Museum – Shelburne, VT
Aug 03 – House of Blues – Cleveland, OH
Aug 04 – Carnegie Music Hall – Munhall, PA
Aug 05 – Iroquois Amphitheater – Louisville, KY
Aug 07 – Buskirk-Chumley Theater – Bloomington, IN
Aug 08 – Bank of America Theater – Chicago, IL
Aug 10 – Pabst Theater – Milwaukee, WI
Aug 11 – Minnesota Zoo Amphitheater – Apple Valley, MN