The eyes have it — Ty Segall Band release Slaughterhouse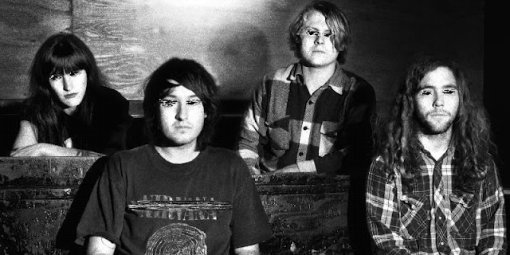 Words: Drake Lelane
Welcome back Drake! – ed.
I've been taken out of the game for a bit, thanks to Sasquatch! Music Festival (with editing nearly 5k photos) and a new job. There have been some great releases I've lost out on in the process (Fiona Apple's latest, for one), but I couldn't pass up this week's great releases from Ty Segall and DIIV, even if we have to keep it short. Other notable new releases come from Sonny & the Sunsets, the return of Beachwood Sparks, The Flaming Lips, The Henry Clay People, Everest, The Soundtrack of Our Lives, Chain and the Gang, Milk Maid and Joe Jackson's tribute to Duke Ellington.
Playlist: New Releases 06.26.12: Spotify
---
Ty Segall Band – Slaughterhouse [Insound]
LP via Insound / iTunes / Stream via Rhapsody
Following so quickly on the heels of 2011's quieter and more controlled Goodbye Bread, Ty Segall's 2012 barrage of garage rock gems quickly put to bed any fears that Segall was mellowing out. Two months ago it was the excellent collaboration with Timothy "White Fence" Presley (Hair), and this week he returns with more friends to lay waste to your garage rock expectations. Slaughter is Segall at his fuzzed-out best, loud and brash but always with an ear out for a pop loving melody. There's so much good pop to be had under all the muck that the closing 10-minutes of distortion (the aptly named "Fuzz War") merely acts as a palate cleanser, working it's way through your ears and cleaning out any of the many earworms that Slaughter has left behind.
Download: "Wave Goodbye" [mp3]
---
DIIV – Oshin [Insound]
LP via Insound / iTunes / Stream via Rhapsody
Combining the dream pop of Disintegration-era Cure with the shoegaze/Creation Records sound, Brooklyn's DIIV (pronounced "Dive" in honor of the Nirvana song) have produced a compelling debut. Great songs like "How Long Have You Known" and "Doused" are surrounded by instrumentals and eightiesish audio landscapes making an end-to-end dream-like experience for the ears.
Download: "How Long Have You Known?" [mp3]
---
More on the radar (and in the mp3 player) this week:
Sonny & the Sunsets – Longtime Companion [Google Play] / Stream from Polyvinyl Records
Beachwood Sparks – The Tarnished Gold [Google Play] / Free AOL Album Stream / "Forget the Song" [mp3]
The Flaming Lips – The Flaming Lips and Heady Fwends [emusic]
Henry Clay People Twenty-Five for the Rest of Our Lives [emusic] / Free AOL Album Stream
Everest – Ownerless [Google Play] / Free AOL Album Stream / "Rapture" [mp3]
Milk Maid – Mostly No [emusic]
Joe Jackson – The Duke [Google Play] / Free AOL Album Stream
The Soundtrack of Our Lives – Throw It to the Universe [emusic]
Chain and the Gang – In Cool Band [emusic]
A Place to Bury Strangers – Worship [Google Play] / Free AOL Album Stream / "You Are the One" [mp3]
The Daredevil Christopher Wright – The Nature of Things [emusic]
Jessica Hoop – The House That Jack Built [Google] / Free AOL Album Stream / "Born To" [mp3]
Lorn Ask the Dust [Google Play] / Free AOL Album Stream
REISSUES
The Mountain Goats – Hound Chronicles/Hot Garden Stomp [emusic]