Portlandia: A Guide For Visitors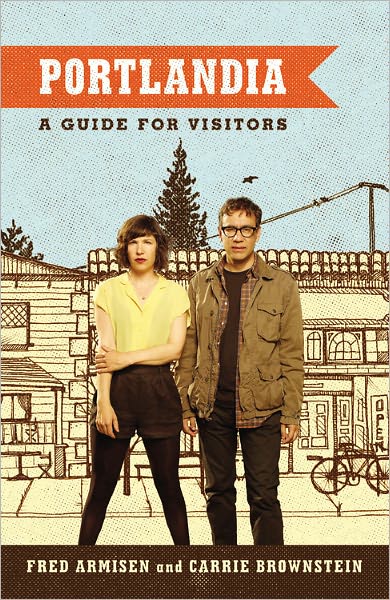 Hey folks, sorry for the lack of updates lately, but I've actually been out of town for a few days, so the site has been languishing a little. Thankfully bumpershine HQ was unaffected by hurricane Sandy, and now that I'm back and the kids are in school, and everything is starting to return to normal, regular updates should resume. Hope you're all well after the big storm, and if you're not, I hope things get better for you soon.
I know this roundup is a few days late, but it feels like we really didn't miss anything.
November 2012 B&N Store Events
11/12 Franklin Foer, Marc Tracy, Jonathan Safran Foer, George Packer – Jewish Jocks (USQ)
11/13 Oliver Stone w/ Michael Hastings – Untold History of the United States (USQ)
11/13 Carla Hall – Cooking With Love (Tri)
11/13 Jacques Pepin – Jacques Pépin New Complete Techniques (86th)
11/14 Emma Donoghue – Astray (86th & Lex)
11/14 Jon Meacham w/ Katie Couric – Thomas Jefferson(USQ)
11/14 Penn Jillette – Every Day Is an Atheist Holiday (Tri)
11/15 Fred Armisen and Carrie Brownstein – Portlandia: A Guide For Visitors (USQ)
11/16 Colm Toibin: The Testament of Mary (86th & Lex)
11/19 Tony Bennet – Life Is A Gift (USQ)
11/19 Willie Nelson – Roll Me Up and Smoke Me and When I Die (5th Ave)
11/19 Ken Burns: The Dust Bowl An Illustrated History (82nd & Bway)
11/26 Grace Coddington – Grace: A Memoir (USQ)
11/28 Billy Ray Cyrus – Change My Mind (Tri)
11/28 Oliver Sacks – Hallucinations (USQ)
Housing Works
11/06 Election Night Watch Party
11/13 The Moth StorySLAM: Wash
11/14 First We Take Manhattan: Looking at Leonard Cohen
11/15 Tumblr Prep!: The Books They Gave Me, Fake Science 101, I Love Charts, and My Daguerrotype Boyfriend
11/19 The Moth StorySLAM: Gratitude
11/27 Baffler 21 Release Party with Thomas Frank and Julie Klausner
11/28 The Bushwick Book Club Presents Mark Twain
Powerhouse Arena
11/07 Evening Dilemma Podcast with Tom Blunt
11/08 F*** Yeah Menswear by Kevin Burrows and Lawrence Schlossman
11/09 Coloring for Grown-Ups by Ryan Hunter and Taige Jensen
11/13 Brain on Fire: My Month of Madness by Susannah Cahalan
11/14 What's a Dog For? by John Homans
11/15 NYC Launch: Magnificence by Lydia Millet
11/28 Antifragile: Things That Gain from Disorder by Nassim Nicholas Taleb
11/29 Book Launch Party and Slide Show Discussion: New York at Night: Photography after Dark