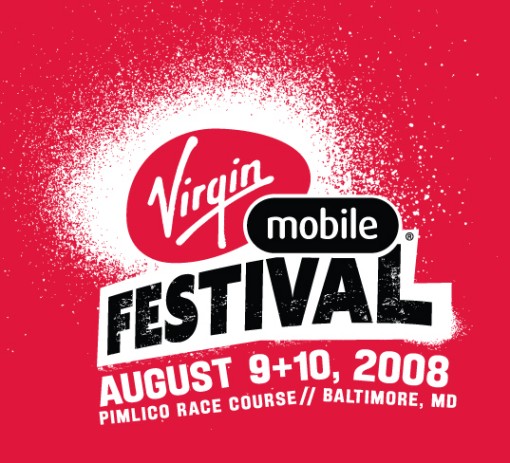 BALTIMORE (April 28, 2008) -The 3rd Virgin Mobile Festival, which takes place August 9 – 10, will ignite an eclectic, compelling group of music acts at Pimlico Race Course in Baltimore. Iggy & The Stooges, Paramore, Chuck Berry, The Black Keys and Wilco are among those joining previously announced headliners Foo Fighters, Jack Johnson, Kanye West, Nine Inch Nails and Stone Temple Pilots. In addition to two main stages, the festival features a dance tent, hosting the hottest names in electronic music, including Moby and Underworld.

Main Stage acts on Saturday, Aug. 9 are, in alphabetical order, Bloc Party, Cat Power, Chuck Berry and The Silver Beats, Citizen Cope, Duffy, Foo Fighters, Gogol Bordello, Jack Johnson, KT Tunstall, Lupe Fiasco, The Offspring, Paramore, Rodrigo y Gabriela, Sharon Jones and the Dap Kings, The Swell Season and Wilco.

On Sunday, Aug. 10, the Main Stage acts will include Andrew Bird's Bowl of Fire, The Black Keys, Black Rebel Motorcycle Club, Bob Dylan, The Go! Team, Iggy & The Stooges, Kanye West, Lil Wayne, Nine Inch Nails, She & Him, Shudder to Think, Stone Temple Pilots and Taking Back Sunday.

Dance Tent acts on Saturday, Aug. 9 include, in alphabetical order, DJ Dan & Donald Glaude, Erol Alkan, Ferry Corsten, Soul Wax, Steve Lawler and Underworld. On Sunday, Aug. 10, the Dance Tent will feature Armin van Buuren, Chromeo, Deadmau5, Moby (DJ Set), Pendulum and Richie Hawtin.

[Press Release Continued After The Jump]

"People have eagerly awaited our lineup, and now everyone can see that we've achieved the 'Whoa!' factor," said Virgin Mobile Festival concert producer and I.M.P. Chairman Seth Hurwitz. "Our job is that of a curator, finding only the absolute best acts for the most discerning of audiences. We want people to count on us every year for an amazing lineup from start to finish. When fans buy their tickets to the Virgin Mobile Festival, they know they are going to have a great time, be well-treated, and see the best acts in the world, which is why they come back."

"This is an incredible event for music fans, our partners and customers, as well as a tremendous introduction to our brand," said Bob Stohrer, Chief Marketing Officer, Virgin Mobile USA. "The lineup once again is awesome and, like most things 'Virgin,' it's more than just a concert, but two days full of unexpected and interactive happenings. This year, we have also added the creation of a special edition Virgin Mobile Festival Wild Card handset from Kyocera Wireless, the premier handset sponsor of the event for the past three years."

Hurwitz noted that more artists will be added. "Our bill is really strong now," he said, "but in the last two years, acts came along at the last minute that I had to pass on as the lineup was set in stone. This year I'm adding a new element of keeping a couple of choice slots open so I can take advantage of new opportunities over the next few months."

Beginning Saturday, May 3, tickets will be available through Ticketmaster at www.tickemaster.com or 1-800-551-SEAT. Two-day tickets are $175 for General Admission and $450 for VIP. Single-day tickets are $97.50 for General Admission and $250 for VIP tickets. A charity contribution of $1.50 per day will be applied to each ticket. Fans can check out the official festival website at http://www.virginmobilefestival.com to sign up for news and updates.

About Virgin Mobile USA, Inc. "¨Virgin Mobile USA [NYSE: VM] offers more than five million customers control, flexibility and choice through monthly plans without annual contracts, with national coverage powered by the nationwide Sprint PCS network. Virgin Mobile USA's full slate of smart, stylish and affordable handsets, including the Wild Card, Super Slice and Flare, are available at top retailers in approximately 40,000 locations nationwide and online at http://www.virginmobileusa.com/, with Top-Up cards available at more than 140,000 locations.

J.D. Power and Associates ranked Virgin Mobile USA highest in customer satisfaction among wireless prepaid services in both 2006 and 2007, and its customers report a 90% satisfaction rate. Virgin Mobile USA contributes a portion of profits from downloadable content to The RE*Generation, its pro-social initiative to help homeless youth, and provides postage-paid return envelopes in every new package for customers to recycle old phones.

About I.M.P. "¨Formed in 1980, I.M.P. is a Bethesda, Md.-based concert promoter and event production company. In addition to launching the Virgin Mobile Festival in the U.S., the principals at I.M.P. own Washington DC's legendary 9:30 Club, named Club of the Year by Billboard and Pollstar, renowned as the premier place to see and hear cutting edge live music of all varieties. I.M.P. also programs and operates Merriweather Post Pavilion in Columbia, Md. Over the last 28 years, I.M.P. and the 9:30 Club have put on nearly 10,000 events, hosting millions of music fans.